Starfield: Everything we know so far
Here's everything you need to know about Starfield.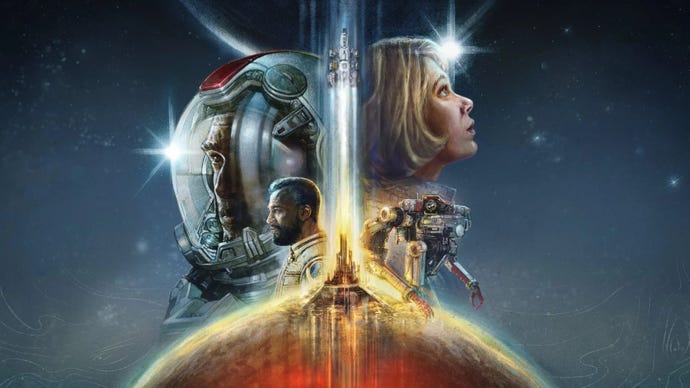 Starfield promises an entertaining space expedition to 'answer humanity's greatest mystery.' This space meets sci-fi RPG comes from Bethesda, the same creators as The Elder Scrolls and Fallout series, as its first new IP in 25 years.
Naturally, Bethesda fans are psyched. It doesn't even matter that Starfield remains mostly a mystery. It's apparently a 'bit more hardcore of a role-playing game,' which is really saying something after Skyrim. As Bethesda releases bytes of news here and there, the available information pieces together into a more cohesive picture of the story and gameplay.
Here's everything you need to know about Starfield, including all recent news, videos and leaks.
Starfield is coming in 2023.
Starfield was expected to launch on 11th November 2022 for Xbox Series X/S and PC but it has now been delayed to September 2023. After previous a delay in March which gave a "first half of 2023" release date, Bethesda have now put out an official launch date trailer confirming another delay to the game, which will instead release on September 6th, with a Direct showcase coming on June 11th.
Microsoft first teased Starfield at E3 2018, then kept quiet about it until it dropped a new trailer and exact release date at E3 2021. Starfield is currently set to release before The Elder Scrolls 6.
Is Starfield an Xbox exclusive?
Starfield is indeed an Xbox console exclusive - it will be available on both PC and Xbox Series X/S, but not on PlayStation. It will also be available on launch day on Game Pass, Microsoft's subscription gaming service. This will allow Abox One players to run the game via Xbox Cloud Gaming.
Microsoft has been redoubling its efforts to promote Xbox Game Pass, and one way to add value to its service is with exclusives, which the acquisition of a publisher like Bethesda is helping it do to. Therefore, it's not surprising the Starfield was announced as an Xbox exclusive.
Starfield pre-orders
In the US, GameStop is taking Starfield pre-orders for $69.99. There are no other pre-orders available at the time of writing.
In the UK, standard Starfield pre-orders are available at Game and Hit. No collector's editions have been announced yet.
Remember: Xbox Game Pass members don't need to pre-order. Microsoft has been promoting its Game Pass subscription, which seems like an increasingly valuable deal for many games you can download on either the Xbox or PC. Starfield is a confirmed first-day release Xbox Game Pass game, which means subscribers will have access to it starting on launch day just by having Xbox Game Pass.
Starfield gameplay
During the Xbox and Bethesda showcase in June 2022, Bethesda finally showcased some Starfield gameplay. The video above gives us an extended look at the first-person shooter combat, a new lockpicking mechanic, using a jetpack and best of all, you can build your own spaceship and choose your crew. Starfield director Todd Howard also touches on the in-depth character creator tools. You can watch the video above for even more juicy details or you can read all about it in Oisin Kuhnke's coverage here at VG247.
Prior to this showcase, Starfield didn't have much information about its gameplay other than little hints from studio executives. In an interview with The Washington Post, Howard summarised it as "Skyrim in space." Bethesda Managing Director Ashley Cheng called it a 'Han Solo simulator.' Istvan Pely, the game's lead artist, apparently dubbed the game's aesthetic as 'NASA punk.' So, at the very least, it implies an expansive space adventure with a gritty, futuristic overlay.
A note on the game's website invites players to 'create any character you want and explore with unparalleled freedom,' which lines up with the character customization and open-world elements advertised in the game.
In an interview with The Telegraph, Howard highlighted Starfield's level of freedom. 'We like to put you in a world where we're not dragging you by the nose and saying you must do X, Y and Z,' he said. So that might point to non-linear progression - similar to that seen in The Legend of Zelda: Breath of the Wild – or maybe just little details hidden behind each piece of the world.
Howard also explains that Starfield offers more character customization than any of Bethesda's other RPGs, even allowing players to choose their background. The protagonist, who seems to be the astronaut featured in the trailer, affiliates with a space organisation called Constellation. However, players may be able to change factions during the course of the game. Other alien races also appear.
'You know, can I read this book? Can I pick this up? Can I do this? What if I do this? What if I do this? And the game is saying 'yes' a lot,' Howard says of Starfield.
This return to experimentation and freedom is something that the developers have talked about and hinted at too. It's clear there will be revamped character customisation options, but also how your character can change outcomes later with a new dialogue system focussing on persuasion and future goals that are part of the storyline.
There will also be a change to companions, something that's been around in previous Bethesda games. One of the companions that's been revealed is a robot named VASCO. It's also clear there will be a functional use to him, as he's capable of navigating around difficult terrain and carry extra gear, so it will be interesting to see what the other companions bring to the table.
In a video released by Bethesda in April 2022, audio director Mark Lampert and composer Inon Zur discussed the artistic process behind the music for Starfield, as well as how the score will affect your experience. You can watch Starfield's latest developer video and read what Lampert and Zur had to say in Stephanie's post.
Starfield has recently received its ESRB rating, coming in at an 'M', thanks to the inclusion of sex, drugs, and intergalactic violence. We already knew that the fictional 'Aurora' drug is going to be an important item in the game, but drug dealing clearly won't be the only explicit act you can get involved in.
That's all we have for now, but bookmark this page and keep checking back for the latest Starfield news and rumours, as well as pre-order updates. You can also follow us on Twitter for more pre-order news and the best gaming deals.