Genshin Impact codes for December 2023
Grab your free Primogems here!
December 8th 2023: We added new Genshin Impact livestream codes.
Like a lot of free-to-play games, Genshin Impact has an in-game currency called Primogems that you'll find yourself quickly spending on Wish Items and Original Resin. To keep you hooked however, miHoYo (HoYoverse) regularly gives away promo codes, offering up a bunch of freebies including Primogems, Mora, and a whole range of Enchantment Materials.
To keep you topped up, we've put together this list of working Genshin Impact codes, however, we all know you're really just here for the Primogems, so we've also put together a list of the best ways to get more free Primogems too.
---
---
Genshin Impact 4.3 livestream codes
Here are all the codes released during the Genshin Impact 4.3 livestream:
8BQ9CMMVS5PM: 100 Primogems and 50,000 Mora (NEW!)
RS99D5LVTM6V: 100 Primogems and 10 Mystic Enhancement Ore (NEW!)
UBRQC4MCT4PZ: 100 Primogems and 5 Hero's Wit (NEW!)
The codes are time sensitive and are only active until 8pm pacific time and 11pm eastern time on Friday 8 December 2023, and until 4am GMT and 5am CET on Saturday 9 December 2023.
Working Genshin Impact codes
Here are all the active codes for Genshin Impact:
EA8RWDMBVRTR: 60 Primogems and 5 Adventurer's Experience
GENSHINGIFT: 50 Primogems and 3 Hero's Wit
GENSHINGIFT has been around for a while and is single-use, but should still work for anyone who hasn't redeemed it yet.
---
How to redeem Genshin Impact codes?
Genshin codes are redeemed online rather than in-game. Open up your Internet browser of choice and go to the Genshin Impact Redeem Code page.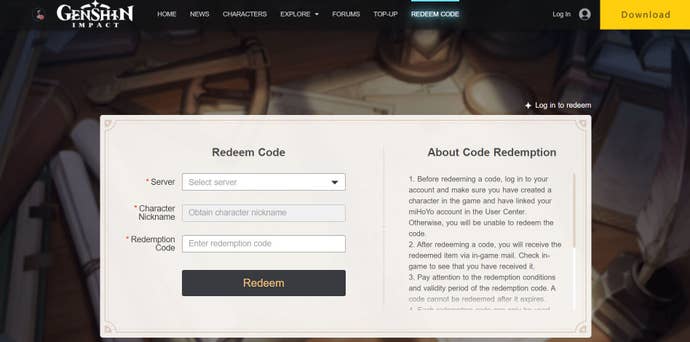 Log in to the site and then enter your Server, Character Nickname, and the Redemption Code you want to use. Hit the Redeem button and you'll find the rewards in your Mailbox the next time you boot up the game. Watch-out though, you need to have reached Adventure Rank 10 or higher before you're able to redeem any Genshin codes.
---
Genshin Impact Prime Gaming codes
Amazon's Prime Gaming service runs a semi-regular promotion where every so often they give away a few freebies to Amazon Prime subscribers. Unfortunately, this promotion currently isn't available - but if it returns we'll update this article.
Prime Gaming offers plenty of other freebies you can claim if you're an Amazon Prime member. If you're not, you can sign up to a free trial.
---
| | |
| --- | --- |
| | If you aren't an Amazon Prime member, you can claim a 30 day trial to get free access to this month's code. And then if you don't want to stick around afterwards, you can cancel the subscription before the 30 days are up, and then not be charged the monthly £8.99/ $14.99 fee. |
---
How do I get more free Primogems?
While codes and limited-time events are the easiest way to get free Primogems, you can earn them the old fashioned way too by playing the game and engaging in a select few activities spread across the world.
Chests - If you're travelling across the world and come across any chests, be sure to open them! These contain a small number of Primogems that may not seem to matter much at first, but really add up over time! As an extra note, rarer chests provide more Primogems, so keep an eye out for exquisite chests as you play.
Quests - If you've got any quests left unfinished, be sure to complete them if you want a relatively quick injection of Primogems! Story quests and event quests are especially rewarding, so keep an eye out for any that pop up.
Daily commissions - There's no better way to earn consistent packages of Primogems than logging in every day and doing your commissions. These don't take too long and the rewards are considerable when compared to other sources.
Achievements - You may not care much about achievements in Genshin Impact, but they can be a great source of primo gems. This is especially true of some of the more challenging achievements, so take a look to see if you're close to any major milestones for a quick Primogem prize.
Fully exploring the map - if you've not travelled the full length of the map yet, unlocking fast travel points and clearing that fog of war is a fantastic way for newer players to earn themselves some quick primogems.
Special promotion mail - Every now and again MiHoYo will send out gifts to players, usually with the launch of a major update, game anniversary, or your birthday! As such, be sure to keep checking your inbox for this lovely surprises.
Real money purchases - This is Genshin Impact, and as such buying Primogems is a primary way to get your hands on a batch quickly. While you don't have to spend money, it's obviously the most reliable way to get the exact amount you want quickly. If you're wallet can tank the hit, it's a good option.
---
Hungry for more Genshin Impact? Check out our guides to farming Sakura, Jueyun Chili farming and Starconch locations. If you want help with other HoYoverse games head to our Honkai Impact 3rd codes and Honkai Star Rail codes pages.