Honkai Impact Codes for September 2023
Even Valkyries like freebies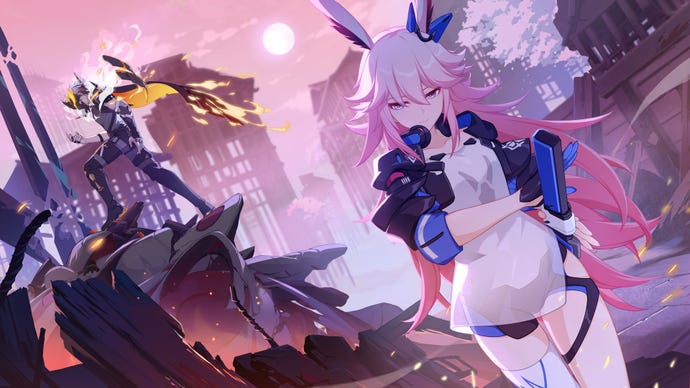 18th September 2023: We updated our list of working Honkai Impact codes.
Honkai Impact 3rd is a loot-focused anime-inspired gacha RPG first released back in 2016, and even after seven years, is still going strong.
As with any gacha, there are plenty of Honkai Impact codes floating around, giving players a whole bunch of freebies including crystals, coins, rare items, and even costumes. And with these extra little perks, you'll be quickly back to keeping the Honkai at bay. The codes are released by HoYoverse on a mix of Twitter, Discord and Reddit, but we've collected them all here so you don't have to keep searching around for them – you might want to bookmark this page too.
---
---
Working Honkai Impact Codes
VERSEELE: 9,999 Coins, x1 Starless Rift, x1 Battlesuit Trial Card Option
REBIRTH: 30 Crystals, 2,888 Asterite, x1 SSS Trial Card Option
Expired Honkai Impact Codes
MAGICALGIRL
SHIGURE
KIRANOW
KIARECTNOONH
RHYTHMOFLIFE
STARDANCE
AIDE0017
ASHKJHDU
LASTSNOW
SUSANNAH
NEWCHAP
NABOBESS
5SPTFE372QHX
4TNTH92Q52GQ
7BNTWWJPJRGT
RT7TZRJQLKZL
VAPTEF37K9XP
UB6AHQJR43GY
VERKIANA
MKFINAL
ICHLIEBEDICH
HAPPYHONKAIANNI
MEONHONKAIANNI
MEONHONKAIANNI2
TRUTH63
BRONYA321
2TNBFZQZ59SB
TOTHEFUTURE
AICHAN010
TRUTH
MIDNIGHTCARNIVAL
JHSGFDSVV
LISUSHANG
SUPERAI
60AHDASFBLAFL
ARROWOFNOVAE
TAIXUAN
JKABCNFNL59LK
JKSSDNFNL58LK
QB6BY964E34B
CTNTH8T52RXJ
APONIAV57
DREAMYEUPHONY
PAINTTHEWORLD
QSNSYQNLEKG7
CTNTH8T52XR3
GOLDENAGE
UTPAHQPLWK2B
GALACTICVOYAGE
STARGATERUNNER2022
PTNAHRBLKWKP
LOVESTAN
HI3SPRING
ARAHATO2022
HOLYBLADE
HONKAISPRING
HONKAIONTIKTOK
2B7TZ8TMJZGF
7APTHQT52HLP
APHO2
BB7SY8T52Y5K
BRONYA0019BC
BRONYA123
BRYONYANEX
BSPBHRS5KY33
CAN
CBNSH9BMJW33
CUTECAT
EAPAG8TLKG2T
EAPTY8TL2ZRB
ELUY8G2T9P
ELYSIA02
EUUG9AUNP7
EUUYGC4WRF
EUYW9G5SPF
EUYYGCMJ7F
EVUEGCKP7F
EVYYHACPMF
GLUYHCMP3P
GMUGGG2X7X
GMUGHCLS5X
GMUWGCKTM7
GT7SGQSL3ECX
GUUE8C5T5F
GUYW9CKPP7
GUYY8C5S5P
GVYEGG5NPX
ICHLIEBEIDCH
LYLESDGS
MISSPINKELF
MOTHS10
MT6TGQB4JFTT
OOHSUMMER
OUROBOROS
PARDOFELIS1
QB6SHRSLJZQ3
RTPAZ8A4KZ7F
SEELECUTE
SILVERWING1
ST7SG8ALJG87
SWEETGIRL
TB6BZQT43YZT
TIMIDOICICLE
TT6SH8A5JWXF
WLUGHCMSMF
WSNSZRA4JZ3F
WUUEHCKWMX
XAPAGQSMKHJ7
YLUGHG3SP7
YLYEGC5N97
YTPTHQAL3WLB
YUYE8C3K3P
YVUGGCJX9X
YVYGGGLT37
---
How do I redeem codes in Honkai Impact?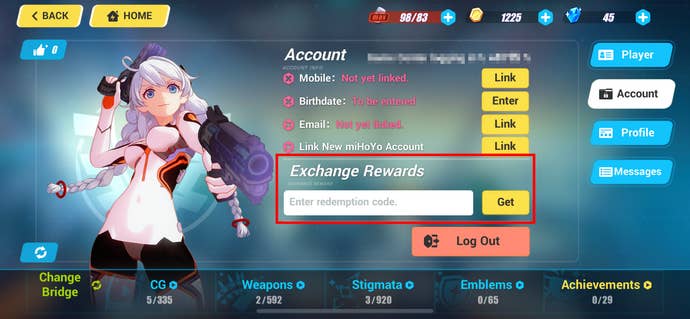 To redeem these codes and get the rewards, follow these simple steps:
Launch Honkai Impact 3rd
Tap the Player ID in the top left of the screen
Tap the 'Account' button on the right-hand side
Paste/type your code in to the 'Exchange Rewards' box
Hit 'Get'
And enjoy your freebies
---
Need a helping hand with other HoYoverse games? Then checkout our list of Genshin Impact codes, Honkai Star Rail codes and Tears of Themis codes.