PS5 release date, price, confirmed games, backwards compatibility - everything we know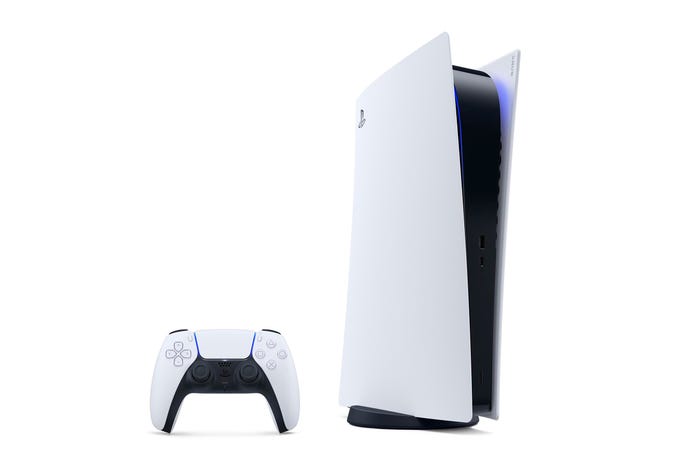 The PS5 hits the shelves in just a few weeks, so here's everything you need to know about it.
We've had enough hands-on time with the new console for a full PS5 review, which you can read here (linked). One of the big launch games is the port of Insomniac's much-loved Spider-Man. For PS5, it comes with the brand-new add-on - Spider-Man: Miles Morales - which you can read our review of here (linked).
Over the last few months, more details have emerged about the PS5's impressive capabilities, such as super-fast loading times thanks to its SSD, crisp 8k resolution and confirmed backwards compatibility for the majority of PS4 games. Since the latest PS5 showcase, Sony has confirmed that there won't be a Smart Delivery system like Microsoft is offering, but that individual titles such as Marvel's Avengers will get free upgrades at launch.
The PS4 Pro was a decent bridge between last-gen and the next; after only a few years in the wild, the standard PS4 had already been left lagging behind by high-spec PCs. The PS5's powerful new GPU enables ray tracing and puts it on par with PC gaming at long last. The PS5 is also predicated to outsell the Xbox Series X by a wide margin, and Sony expects PS5 to sell more units in its first fiscal year than PS4 did.
The PS4 is still having a record-breaking run. By the end of June 2019, Sony had sold 100 million PS4 consoles, though sales have started to decline after the PS5 was revealed. PS4 players won't need to worry, though, as Sony will still be investing in the PS4 for some time.
The PS5 pre-order fiasco continues, as consumers are still struggling to place orders ahead of the Christmas rush. Amazon has also said that some folks won't receive their PS5 at launch due to high demand, but hopefully, you're not one of those people. What we do know is that there will be more PS5 stock available compared to when PS4 hit shelves.
PS5 Release Date
The PS5 will have two separate launch dates:
November 12 for the U.S., Japan, Canada, Mexico, Australia, New Zealand and South Korea.
November 19 for the rest of the world, including Europe, Middle East, South America, Asia, and South Africa.
PS5 price
There are two versions to purchase: the Standard Edition and the Digital Edition. The only material difference between the two consoles is that the Digital Edition doesn't have a disc drive.
The Standard Edition costs £449.99/ $499.99/€499, whereas the Digital Edition costs £359.99/$399.99/€399.99, so if you're not bothered about hoarding discs in the next generation, there is a decent saving to be made.
PS5 accessories will be available to purchase from November 12, which includes the DualSense, the PS5 HD Camera, a Media Remote and the 3D Wireless Pulse Headset.
Despite the PS5 being a chonky boy, mostly because of massive thermals, it's apparently a very quiet console. In the latest PS5 breakdown video, we got to see some 10Gbps USB Type-A ports, the motherboard, drive and where you can fire in additional storage in the M.2 bay.
We also know that the PS5 will have Wi-Fi 6 that supports Bluetooth 5.1and SuperSpeed USB, which is much faster than its Xbox counterparts. Wi-Fi 6 is the snappier name for 802.11ax, which is capable of (theoretical) transfer speeds of 9.6Gbit/s. The PS5 will have around 664GB of usable storage space on its SSD, so you might still need to juggle things about when choosing what games to install.
The UI will also be getting a massive overhaul, as well as getting a new Trophy enhancement and levelling structure and potentially a new PlayStation store. Hopefully won't need to wait so long for folders this time.
What's really bonkers is that Burger King is teasing the PS5 UI reveal, so watch this space?
Both the new Dualsense controller and PS5 are covered in tiny PlayStation symbols, such as X and triangle, which is a nice touch. Several new peripherals were also announced including the HD Camera, Media Remote, the Pulse 3D wireless headset, and the DualSense Charging Station.
PlayStation's lead architect Mark Cerny discussed the internal components in PS5, which will use a third-generation Ryzen CPU with eight cores, based on the 7nm Zen 2 architecture.
You can see the full PS5 specs, here.
The "Oberon" GPU is a custom chip based on Radeon's Navi family, with support for ray tracing. If you're looking for an explainer on ray tracing and its significance, we've got one for you right here. The SSD inside the console is super fast. According to Wired, it took around 0.8 seconds to fast travel in Spider-Man compared to 15 seconds on PlayStation 4 Pro and it's the reason why you'll be able to instantly jump between dimensions in Ratchet and Clank: Rift Apart.
In fact, a video showing just that SSD speed in action has leaked. Here's a demonstration - the first look at the PS5 in action - of PS4 game Spider-Man loading on a PlayStation 5. It's worth seeing to get a good idea of how much of a game-changer this is going to be.
Sony's official video comparing performance of PS4 Pro vs next-gen PlayStation pic.twitter.com/2eUROxKFLq

— Takashi Mochizuki (@mochi_wsj) May 21, 2019
PS5 will support 8K resolution and will contain a disc-tray, 3D audio integration, and will be compatible with the current PSVR model. The PS5 controller is called the DualSense, that has a two-toned design and the lightbar has moved position.
Sony has also replaced the Share button with a button called 'Create' where, presumably, you'll be able to jump straight into advanced video editing from raw gameplay clips. There's a built-in microphone so you can chat with friends even without a headset.
Cerny also mentions that controllers will come with improved haptic feedback that will better simulate tension, if you're wondering how the PS5 is going to add to your immersion.
You can check out how the PS5 compares to the Xbox Series X here if you're still on the fence about which one to buy.
PS5 Games and Exclusives
There are at least five first-party launch titles coming from Sony including Spider-Man: Miles Morales, the remaster of Demon's Souls, Sackboy: A Big Adventure, Destruction All Stars and Astro's playroom.
We'll be adding to this list of confirmed games as the year continues, but for now, here's what titles you can expect to see for the PS5 from launch onwards:
Rainbow Six Siege
Red Dead Redemption 2
Cyberpunk 2077 - November 19
The Last of Us: Part 2
Ghsots of Tsushima
Death Stranding
Rainbow Six Quarantine
Gods and Monsters
GTA 5
Madden 21
Astro Playroom - November 2020
PS5 Backwards Compatibility
As we said earlier, it has now been confirmed that the PS5 will be backwards-compatible with almost all PS4 games.
What has been confirmed, however, is that the PS5 will not natively support PS1, PS2 or PS3 games.
You can still change your PSN ID before the PS5 launches
You can now change that ultra edgy PSN ID to something cooler now. Be warned: if Sony deems the new ID to be offensive, it'll be changed to a placeholder to allow you to revert to your own one or change it to something more appropriate.
Games published after April 1, 2018, should show your newly updated name, but there's no guarantee. You can switch back if needs must, but if you want a change before the PS5 launches, we suggest doing it soon.