Immortals: Fenyx Rising - Ubisoft's Zelda-like emulates BOTW gameplay, but can it nail the charm?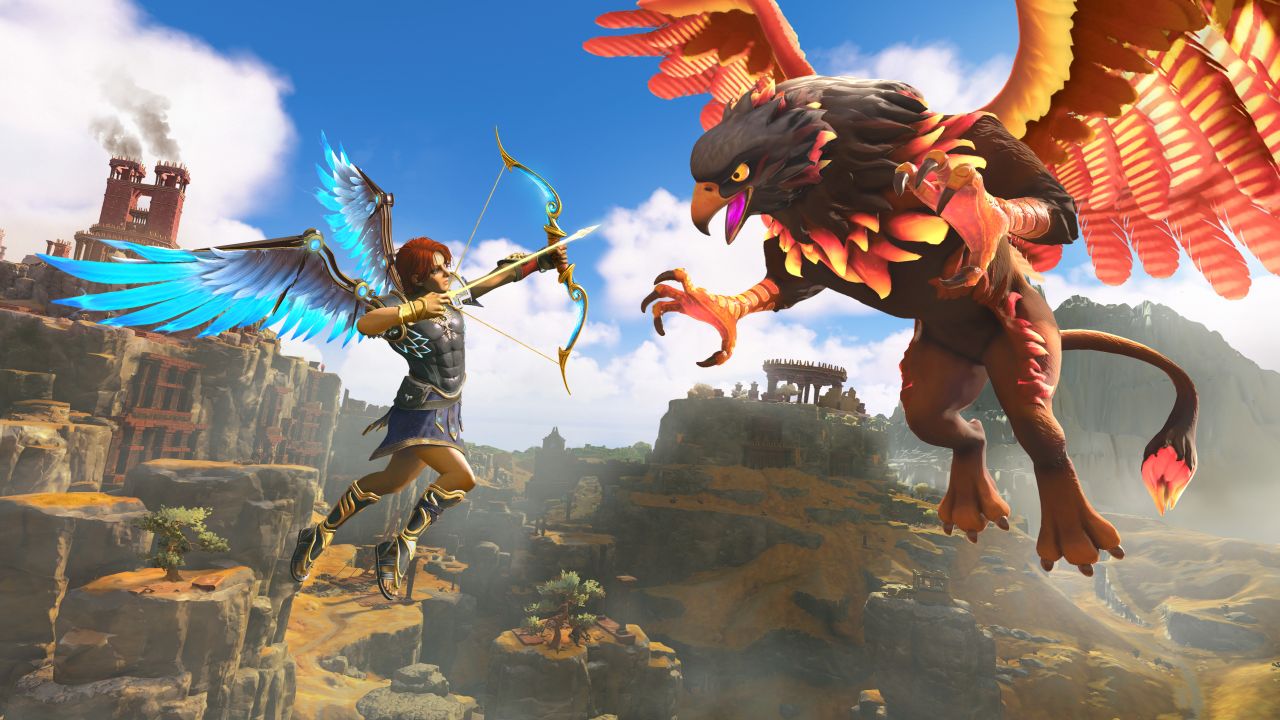 Imitation is the sincerest form of flattery; and Immortals: Fenyx Rising wears its inspirations as obviously as the eye on a cyclops' head.
In its quest to become the go-to publisher for time-sink adventures, it feels like Ubisoft has seen Breath of the Wild's epic, mysterious open world and tried to smoosh it wholesale onto its tried-and-tested formula.
At this point, the results seem to be mixed. It'd be easy to write Immortals off as a clone, but there's still obviously a lot of talent and original thinking that's gone into its implementation - but some parts mesh better than others.
It's all in a name
Announced as Gods and Monsters during E3 2019, Immortals: Fenyx Rising caught flak for its apparently generic-sounding new name when it leaked ahead of Ubisoft's Forward event.
But in the wider context of Ubisoft's roster of franchises, it does make sense.
Although it falls into the trope of 'Game Name: Rising', the switch to Immortals does a better job of framing Fenyx Rising as a launchpad to a new franchise than the one-off sounding Gods and Monsters. And when Ubisoft seems so loathed to make anything new unless it can be used again later down the line, it would be a bit out of character to have plans for just one game.
For a while now, Ubisoft has been taking steps to make its games' assets and engines compatible with each other to speed up development time and reduce the duplication of effort. It's this thriftiness that led to things like pirate ships from Assassin's Creed: Black Flag in Far Cry 5's map editor, and it looks like there's similar thinking behind Ubisoft Quebec - fresh off of the Ancient Greek Assassin's Creed Odyssey - taking another crack at Classics.
It's possible that Ubisoft Quebec could have used similar references and a lot of what's under the hood in Odyssey to speed up the cycle of Immortals, especially when it shares key creative staff with Assassin's Creed too. Then once that work is done, it'll probably serve as the foundation for other projects.
All this makes Immortals feel instantly familiar, but not necessarily samey.
Cartoon Kassandra that FLIES
A lot of Immortals' fundamentals feel straight out of the later Assassin's Creeds - especially the combat, which is remarkably similar to Odyssey, right down to the button-mashing mix of light and heavy attacks and the slow-motion blur as the main character, Fenyx, executes a perfect dodge.
That's layered with a lot of really obvious inspirations borrowed from Breath of the Wild: a stamina bar that trickles down as you free solo climb a cliff face, magical wings that help you to get around like Link's glider, and a map filled with puzzle-based dungeons and combat trials which give you power-up resources like Sheikah Shrines.
A lot of these things even bear visual similarity to their sources - like the beam Feynx uses to lift rocks and boxes to solve puzzles is instantly comparable to the magnesis power in Zelda.
But where original elements start to be introduced is the combinations of these systems.
Where both Assassin's Creed and Breath of the Wild are pretty much boots-on-the-ground combat-wise, Fenyx can use their wings to add extra verticality to their combos, take on flying enemies, and get a better vantage point on giant foes.
It was a bit finicky with the input lag of the streamed demo, but adding an extra dimension to the combat gives you a lot more options, as well as new ways to use your suite of mythological-flavoured special moves.
The addition of the stamina bar makes a lot of the systems from Assassin's Creed more flexible and interactive. The nail-biting calculations of whether you can make it up the side of a cliff before falling to your death are as intense as ever, and much more engaging than tediously scaling anything and everything without any effort.
Then you can do things like hold crouch to turn temporarily invisible while you have stamina - a fantastic solution to the now decade old problem of Assassin's Creed being a game that asks you to be stealthy without giving you any tools to be stealthy with.
Believe the legend
What felt lacking in my time with Immortals though was a really interesting story thread to hang everything together, and that's what I'll be most interested to see in the full game.
Breath of the Wild at times leant on a more enigmatic, environmental approach to story that at least had the clout of being a beloved and nostalgic franchise to drive your appetite for mystery. Assassin's Creed has its long-established lore and modern day framing to dive into.
It feels like Immortals doesn't really have either of these approaches, and even though I enjoyed the humorous, fourth-wall-breaking voice-over banter between Zeus and Prometheus, we were told that it was specific to the demo and not necessarily representative of the final game.
Feynx is a prophesied hero, destined to save the gods of Ancient Greece from a terrible curse and the wrath of the powerful Titan, Typhon, and all of that looks like a fun romp. But sometimes it feels like characters from Greek mythology are just being thrown at the player just because they're a name.
For example, there are tons of challenges, puzzles, activities and chests scattered around each of the regions in the Immortals map. They're all themed after a specific god from mythology, like Hephaestus' fiery forge that was available in the demo.
My favourite activities were the Vaults of Tartaros, which mixed combat and platforming with larger scale puzzles like a giant pinball machine.
When you complete a point of interest, you'll likely get one of the many different kinds of currency - bolts of Zeus' lightning, Midnight Fragments, Coins of Charon, or similar. These all factor into the massive amount of customisable loot and gear for you to track down across your journey.
You get different skins for weapons like the Sword of Achilles, with each one providing that weapon with specific buffs and perks.
But what felt a little flat was the 'why' behind it all. Why is it Charon's coin? Why is it Achilles' sword? I'd love to see these elements characterised more in the context of the full game, which is something Assassin's Creed Odyssey did so well.
Top of Olympus
There's so much to really enjoy in Immortals: Fenyx Rising, because on paper it's some of the best bits of two great games smelted together by a team that obviously has a lot of knowledge and affection for the Ancient Greek setting.
At this stage it feels quite close to nailing the balance between puzzle-solving, beating up baddies, and exploring the secrets of massive open world filled with loot chests - but without a bit more impetus from the narrative side of things, I can also see it burning out quicker than a wax-wing test flight.
Immortals: Fenyx Rising drops on PS4, Xbox One, Stadia and Switch on December 3. It's also coming to PS5 and Xbox Series X.