Fortnite toys, guns, Christmas jumpers, game bundles and more on Black Friday
It's Black Friday week and the deals are flying in left, right and centre. This means it's the perfect time to dive into the bank account, grab some cash, and spend it on some Fortnite merchandise right? Well, if you're a die-hard fan or a parent looking for some inspiration, we've highlighted a host of Fortnite gift ideas below.
There's everything from Fortnite garb, to toys and books, and even some official NERF guns which will have you covered if you're unsure what to get. We've also thrown in a few expensive gift ideas like console bundles which'll not only net the recipient a brand new disc-spinner, but plenty of in-game Fortnite goodies as well.
So without further ado, let's get stuck into all the best Fortnite gift ideas!
Fortnite Clothing
For those who want to rep their favourite game, there's a great variety of Fortnite clothing out there which look the part. Here are a few which caught our eye:
You can't go wrong with this official Fortnite Hoodie. Its minimalist styling means it can be worn with anything, and it's pretty heavy duty too, meaning it'll help you wrap up warm whenever it gets a bit chilly.
These Fortnite Tracksuit Bottoms in either black or grey are spot-on for those lazy days and will match nicely with the hoodie above if you're after the ultimate cozy look.
This Fortnite Beanie is a perfect gift for a child or teenager who needs that extra layer of warmth for the winter months.
Christmas is coming up soon, so what better gift than a Fortnite Christmas jumper? It's got all the game's signature features, including the Battle Bus, Supply Crates floating down from the sky and – of course – one character flossing, and the other dabbing.
For a splash of colour, the Fortnite t-shirt below should do the trick.
Fortnite Toys
We've scoured the internet for a bunch of Fortnite toy deals, as well as a few we think would make a great addition to any Fortnite-lover's locker.
First up, if you plan on spending some money on Fortnite merch or anything else this Black Friday, you can add a selection of Fortnite Funko Pops to your Amazon cart at a significantly reduced price. Spend over £20 and select your chosen Funko from the drop-down menu and it'll be yours for only £3.99.
This Omega figurine comes with a harvesting tool, umbrella, backpack, and a gun. You can also use the wood building material to pose your figure in any way you'd like. A perfect gift for someone who'd like to display their love for the game.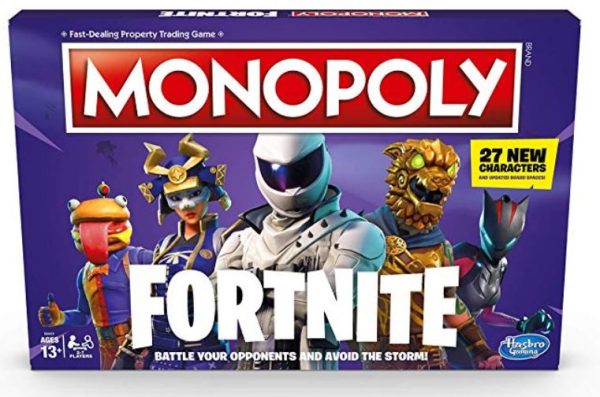 It's Monopoly – but Fortnite! In this edition, 2 to 7 players can get involved, claim locations, battle opponents, and avoid the Storm to survive.
If you're after a special gift, the Fortnite Battle Bus is the one. It's also the perfect station to display other figurines or merchandise, which makes it a present that's sure to please.
You can't go wrong with a plush, and this Loot Llama is the best of the bunch.
For something a little different, this Fortnite: How to Draw book will teach young ones how to draw their favourite characters from the game. Pair it with the Fortnite Stationery Set for the ultimate combo.
Fortnite Guns
Below you'll find a selection of the best Fortnite NERF guns we could find! These toy guns will let kids carry on playing when they stop playing the game.
For the stealthy approach, this Fortnite SP-L Blaster has a detachable barrel and comes with 6 elite darts.
If you're in the market for something heavy-duty, this AR-L motorised blaster will spew darts at serious speed. It comes with 20 elite darts and even has a flip-up sight to aid accuracy.
For a little bit of pump-action, the TS Blaster comes with 8 mega darts and has a storage dock for 4 more darts so you can reload super fast.
To take things up a notch, the Fortnite RL Blaster fires enormous foam rockets for blasting the opposition away.
Fortnite Gaming Bundles
If you're after a really special Fortnite present, a bundle is the way to go. These are consoles and headsets which come with unique in-game items you won't be able to find anywhere else.
This 500GB PS4 bundle comes with two controllers and the PlayStation exclusive Neo Versa pack which contains an exclusive in-game outfit, back bling, and around £20 work of in-game currency.
If you've got a little more cash to spare, the PS4 Pro bundle below is the way to go. It's a more powerful console so should provide the optimal Fortnite experience, plus it still features the Neo Versa pack for all those in-game treats as well.
Not only is this a ridiculously comfortable wireless headset with a tonne of features, it also comes with the Fortnite Neo Versa pack. You're effectively getting the headset for the meagre price of £20 – that's an absolute steal in our books.
Make sure you're keeping tabs on our PS4 Black Friday deals hub, our Xbox One Black Friday deals hub, and our Nintendo Switch Black Friday deals hub for all the latest offers throughout the week!