Destiny guide: all areas, beginner's tips, classes, raids, loot - everything you need to know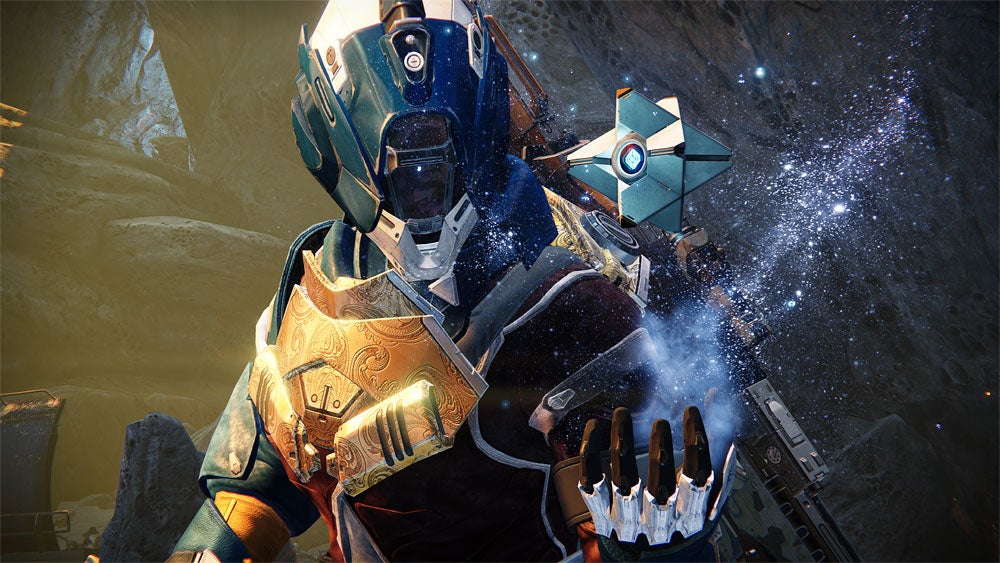 Our complete guide to Bungie's Destiny.
Destiny is a large game for which there's been a large wait. Four years after the release of Halo: Reach, Bungie's next big thing is finally here. An online first-person shooter with heaps of RPG elements, Destiny follows the Guardians, the last defenders of all humanity, as they face off against the alien threat and protect earth's last city.
You're going to need some help, so bookmark this page right now.
You'll probably want to start with the complete guide to picking your race, gender and class. Guardians are split into three races - Humans, Awoken, and Exo - and you'll need to decide which one you're going to take forward on your journey to greatness. We've got complete class guides for you, outlining the strengths, weaknesses, kit and abilities of each. You'll also find detailed information about each class's two subclasses.
Stay with us for regular updates as this guide fills out, giving you a solid working companion to what promises to be one of the most played games of 2014.
NOTE: This guide was written for Destiny's first year. If you're coming to the game after the release of The Taken King, the second year expansion, you'll need to use our Taken King guide in conjunction with the information below.
Destiny guide
____________________
Beginner's tips
Destiny's kind in the early stages, but you should still take note of tips to get the best out of the starting game. Picking your class is a key choice, and the first thing you'll do when starting play.
You can take on the Titan, the Hunter or the Warlock. Each plays differently, each has its own strengths and each plays a specific role in striking, so be sure to know your class. Below you'll find tips on starting with all classes (we'll have beginner's tips for the Hunter live soon) and exhaustive detail on all the variants and subclasses. Have at it.
Getting started
A handy guide to emotes. Destiny is all about dancing like a funky chicken. Sort of, anyway. Once you've had a dance, pick your class. Choose carefully.
Break down the baffling stats behind your character, weapons and armour.
Here's a briefing on the Future War Cult, New Monarchy or Dead Orbit Factions.
Once you've mastered the basics, you'll want to start raiding. Learn how to get a party together quickly and easily.
How to level fast
Destiny is a journey, but the sooner you reach level 20, the sooner you're playing with Legendary gear and facing the daunting prospect of attempting raids. Get there faster with our tips on pushing up past the lower levels as quickly as possible.
The Tower
The Tower is Destiny's main social area, a hub where you'll buy new weapons, ships and armour. The Tower is home to The Speaker, the Traveler's go-between, and a pick-up point for bounties and post. You're going to be spending a bunch of time here, so get to know its areas, factions and layout.
Complete area and locations guide
This is what you signed up for, Guardian. Destiny's fight against The Darkness spreads over the inner solar system and takes in some truly epic locales and combat. You're going to be facing enemies both biological and technical, and some end-bosses fearsome enough to worry even the hardiest gunslinger. Fret not: we've got your back.
You'll find guides to every Gold Chest and Dead Ghost in the game below, as well as complete walkthroughs to all the story missions and Strikes (we've yet to add the Mars Strike, but that'll be placed soon). Good luck.
The Enemies of Destiny
The Fallen, Hive, Vex, and Cabal. Nasty little blighters. Here's how to kill them all.
Trophies and Achievements
Don't lie. Of course you want all the pretend medals. Make sure you don't miss a single one with our complete guide to Destiny's Trophies and Achievements.
Legendary engrams and upgrades
You need the best gear and the baddest weapons. We're here for you.
Grimoire cards and Consumables
Why does Destiny give you hundreds of Grimoire cards? You don't know? You do now.
The Dark Below
Whether you buy The Dark Below expansion or not, its arrival on December 9 2014 means big changes to the game. Here's where you'll find our guides to the additions and alterations.
Destiny's second major expansion adds new end-game activities in Prison of Elders and Trials of Osiris, as well as a new level cap of 34. You'll find all of our House of Wolves guide pages below.
The Iron Banner
The Iron Banner is a limited time PvP event that offers some really nice weapons, armour and bounty awards. It's actually a lot easier to earn loot than you might think, so here's our simple-to-follow guide to making the most of this exciting multiplayer mode.
Destiny is set to evolve, possibly for years, as Bungie introduces new content and makes changes to the shooter MMO's systems. Stick with us for more details as they unfold.