Nintendo Switch Black Friday 2019 – the best deals on consoles, Switch Lite bundles, accessories, games and more
It's November and are you ready for the yearly shopping spree? No worries if not as we've collected all the best Nintendo Switch Black Friday deals for 2019.
You wouldn't believe it's already been a whole year since the last Black Friday, would you? We've just about recovered and are ready for the grab all the good Nintendo Switch offers to come our way over the next few weeks. Whether you're after a console, some games, accessories or anything else, you'll find all the Nintendo Switch Black Friday offers right here.
We're looking forward to Black Friday 2019 even more now that the Nintendo Switch Lite has launched, too! This smaller version of the console will have only been out a few short months by the time the sales event rolls around. But will it see a discount? You can find out what we think below! We also have any of the early Nintendo Switch Black Friday offers already out there.
The best Nintendo Switch Black Friday deals so far
We don't usually see the Nintendo Switch on sale outside of big deals events like Black Friday. Living up to that expectation, there's very little out there right now. If you're in the UK, though, you can get a free Nintendo Switch with these Samsung and Huawei mobiles.
As for the US, it's dead. However, we do know that a Nintendo Switch with Mario Kart 8 Deluxe for $299.99 will be the Black Friday console bundle. Not great, not terrible. Stay tuned for that, then.
In the US:
In the UK:
Black Friday 2019: when is it?
You'll want to mark 29th November in your diary for Black Friday 2019. Be prepared to be on the hunt for deals in the weeks prior and following that date, though, as retailers look to make the sales a much bigger event.
In recent years, we've seen loads of retailers kick off their Black Friday sales up to a month early – or at least tease us with the offers they're going to have on the day itself. We'll be keeping track of all the important ones right here so don't you worry!
What Black Friday Switch deals will there be this year?
That's a tricky question, but we have a few ideas of what Nintendo Switch Black Friday deals you might expect to see this year.
Now that Black Friday adverts are out there from the likes of Best Buy it's become clear what's going to be available. Those of you holding out hope for a cheap Nintendo Switch bundle, it's bad news I'm afraid. We now know the offering is going to be a Nintendo Switch with Mario Kart 8 Deluxe for $299.99. Unless there are any major surprises nearer the time that's all we've got so far. An OK bundle, then, but not as spectacular as we'd hoped.
Nevertheless, we'll be keeping a close eye on Pokémon Sword and Shield as they will have only been out for about a month by the time we reach Black Friday. You don't often see big discounts on newly-released games – let alone first-party Nintendo Switch games – so this is more of a pipe dream than anything else. Still, a cheeky $5-$10 saving isn't completely out of the question.
There are many other popular Switch games that will be seeing more significant price cuts, though. The likes of Breath of the Wild, Super Mario Odyssey and others have sat at full price for as long as we can remember and will now be coming down to $30. All of the expected games will reach this price point, with some other third-party titles such as Diablo 3 dropping to all-time lows.
Also, you should definitely see what happens on the Nintendo eShop. Sales are becoming more regular on the digital store so it wouldn't be crazy if they ran something over Black Friday. In terms of deals, they've varied in quality in the past, but now might be the time for them to go big.
Should I get the Switch Lite on Black Friday?
If you're holding out for a Nintendo Switch Lite Black Friday deal then you might end up being disappointed this year. The Switch Lite has only just been launched so we aren't expecting to see any considerable money off it so soon compared to the standard Switch.
The best you can probably hope for is to get a Switch Lite console with a first-party game for $199.99 or £199.99. Some offers are already up in this sort of area so it won't be anything new. Depending on the game, though, it could work out nicely as a free extra.
Will the NES Mini and SNES Mini be on sale?
That's not a bad shout, actually! Nintendo's retro consoles make for excellent gifts so we wouldn't be surprised if some retailers brought them back at a discount during Black Friday. You probably won't see anything quite as strong as the PlayStation Classic for $20 during Prime Day! Still, there's definitely room to save a few bucks on the NES Mini and SNES Mini.
Where will be the best place to get a Nintendo Switch Black Friday bargain?
We'd suggest checking the usual suspects such as Amazon as they've pushed some of the best Nintendo Switch Black Friday deals in recent years. Of course, traditional games retailers such as GameStop, Best Buy and Walmart could also compete. Their offers are most likely going to be shared between them, though.
Over in the UK, you'll want to keep track of Argos, AO, Very and the multitude of online games retailers for all their Black Friday Nintendo Switch bargains. We could see some exclusive offers from the biggest of these as they all compete for the big ticket sales. For the largest department stores, you could pair up a Nintendo Switch Black Friday deal with something on a 4K TV, some accessories or homeware for even more savings!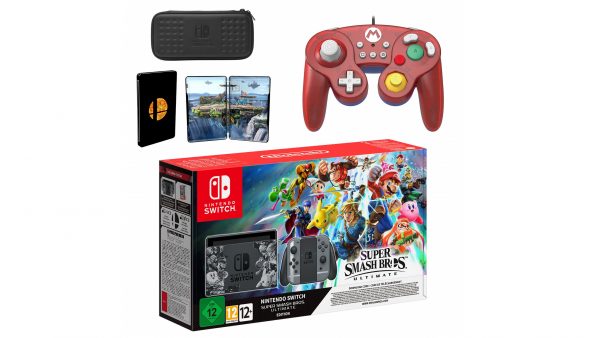 What were last year's best Nintendo Switch Black Friday deals?
Not great. Last year the Nintendo Switch stuck around $300 for Black Friday. The best we saw was the addition of a free $35 gift card at for that same price, so you could essentially create your own Switch bundle. Still, that's not the sort of eye-popping Nintendo Switch Black Friday offer we expect to see.
Outside of that, you saw a few top Switch games such as Super Mario Odyssey and Super Mario Party drop below the $50 mark for the first time. Games like this are now sitting at that price point more permanently at Amazon US, so look for further discounts on Black Friday.
Over in the UK, a Nintendo Switch console fell to £250. When a game was added to the mix it crept up to £290. Again, not something that would make us want to scream from the rooftops but you could appreciate the small saving. Let's hope for something better this year!
And don't worry about trying to follow it all yourself. Keep this page bookmarked and be sure to check in every so often so you know about all the latest Nintendo Switch Black Friday deals. If this isn't your console of choice, you can also follow our pages dedicated to the PS4 Black Friday and Xbox One Black Friday deals. It's going to be a wild few weeks!