Nintendo eShop cards and games are 10% off this Black Friday
Black Friday has arrived and we've got discounts at the VG247 code store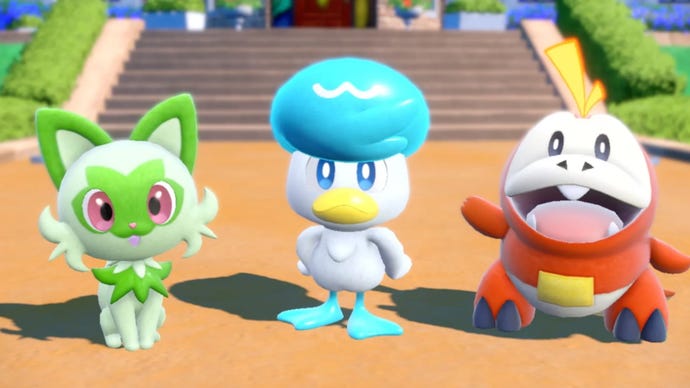 Black Friday has arrived and deals have spilled out across the internet. You don't need to look far however, because the new VG247 code store has a 10% discount on a selection of digital games and gift codes for the Sony, Microsoft and Nintendo stores.
Head over to the store and use the code "BLACKFRIDAY" at checkout to get a 10% discount on any item. That means a $50 Nintendo eShop card or £50 UK equivalent costs just $45/£45. That's basically free money. The same goes for Xbox codes and PlayStation codes.
The discount also applies to digital games, including the just-released Pokémon Violet and Pokémon Scarlet and the slightly older The Legend of Zelda: Skyward Sword HD, Xenoblade Chronicles 3 and Monster Hunter Rise.
If you're visiting the store for the first time, you'll see a pop up asking you to select your country and language. What products are available to buy will depend on your region, so make sure to click 'Select' and not the X in the corner, otherwise you won't see any.
Once you've added your chosen items to your basket, simply enter the code "BLACKFRIDAY" at the checkout, pop your personal deets in, and voila! A cheaper digital game, eshop card or Nintendo Switch Online membership will be sent immediately to your inbox! Take a look at some our offers below.
VG247's recommended Black Friday deals
Nintendo eShop credit in the US
US shoppers, if any of the games below take your fancy you will need to purchase a discounted eShop card to top up your credit and then purchase the game via the Nintendo eShop. We can't guarantee the games will be the same price on the eShop, but you will at least still be making a saving on the gift card.
Nintendo eShop credit in the UK
Nintendo Switch Online subscription deals
VG247 Black Friday Nintendo Switch deals in the UK
Expansion Pass DLC
---
If you've bought any codes from our store, thank you for supporting VG247. Once you've proceeded through our checkout and completed payment, your download codes will be sent immediately to your inbox for you to use as you please - whether it's redeeming the codes on your own account or gifting them.
Buying games digitally on the Nintendo eShop also means you can earn Nintendo Gold Points. These let you take money off your next purchase, or you can build these up to buy something in full. You may also accrue some Platinum Points, which let you shop the exclusive Nintendo Rewards Store. There are some pretty cool freebies on there, like an Animal Crossing Dodo Airlines foldable tote bag (I totally claimed this), gorgeous Nintendo art cards, and much more.
You might also want to check out what else our new VG247 store has to offer, such as PlayStation Store gift cards, Xbox Game Pass memberships and digital Xbox games, and more.
Now that Black Friday is here, check out our other bargain recommendations via our Deals hub to make sure you don't miss out on any savings.