Fortnite: Visit Sky Platforms - Locations map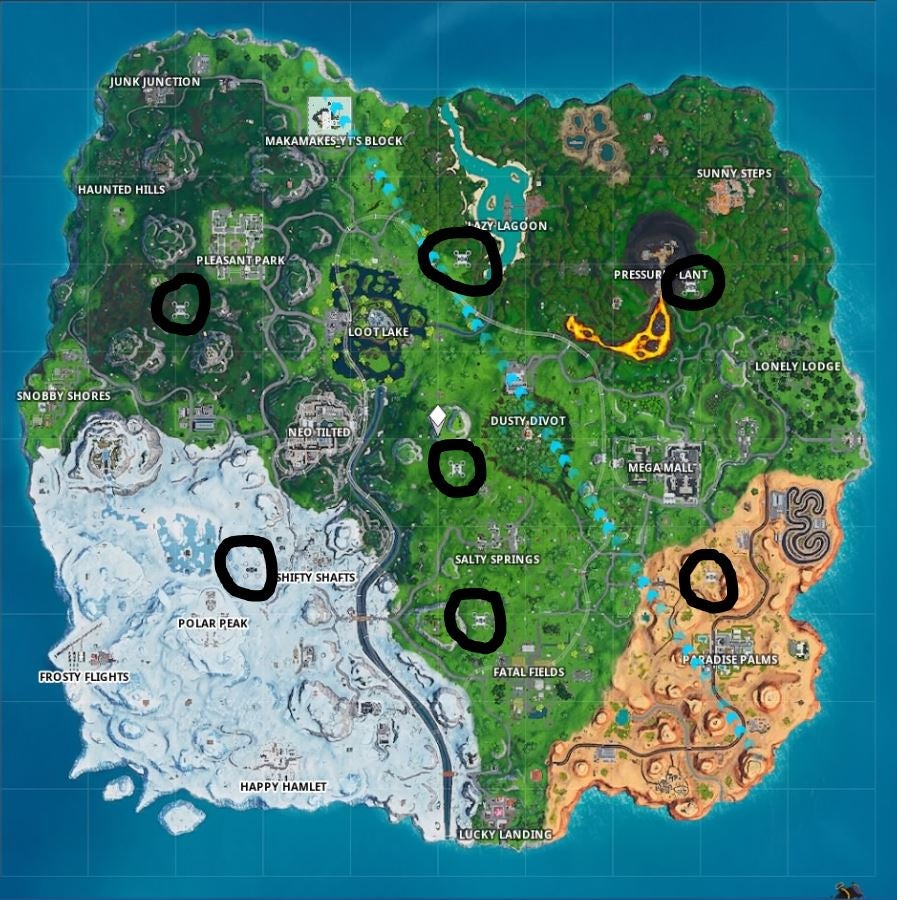 As Fortnite Season 9 takes the floor, don't forget about your challenges! If you want to make your way up the tiers, you'll need Battle Stars, so here's how to find all 7 and visit Sky Platforms.
Each one is spread around the map, but you should be able to make your way between them across a couple of games.
Don't worry too much about needing mobility to get up to the Sky Platforms too, there are jets on the corners that lift you up.
Visit Sky Platforms in Fortnite Season 9
You can see all of the Sky Platforms marked on the map below with black circles.
They are located between named locations, letting you glide quite easily between them.
Visit Sky Platforms
Northeast of Polar Peak, and west of Shifty Shafts
Southwest of Pleasant Park, Northeast of Snobby Shores
Southwest of Lazy Lagoon
West of Dusty Divot
East of Pressure Plant (Volcano)
South of Salty Springs, North of Fatal Fields
South of Mega Mall, North of Paradise Palms
While you're completing challenges, get stuck into the new Fortbyte tasks. Here's how to grab the one that's only accessible by Sentinel on a Frozen Island.
For everything new in Fortnite Season 9, take a look at the full patch notes.
There are a load of new skins to see as well! Here's a roundup.
If you're more of an explorer, check out all of the map changes to drop with the new patch!
Fortnite Season 9 Weekly challenges
Here are all the Overtime Challenges, Birthday Challenges and Fortbyte locations