Fortnite Season 9 Week 1 challenges - here's how to earn your XP and Battle Stars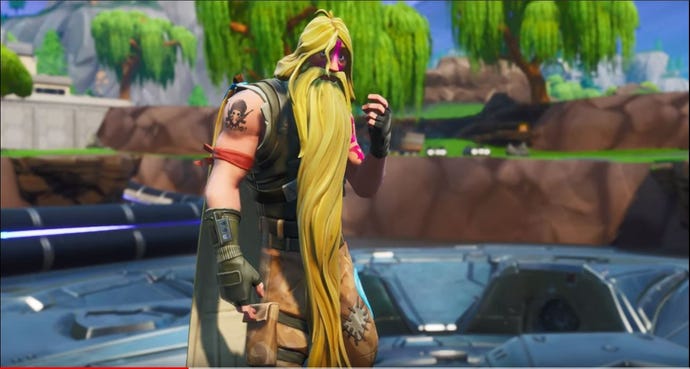 Season 9 is finally here and there are some brand new challenges for you to complete.
Some pretty big changes have happened around the map, and there's no more Tilted Towers. Instead, a new area has been added called Neo Tilted is ready to explore along with some fresh challenges to usher in the new season.
This week, you'll be sampling some of the new delights on offer including Slip Streams and the new areas!
Fortnite Season 9 Week 1 challenges
Stage 1: Ride the Slip Stream around Neo Tilted, Stage 2: Ride the Slip Stream around Mega Mall

This is very easy to do, and you've probably done it yourself by now! The Slip Streams run around the new named locations, but you'll have to ride them in different matches to complete both stages.

Click the link above for a full map of everywhere you need to go!

Deal damage to an opponent within 10s after using a Shadow Bomb

The toughest part of this one is getting your hands on Shadow Bombs. Focus on finding chests to get some. Once you do, try isolating an opponent and get on their blind-side while you're invisible.
Fortnite Battle Pass challenges
Pickup a Legendary Item in different matches

The easiest place to find these is in chests. Try jumping into Team Rumble where Boom Bows seem to appear quite often, especially from Supply Drops.

Search chests a Lucky Landing or Loot Lake

There's a good run that you can do in the northeast of Loot Lake. Drop in on the watchtower in the northeast to find a chest spawn on top, then drop down to the shed on the jetty for another. Next head over to the house on the north shore of the lake and check inside the basement garage, then head south to the raised island for yet another spawn. You can then find a few more scattered around the central lake area.

Scoped Weapon Eliminations

You can quite easily complete this in Team Rumble if you manage to find a sniper or scoped assault rifle. It might take a couple of games to get the weapon you need, but it will come.

Deal damage to opponents from at least 2, 4, and 6 stories above

Since Neo Tilted is so popular right now, the new city is a great place to complete all of these challenges. Land on a high building with a floor spawn, and you'll be able to pick off people running about below.
For everything new in Season 9, check out the full patch notes!
There are tons of new skins on offer as well - here's a round up of them all.
While you're enjoying your new threads, why not explore all of the Season 9 Map changes as well?
Fortnite Season 9 Weekly challenges
Here are all the Overtime Challenges, Birthday Challenges and Fortbyte locations