Monster Hunter World guide: strategy and advice for hunting in the New World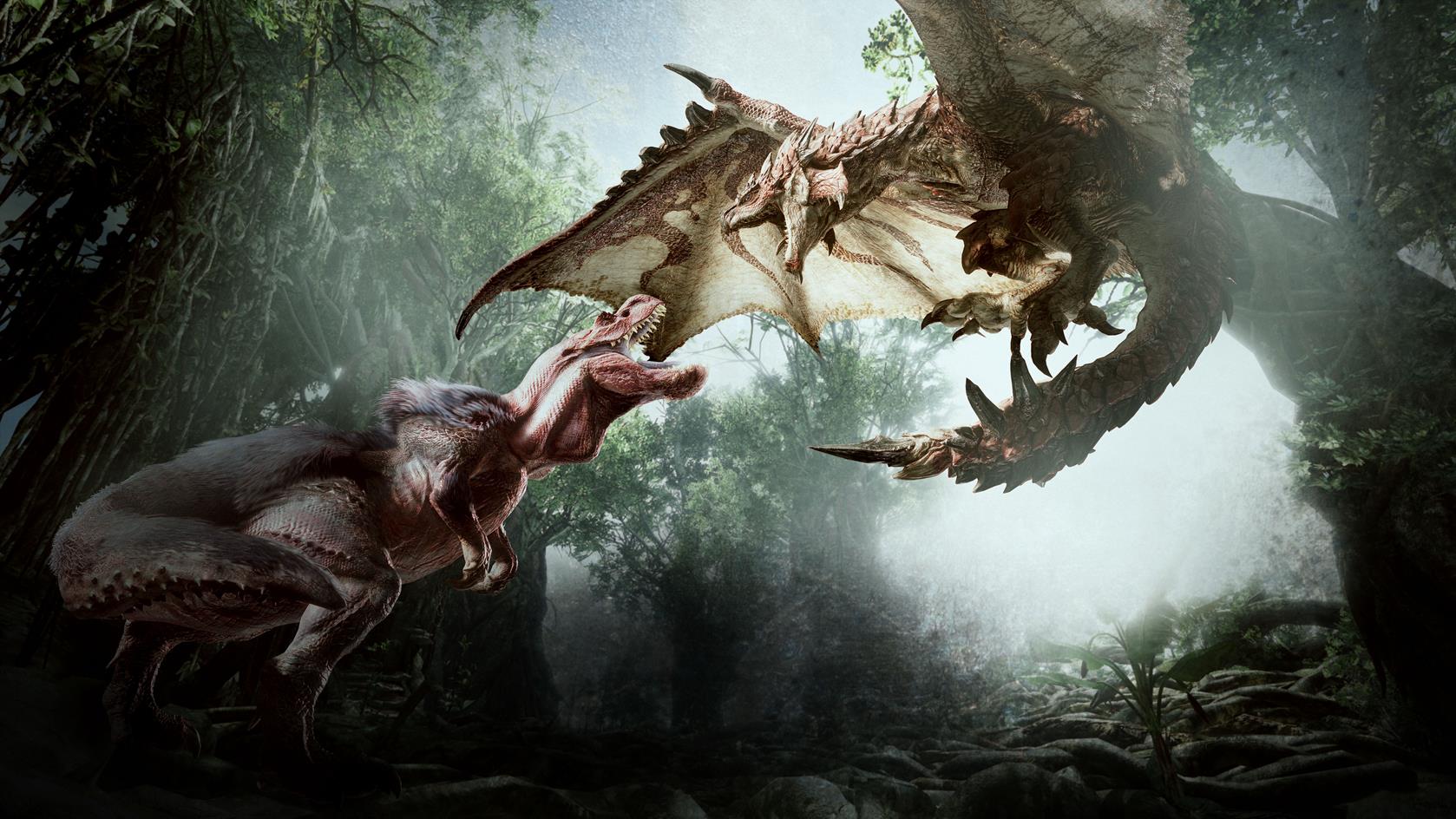 Monster Hunter World is finally out on PC! Armor-up, grab a switch axe and begin your quest with this collection of guides to walk you through the New World.
Monster Hunter World is the next big entry in the long-running action RPG series from Capcom and it's an absolute hit with the critics.
Don't be fooled by the title; World is the next core entry in the Monster Hunter series, not another spin-off or remake. After many years of bouncing between portables, where admittedly it thrived, Monster Hunter is set to make a big splash on the most popular home platforms.
It's had a serious overhaul, too. Monster Hunter World puts a thoroughly modern spin on the classic series formula, retaining the basic hub, quest and hunting structure we all love so much, but generously throwing new features in and updating existing systems.
This series has always had the potential to go really big, and Monster Hunter World looks set to do just that. Don't be left on the sidelines wondering what's happening; get across Monster Hunter World now - and get hype.
Technical guide:
First things first, if you're playing on PC you need to get your config right. If you've got the tech to make the most of 4K - or even if you don't - then we can show you how to fiddle with the settings to make the New World pop.
Starter's guide: multiplayer, online, crafting and bounties
You can play Monster Hunter World solo and it's still a great game. But multiplayer should enhance your enjoyment ten-fold. There are a few odd rules that you'll need to get used to, and this guide will spell them out and make everything clear so you can be hunting with your buddies in no time. And just to make it clear: there is no local co-op for Monster Hunter World.
Now you're playing with friends you'll want to understand the basics as they're essential to rounding out your character and making the most of Monster Hunter World. There's a lot to get your head around; scoutflies, the world of Astera, crafting and smithing, eating, customizing your pouch, bounties, daily bonuses - we've got it all covered.
For those times you just want to quickly lookup what the monster you're hunting is weak against, and spec your gear accordingly without having to read a list of tactics.
It's not just the giant lumbering creatures you'll want to capture in Monster Hunter World. You can also grab yourself animals and keep them in your room as pets. What are you waiting for?
Weapons, armor, mantles and building your hunter
There are 14 different weapon types in Monster Hunter World, each one suited different attacks, creatures and hunt styles. There's a lot to learn, but don't be overwhelmed. here we cover the basics, from sword and shield, to gunlance, insect glaive and switch axe.
There's no point being armed to the teeth if you can't take a punch or two. Here we tell you how to forage and smith new armor, the defensive value of all armor and all the asrmor skills granted to you by the gear that you wear.
Monster Hunter World doesn't have classes, nor do you level up in the traditional RPG sense. Instead, your gear needs to be balanced using Affinity, which determines the amount of damage you do. It's not a difficult concept, and understanding it is key to taking down beasts on high-level hunts.
PlayStation 4 owners are lucky enough to grab some bonus outfits for themselves and their Palico. Any they're based on last year's massive hit, Horizon Zero Dawn. Also, here's part two of the quest, all about Aloy's armor.
Monster Hunter World's Street Fighter cross-over has begun – here's how to get the new gear it adds.
The USJ Azure Star set is, officially, available only to Japanese players. But, there's a way for those outside of Japan to still get the gear.
Monster Hunter World Mantles: How to get them all
Weapon Tutorials & Gear Builds
Our guide to the Charge Blade, one of Monster Hunter World's most interesting and tactical weapons. Master it and you'll be doing blistering damage with your builds and combos.
Our Longsword tutorial is packed with info on how to get the best out of your builds and combos.
Of all the distance weapons, the bow will feel the most familiar to melee aficionados, and has a great many strengths that make it a worthwhile choice. It's less limiting of movement that other ranged weapons, which makes it more wieldy to handle. Here we detail how to best use this weapon.
If you've reached High Rank in Monster Hunter World, you're going to be dealing with hard-hitting quests that'll really challenge your hunting skills - but this particular armor build will really help you to stay alive.
If you're mining, this gear set will help you get the absolute most from your efforts.
Monsters: Every Monster profiled, boss strategies and more
This is the big one: every boss in the game profiled with advice on how it attacks, where to find them and most importantly - how to kill it, complete with strengths and weaknesses. Also features drop lists so you know exactly what loot you'll be getting for your efforts. Know your enemy!
Anjanath is the first major, full-on, properly challenging boss encounter in Monster Hunter World, and this dinosaur lookalike won't go down all that easily.
Diablos is another one of Monster Hunter World's toughest beasts. Powerful and aggressive, Diablos requires real strategy to beat because of his attacks are so hard to dodge.
Nergigante is one of the most brutal bosses in Monster Hunter World, an absolutely devastating Elder Dragon beast that has abilities and attacks that can one-shot hunters if they're not careful. Here's some strategies for handling him.
One of the first new DLC monsters to arrive is Deviljho, a large brute wyvern that, like Anjanath, shares more than a passing resemblance to a tyrannosaurus rex – or a pickle, depending on who you ask. Here's all about this beast.
Where to find Rare Loot Materials
To cut down on grinding, there's a great Palico gadget that helps to harvest rare materials from monsters. Here's how to get it...
Don't underestimate these sacs - they're elemental items that can imbue your weapons or armor with very useful elemental properties when used in various upgrades. You'll definitely want some of these as you upgrade your hunter, so here's how to find them.
Coral Crystal and Coral Bone are important items, because they let you craft a variety of weapons and armor. Here's where to find 'em.
Here are some of the best methods to collect Monster Hunter World's most sought after crafting materials - a bunch of different bone types.
Here're our best methods for finding Wingdrake Hide, Warm Pelt and Sinister Cloth in Monster Hunter World - some really great crafting items.
Here's a helping hand with where to find Earth Crystal, Dragonite Ore and Herbivore Eggs - and some tips for transporting eggs safely.
Here are our best methods for finding Wyvern Gem, Light Crystal and Super Abalone in Monster Hunter World - all very useful loot for crafting and upgrades.
Here're our best methods for finding Great Hornfly, Piercing Claw and Majestic Horn.
Did you know that you can dress up everyone's favourite Monster Hunter World pig, Poogie, in secret costumes? If you've ever wanted to swaddle a pig in sheep's clothing or a little frog outfit, now's your chance – there's even a crown.
One the most important things in Monster Hunter World is to keep a constant supply of crucial crafting and consumable materials flowing into Astera. To help keep the coffers full, here's how to unlock more farming and cultivating slots at the Botanical Research Center.
If you're struggling to see Tempered Elder Dragon Investigations in your game, there is one way you can sort of game the system and generate a near infinite number of them.
Monster Hunter World: your questions answered
There are a few common misconceptions about Monster Hunter World. Let's address them right now.
Does Monster Hunter World have local co-op?
Monster Hunter World does not have local split screen co-op. It does have 4-player online multiplayer though, and you'll be missing out if you don't get invovled as it absolutely suits the game. Try it out, you won't regret it.
Does Monster Hunter World have cross-platform play?
In a word: no. Monster Hunter World does not have cross-platform multiplayer. Although we'd really love to see it happen so all out PC, PS4 and Xbox One buddies can group up, Capcom has ruled it out.
People are saying Monster Hunter World has cross-platform play because of a slightly ambiguous comment during Monster Hunter World's E3 2017 announce about everyone playing together. This refers to Capcom's decision to axe regional matchmaking restrictions, so players in the US and Europe can play together with Japanese veterans. This should make it easier to find groups to play with.
Which platform is best for Monster Hunter World?
Monster Hunter World is coming to PC, and is out now on PS4 and Xbox One. The PC version of Monster Hunter World isn't due until the end of the year. On consoles, Monster Hunter World's frame rate is locked to 30 fps. Capcom isn't ready to talk about the PC version's performance yet.
Monster Hunter World is not coming to Nintendo Switch, even though - as a franchise that has previously worked so well in portable formats - it would suit the on-the-go console perfectly. A shame, that, but it may have something to do with Capcom and Nintendo's arrangements for other Monster Hunter titles on 3DS.
Are the Trophies and Achievements difficult to get?
There's a whole list of Trophies and Achievements for Monster Hunter World. Is it a difficult platinum? You'll have to be the judge of that.
Can I change my Character Appearance after I've started the game?
No. Well - not entirely. Monster Hunter World will let you change basic aspects of your character appearance such as hair or makeup after you've finished character creation, but you'll be locked out of changing things like skin color, body build and face shape forever once you press start game - unless you set up a new character. Keep this in mind when creating characters! Capcom has said if there's enough demand, they'll add in a character editing option, so let your voice be heard!