Monster Hunter World: Bow Tutorial - How to use ranged weapons, understanding Critical Distance, and what are the best combos?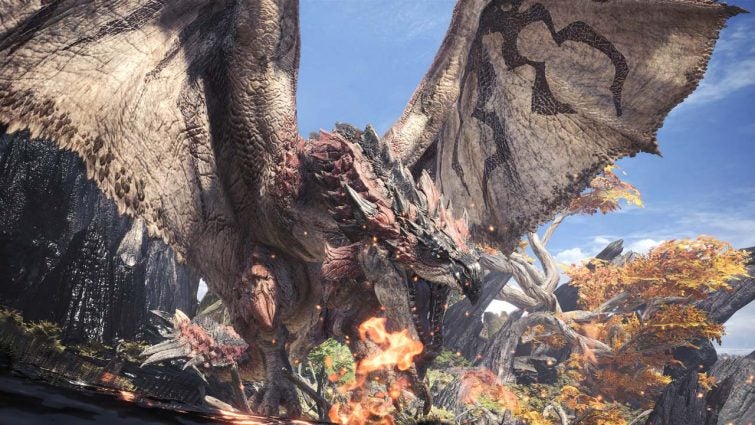 There're a huge variety of weapons available to you in Monster Hunter World, like slow, hulking greatswords, quick and nimble dual blades, as well as ranged weaponry like light and heavy bowguns.
If you're interested in testing out ranged combat in Monster Hunter World, give the bow a try. Of all the distance weapons, the bow will feel the most familiar to melee aficionados, and has a great many strengths that make it a worthwhile choice. It's less limiting of movement that other ranged weapons, which makes it more wieldy to handle.
We've embedded a video from Arekkz below which takes a comprehensive look at everything you need to know about the bow in Monster Hunter World.
We also have a full guide to Monster Hunter World's other weapons too, with further details on their strengths and weaknesses.
How to use Monster Hunter World's Bow:
The main thing that sets ranged weapons apart from melee in Monster Hunter World is the range of ammo coatings that you can utilise to deal damage in different situations. These form a lot of the bow's tactical underpinning and can be really effective when used correctly.
You can change between different types of ammo on the fly. So while you have an unlimited amount of normal shots, you can switch to coatings that inflict ailments like poison, paralysis and sleep during a fight depending on the monster. Anjanath, for example, can be poisoned for extra damage.
Critical Distance
The other major difference between the bow and melee weapons is Critical Distance. This is the optimal range at which your shots deal the most damage.
In Monster Hunter World it's easy to see whether you're in range by using your reticle. If you're simply too far away, it'll say "Out of Range". If you're a bit closer, but still too far away, it'll display a yellow circle with one line at each side. At this range, you'll deal damage, but at a weaker rate. When you're at Critical Distance, another full circle will appear inside the first, meaning you're dealing maximum damage.
It's important to stay at Critical Distance, because it not only impacts your DPS if you're outside of it, but also the efficiency of the statuses you're trying to inflict on monsters if you're using ailment coatings.
Power coatings also give your shots different Critical Distances, so be sure to take note if you're using them.
Monster Hunter World Bow Combos:
When using a bow, you can hold down the left trigger on Xbox, or L2 on PS4 to bring up your aiming reticle - doing so without firing is a good idea, because it lets you check your Critical Distance and position yourself correctly.
For all of these combos, you'll need to be holding the left trigger or L2 to aim.
The most basic attack is performed by pressing the right trigger or R2, but you can also hold down this button to launch a charged shot that does more damage. Doing this drains stamina, and if you run out you'll automatically let go of the shot.
Bows usually have two levels of charge, and deal more damage based on how long you hold the trigger. You can see when you gain a level, because the bow pulses. Some bows have more than two levels as added bonuses.
Charging shots is useful when you're trying to apply status ailments, since more damage means a greater build-up of ailment.
However, new in Monster Hunter World, pressing the right trigger or R2 three times in quick succession now produces a rapid combo where each successive hit is charged up to the next level. So for example, the first hit deals normal damage, the second deals the equivalent to if you'd held down the button to level one, then the third hit deals damage equivalent to if you'd held it down to level two.
This method yields much higher DPS, but consumes special ammunition much, much faster, so you need to weight up the pros and cons. If you're low on a type of ammo, charge your shots for maximum effectiveness. If you're using regular unlimited shots, make use of the combo.
Arc Shot
Pressing the right trigger and B, or R2 and circle, fire an Arc Shot. This causes projectiles to rain down on your target, dealing impact damage - which can cause monsters to fall over - if they hit its head.
Arc Shots are unaffected by coatings, so cannot apply status ailments.
You can also charge Arc Shots like you would any other. To do this, hold right trigger or R2 as normal,then press B or circle once you've hit level one or two. This causes the rain of projectiles to last longer.
To have greater aim over where Arc Shots land, hold left trigger, right trigger and B - or L2, R2 and circle - all at once, then use the right stick to aim.
Spread Shot
Pressing B or Circle on its own fires a spread shot, which deals damage in a horizontal line. If you press the button three times, you perform a rapid combo similar to the right trigger combo. The difference here though, is that it includes an Arc Shot.
For a move advanced combination, you can press B or circle at the end of a rapid right trigger combo - this fires a spread shot at maximum charge, extending your damage output.
Dragon Piercer
Pressing Y and B - or triangle and circle - together performs a Dragon Piercer shot. This is a powerful strike that's most useful for breaking parts on monsters.
It's possible to charge this attack too by holding the right trigger to charge before pressing Y and B or triangle and circle.
This does a lot of damage, but is less efficient at applying statuses.
Charging Sidestep
One of the bow's more useful moves is the Charging Sidestep. This done by holding the left trigger to aim and pressing A on Xbox or cross on PS4. This maneuver not only dodges incoming attacks but also charges you shot by one level.
After a Charging Sidestep, you can press Y or triangle to perform a jumping melee attack that's useful for mounting monsters.
Best Combos:
The most powerful DPS combos for the bow in Monster Hunter World incorporate many different types of shots in one maneuver.
The main combo you'll be working with is quite simple:
RT > RT > RT > B > B > B
OR
R2 > R2 > R2 > Circle >Circle >Circle
This is just the two rapid combos strung together for maximum damage.
If you're fighting a large monster with a big surface area, the spread shot can do more damage than a regular one, so it's better to work one in at the start. This makes the combo:
B > RT > RT > B > B > B
OR
Circle > R2 > R2 > Circle > Circle >Circle
If a monster if downed for any reason, it's best to add a Dragon Piercer shot to the combo, instead of an arc shot, turning it into:
B > RT > RT > B > Y + B
OR
Circle > R2 > R2 > Circle > Triangle + Circle
If you've got the time for it, you can also add a Dragon Piecer to the end of one of the full high DPS combos, meaning that you're most powerful combo is:
B > RT > RT > B > B > B > Y + B
OR
Circle > R2 > R2 > Circle > Circle > Circle > Triangle + Circle
Monster Hunter World's weapons have plenty of deep mechanics that aren't thoroughly explained in the game. One of the most important is Affinity, which we've put a separate guide together for.
It's also important to know how to capture creatures in Monster Hunter World, because it yields greater rewards that you can use for crafting armor and weapons.