What time does the Genshin Impact 4.1 Livestream start?
New Primogem codes and banners inbound!
It's that time once again, with HoYoverse set to reveal more about what's coming in the next update for Genshin Impact. The Chinese devs have confirmed the start time for the Genshin Impact 4.1 livestream, which is happening today.
The next patch will be coming after the huge 4.0 update added the new underwater Fontaine region this summer. While details are thin on the ground for what the next update could bring, fans have been teased that two new husbandos could be arriving soon, and may be part of the Genshin Impact 4.1 banners.
We'll have to wait for the Special Program to find out for certain, with the upcoming broadcast also set to announce new Genshin Impact codes that dish out free Primogems. If you want to tune in we've got details below on the start time for the next Genshin Impact livestream, how to watch the stream as it happens and when a replay will be available.
---
What time is the Genshin Impact 4.1 livestream?
The Genshin Impact 4.1 livestream is taking place on Friday 15 September 2023 and starts at 12.30pm BST.
Here are the start times for different regions around the world:
US (West Coast): 4:30am PDT
US (East Coast): 7:30am EDT
UK: 12:30pm BST
Europe: 1:30pm CEST
Japan: 8:30pm JST
Australia: 9:30pm AEST
How to watch the Genshin Impact 4.1 livestream
The next Genshin Impact Special Program will be broadcast live on the game's official Twitch channel first. If you can't tune in when it's been shown live, then a replay will be available an hour after the stream begins on the Genshin Impact YouTube channel.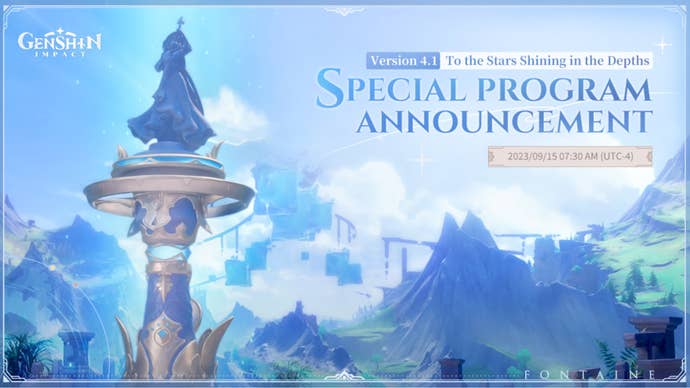 What to expect from the Genshin Impact 4.1 livestream
HoYoverse has remained tight-lipped about what will be announced in the next Genshin Impact livestream, only hinting at what's to come. The devs have said the stream will reveal "new game content" for version 4.1, and also drop some fresh redemption codes.
Typically, three new time-limited codes are revealed in each Genshin Impact livestream. Each code offers 100 Primogems, which will help top up your account balance ahead of the new Banners launching, as well as other resources.
Dear Travelers, It's announcement time! The special program for Genshin Impact's new version will premiere on the official Twitch channel on 9/15/2023 at 07:30 AM (UTC-4)!

— Genshin Impact (@GenshinImpact) September 13, 2023
Speaking of new Banners, while HoYoverse hasn't announced which characters players will be able to Wish for in version 4.1, they could have hinted at it. Last month the official Genshin Impact account on X, formerly known as Twitter, announced two brand new characters. These characters are Neuvillette and Wriothesley. It hasn't been announced when these new characters will drop in Genshin, but the timings of their reveal could hint at them featuring in the Banners for version 4.1.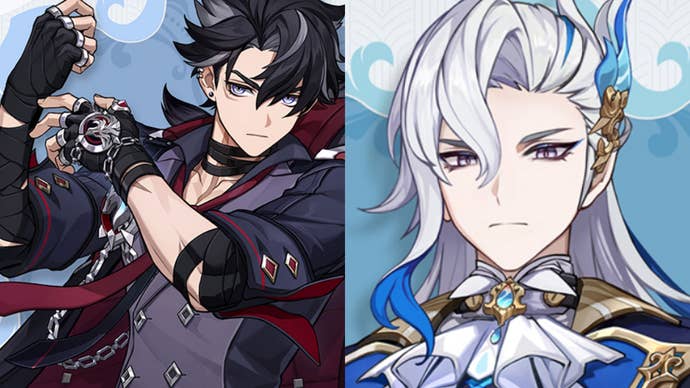 Not too much is known about these characters, but HoYoverse has revealed some tidbits of information. Neuvillette is the Chief Justice of Fontaine and is a Hydro character, while Wriothesley is a Cryo wielder and a bigwig prison warden at the Fortress of Meropide. We're still yet to find out though if these characters are five star or four star characters.
---
Need more help with Genshin Impact? Make sure you check out our guides also for the best Lyney build and for Klee ascension materials. We've also got handy pages on the Nilotpala Lotus locations, Sango Pearl locations and Cor Lapis locations.