Tower of Fantasy codes and how to redeem [December 2023]
Can never go wrong with freebies, right?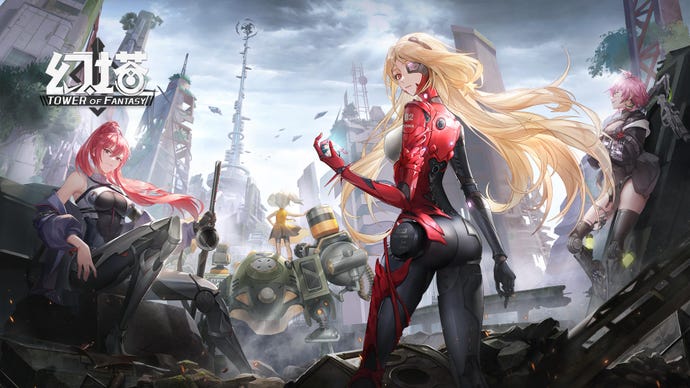 Tower of Fantasy is another, you guessed it, fantasy-infused action-RPG with it's own set of free codes offering powerful items and resources that you'll no doubt need.
Published by Level Infinite - a subsidiary of Chinese gaming giant Tencent Games - it's available for PC, mobile and PlayStation, and shares quite a few similarities to another imaginative gacha game that you may already be familiar with. As you explore the lush, alien world where Tower of Fantasy is situated, free rewards can be especially helpful during your first few hours.
Following the tradition of gacha games before it, Tower of Fantasy is privy to its own codes that players can redeem for various gifts and goodies that'll aid them with crafting the strongest of weapons, and keeping each of them upgraded.
Below, we've made note of all active codes in Tower of Fantasy right now, as well as expired ones, and how to go about redeeming your freebies! We'll also explain whether you can redeem codes in the PS4 and PS5 port of Tower of Fantasy, which launched a year after the original mobile and PC game.
---
Active codes for Tower of Fantasy
Last checked: November 30 2023
Here are all the currently active codes for Tower of Fantasy:
How do I redeem codes in Tower of Fantasy?
First things first, you need to have completed the Tower of Fantasy tutorial. Once this is done, you're ready to start redeeming any Tower of Fantasy codes that you've got your hands on.
Select the gift-shaped icon in the top right-hand corner. Use L-Alt to select it if you're on PC.
Select 'Rewards' from the lower left-hand corner of the menu.
Then, select 'Exchange', which is also on the left.
From here, you can input the code you want to redeem, and hit 'Confirm'.
Continue to rinse and repeat the above until you've redeemed all of your codes.
After this, you need to retrieve your rewards from your mailbox. Leave the Rewards menu, and go into your Friends menu.
Then, select the Mailbox in the upper right-hand corner and claim your redeemed rewards.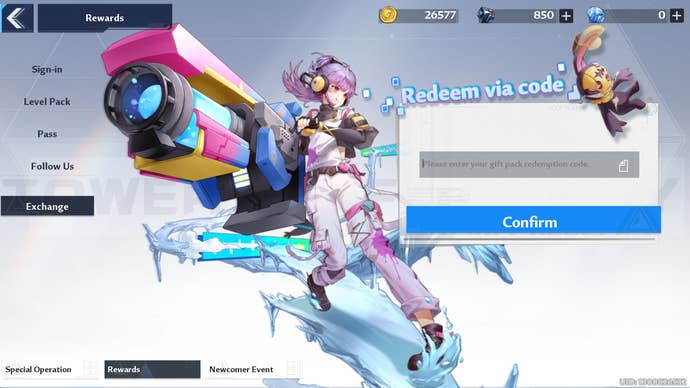 As you can see, there's a fair bit of messing around to be done, but it's always worthwhile for some free goodies.
Are there Tower of Fantasy codes for PS4 and PS5?
In August 2023 a PS4 and PS5 version of Tower of Fantasy launched, offering a console port of the iOS and Android game with better graphics. Like the mobile edition, the PS4 and PS5 versions of ToF has an option to redeem codes. But at launch the codes feature didn't appear to work. We tested a number of codes that could be redeemed in the mobile app on the PlayStation version, and each time we got an error code.
Expired codes for Tower of Fantasy
Here are all the expired codes for Tower of Fantasy. By all means, try your luck with them, but these codes likely won't be working anymore!
TOFHALLOWEEN
TOFBRVIP
MYTOFYEAR
TOF1STSPGIFT
TOF1STANNIV
TOFSEAANNIVERSARY
ZEKE0808MYOUKEI
0811GENTOU1ST
SHIRLI0811NEMESIS
SEIKANTSUUSHIN1ST
TOFGALAXY
TOFHBD
TOFHAPPYBDAY
Link2Domain9
LETSGODOMAIN9
YOUKINNOBAKA
THEGRANDSEA
SONGKRAN2023
UA455ELX
UNCHAINED
0330konpekishinkai
24GRANDSEA
PIPIPIPEANUTS
ITSUMOARIGATOU
MIAGANBARUDESHI
KA5QN8CM
KA67KAYQ
LAK73P61
LAGCKK7X
LAH34NQM
LAJ9TK0R
TENRAN1222ESUTA
KYOKAGETSUEI
TOFNEMESISTH
TOF0811TOF
9A98W5P0
9AA5GFYG
ILOVETOF
TOF666
TOF888
GIFTVERA
TOFINESGS2022
SOCCERFAN
TOF2023
9AN5X46Q
9AL4VC2X
9AK7K8TD
FAMITSU
QAD2DVNY4G90
---
That's it for Tower of Fantasy codes! For more on the fantasy RPG, take a look at our guide to the Tower of Fantasy's currency and how to earn it. For help with other anime-infused mobile games check out our list of Honkai Star Rail codes, Reverse 1999 codes and Genshin Impact codes.