Genshin Impact Yoimiya build, weapon, and Yoimiya F2P options
Baby you're a firework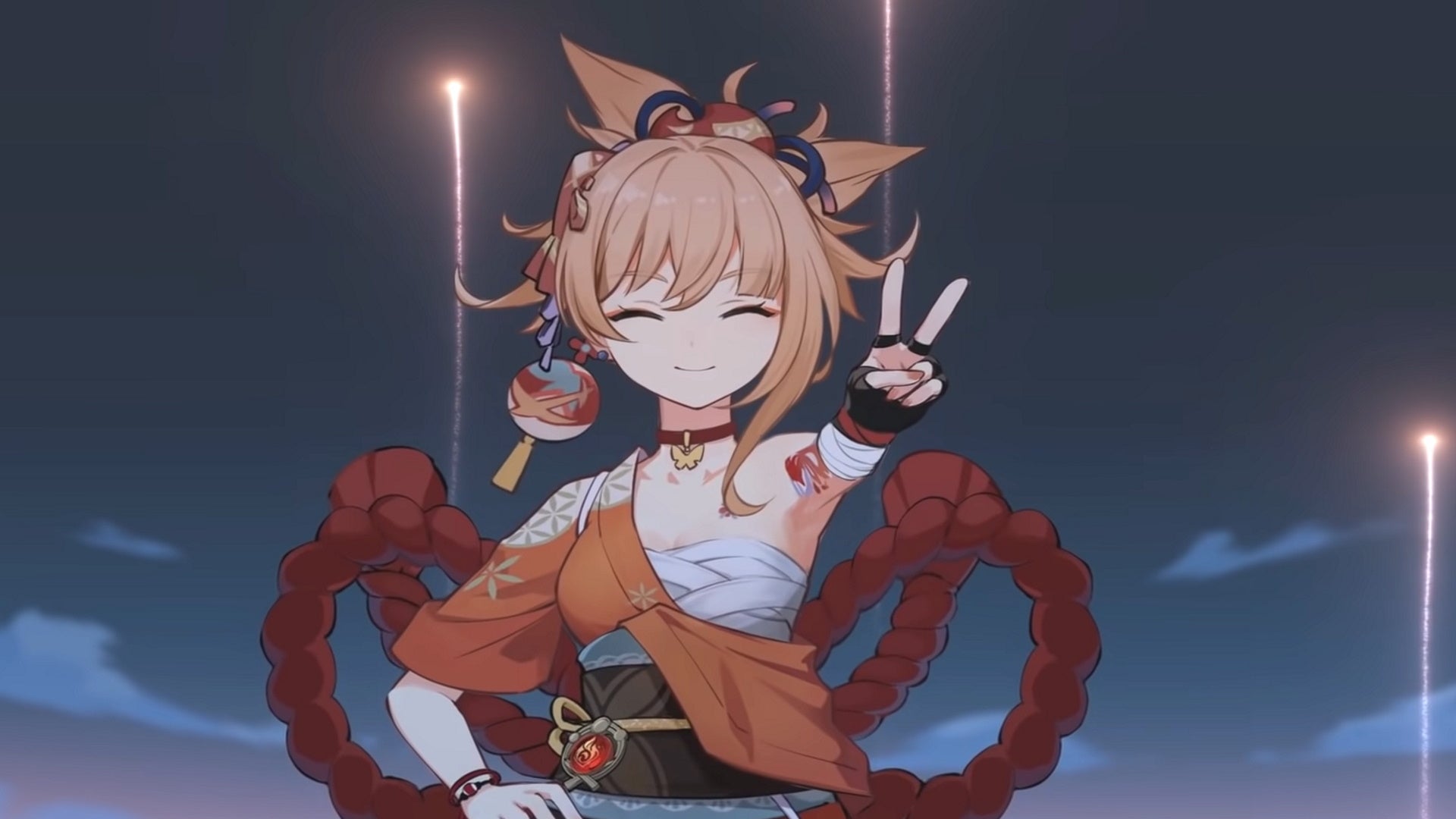 Yoimiya's rerun banner is live now, and while the best Genshin Impact Yoimiya build depends on your preferred playstyle, the best thing to do with Yoimiya is just let her set everything on fire.
Yoimiya is a powerful character with potential for several different builds, and now that a few other support characters have released since Yoimiya first appeared, she has the potential to be even stronger than ever - even if you're entirely F2P .
When is the Yoimiya banner rerun?
Yoimiya's banner, Tapestry of Golden Flames, runs from August 2 through August 23, when it gives over to the first set of Sumeru characters as the big 3.0 update lands. This is a single banner, unlike the 2.8 update's first round of banners, so you only have Yoimiya as a five-star character to wish for.
The four-star characters coming along for the ride are:
Is Yoimiya DPS?
Yoimiya is primarily a Pyro DPS character, but she also has strong potential as a critical-hit dealer. Yoimiya's critical hit rate scales as she levels up past 40, similar to Diluc. The additional damage dealt stays the same, but it makes her a powerful character even without Elemental damage.
What is the the best Genshin Impact Yoimiya build?
Given how her skill infuses normal attack with Pyro, you'll get the most out of her by focusing on Pyro damage more than anything else. Her critical hit damage is important, but is more heavily dependent on which bow you can equip her with
The best Yoimiya weapon
Yoimiya's idel weapon should boost her attack and, if possible, her critical hit damage, and there's only one ideal candidate that does both: Thundering Pulse. This is the bow that originally released alongside Yoimiya, and it's returning in Epitome Invocation with Yoimiya's rerun.
Thundering Pulse has a high base attack stat of 46, boosts critical damage by an impressive 14 percent, and has a powerful passive skill, Rule by Thunder. This skill automatically raises the user's attack by 20 percent, and then boosts it again by a further 12/24/40 percent when the user gains stacks of Thunder Emblem. These generate from doing basic things, such as using an elemental skill or not having 100% energy.
The Blackcliff Warbow is a suitable four-star alternative, if you've got the Masterless Starglitter to spend. Its attack and critical damage buff are just slightly lower than Thundering Pulse's, and it boosts attack by up to 36 percent when the user defeats enemies.
What are the best Yoimiya Artifacts
You have a few options with Yoimiya, either full sets or mixed two-piece sets. Shimenawa's Reminiscence is the best choice if you're lucky enough to get the full set.
2-piece effect: Attack +18 percent
4-piece effect: If the user has 15 energy or more when casting an elemental skill, they lose 15 energy and gain a 50 percent increase in normal, charged, and plunging attack power.
If you do go this route and have a lot of patience, try rolling for Artifacts with attack and Pyro damage buffs, along with critical hit damage or percentage increases.
A decent alternative is Crimson Witch of Flames, since most of the damage Yoimiya will deal is Pyro based.
2-piece effect: Pyro damage +15%
4-piece effect: Increases Overload and Burning damage by 40%. Increases Vaporize and Melt damage G by 15%. Using an Elemental Skill increases the 2-Piece Set Bonus by 50% of its starting value for 10s. Max 3 stacks.
The four-piece set gives her Pyro damage a substantial boost. It's most practical for her normal attacks and Elemental Skill, though if you have a high Energy generator in your party, you can buff her Elemental Burst as well.
Genshin Impact Yoimiya F2P build
If you want to save Primogems for characters instead of weapons, Yoimiya's F2P build rivals the other two for power potential thanks to a unique craft-able bow and some impressive three-star options.
The best Yoimiya F2P weapon
The best Yoimiya weapon for F2P is the forgeable bow Hamayumi. Hamayumi's base attack is just slightly lower than most five-star bows, but its secondary stat and passive skill give the wielder a hefty extra attack boost anyway without even having to do anything.
The passive skill boosts normal attack damage by 12 percent, and the effect doubles if Yoimiya's energy is full. Considering you can craft as many Hamayumi as you want if you have the materials, that's a 64 percent attack increase at the highest level.
If you aren't having much luck with bow billets, you can always try Slingshot. What it lacks in base attack power, it makes up for with an impressive 34-60 percent attack boost should your shots land within half a second. Most of Yoimiya's attacks should land fairly soon, since she's built for close-range combat, so this is an easy-to-obtain and powerful option.
The best Yoimiya Artifacts for F2P
Yoimiya's F2P build still focuses on the same combat style, so your best bet with this is also still Shimenawa's Reminiscence or Crimson Witch of Flames.
You'll have to farm some Inazuma specialties in Genshin Impact to level up Yoimiya's true power, including Naku Weed and Transience-series items from Violet Court.