Fortnite Season 8: start time, map changes, leaks, rumours and more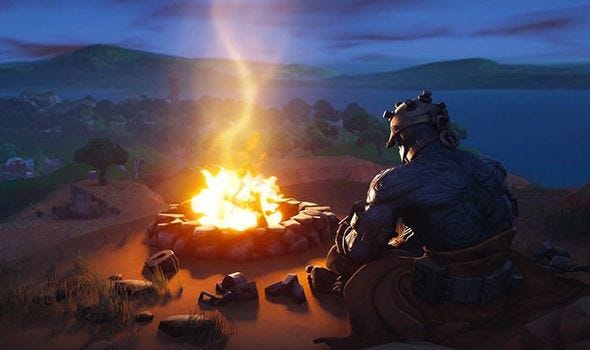 The downtime is upon us! It's almost time to say goodbye to Season 7, so make sure you jump in and complete those weekly challenges before time's up.
Fortnite Season 8 begins today and already we're already starting to see changes around the map including a massive volcano and new named locations, a whole set of sparkly new skins and pets, and of course an entirely new Battle Pass.
Update: Fortnite is offline for the Season 8 update. It weighs in at 4.4GB on consoles so you might want to get that downloaded so you're ready to go when it comes back online in a few hours.
Fortnite Season 8 start time
Season 8 is due to begin on February 28, the day after the Share the Love event ends. There will no doubt be a huge in-game event that you can take part in.
The countdown on the Season 7 Battle Pass screen has changed to "very soon", and we can see that the downtime to transition into the new seasons starts at 9AM UTC. Based on previous downtime lengths, this means that the Fortnite Season 8 start time will between 10:30AM and 1PM GMT - which is 5:30AM and 8AM ET and 2:30AM and 5AM PT on Thursday February 28.
Fortnite Season 8 map changes
As is the norm, there will likely be a massive in-game event to welcome in the new season alongside some major map changes. Fortnite's map changes with each season, so there's every chance a snowy corner will remain, though we could see other changes in different locations.
Dataminers have uncovered files relating to an earthquake, meaning that areas of the map could be damaged or destroyed. We've already seen several changes to Loot Lake recently, or perhaps Tilted Towers will be destroyed for good this time.
The event has been dubbed the Cataclysm by the community. The ground is now beginning to crack open in various locations. The datamined information shows that around 50 tremors are set to affect the map between now and the start of Season 8, with a few happening each day.
Some people have theorised that we might be able to go inside these new cracks in the earth, with air currents allowing easy access from the underground back onto solid ground - a bit like when Loot Lake was a floating island.
Epic Games tweeted the first Season 8 teaser over the weekend that points to a Pirate theme, so we may well see the island fracture into smaller islands that we can sail around in ships.
Sssomething shimmers
Within the cave...
But beware of those
Who arrive on waves.
3 days to Season 8. pic.twitter.com/Gn7ttmR39m

— Fortnite (@FortniteGame) February 25, 2019
Wailing Woods has also started to rot, with leaves turning brown. Donald Mustard, the Creative Director at Epic Games, changed his location on Twitter to Wailing Woods.
Mustard often changes his location to upcoming key areas in Fortnite, so you can bet something drastic is going to happen to the woods which have been there since the very beginning.
A Fortnite x Sprayground backpack collaboration was announced last week, revealing a new location called Sharky Shrubs. Its product description has been changed to remove the named location, so it might well have been an accidental spoiler from Epic Games.
A volcanic eruption is also rumoured, which would fit in with the earthquake dynamic, but this has also been suggested before to no avail. It would be another means of melting the map quickly and we might be able to see the full castle that's currently buried at Polar Peak.
Some giant eggs were found under Polar Peak with some fans thinking that they'll hatch some dragons, as Season 8 of Fortnite will be live on the run-up to the new series in Game of Thrones.
Between potential fire-breathing dragons and an earthquake, there could be a massive shakeup of the Fortnite map that goes beyond revamping a single area or removing it altogether, like Moisty Mire.
Fortnite Season 8 Leaks
As well as corroborating the above map change theories, a few leaks have hinted about more new features coming to Fortnite.
As well as the classic Battle Pass tiers and challenges, an alleged leaked image distributed by GamingIntel appears to show that Season 8 will allow players to customise their lobby background as well as introduce new weapons and customisation items to Fortnite Creative, as the mode receives a full launch.
Fortnite Season 8 themes
Pirates are coming in Season 8, which has surprised the community.
Asked to describe Season 8 in four words Eric Williamson, Fortnite's lead designer, quoted the word "bananas" four times. Tomatoes are a common item in Fortnite that provide a health bonus and can be thrown at enemies, so bananas will probably work in a similar way.
We could also see the likes of rideable dragons in that case or the return of bows and arrows. There's also like to be lots more sword and cannon-like weapons available.
'X' Marks The Spot
Treasure abound
Loot that has been lost
Can always be found.
4 days to Season 8. pic.twitter.com/1U8n7x4pQQ

— Fortnite (@FortniteGame) February 24, 2019
Fortnite devs are also looking to introduce respawns to Fortnite alongside single occupancy vehicles after the success of the Driftboard.
The Prisoner skin challenges reward you with the Fire King at the end and it's likely that he'll have something to do with Season 8. He was locked away in Snowstorm Castle while the Ice King took over the map, and given all the dragon and volcano rumours flying around, we're probably going to see more of him very soon.
Players have reported seeing a light off the Northeast coast of the island, with the majority of the map thawed either side of that point. The Ice King and Sgt. Winter arrived with an icy armada, so it wouldn't be a surprise if the Fire King's army showed up in a similar fashion.
We'll be updating this page as more information about Season 8 comes to light. In the meantime, remember to check out the Overtime Challenges as well as the rest of Season 7's challenges.
Fortnite Season 7 Weekly challenges
There are plenty of challenges to be getting on with before the end of Fortnite Season 7, so here's how to complete them: