Massive Fortnite leak reveals 75 new items, Heist skin and 14 Days of Summer LTM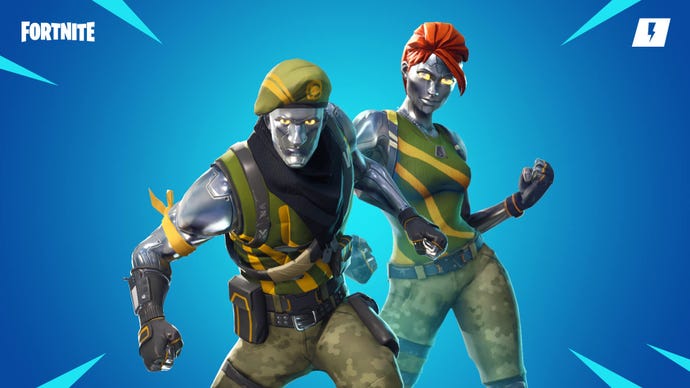 Over 70 new skins and items for Fortnite were leaked this morning after the v9.30 update and it looks like a new LTM and Heist mode could be on the way.
There are only three weeks left of Season 9, with rumours of a new monster coming to destroy the map. It's not uncommon for files relating to end-of-season events to start appearing in the files and this week over 70 new skins and items were found by dataminer FunGamesLeaks after today's v9.30 update.
The files point towards new summer-themed LTMs and events, one of which is 14 Days of Summer which comes with brand new challenges. There are also new pickaxes, backblings, gliders, items and sprays which could be rewards or upcoming store items.
A new Heist skin was revealed in the leak, so there's a good chance there will be another Heist mode coming in the next few weeks. A whole bunch of new LTMs were also uncovered, including Summer Splashdown, Storm Chasers: Surfin', one involving a Tank Battle and Strategic Structures.
Whether these skins will all appear before the end of Season 9 or in the opening week of Season 10 is anyone's guess, so let's take a look at what's coming.
Fortnite leaked skins
There are loads of skins for you this week, including several summer-themed skins and even one to celebrate Wimbledon in July. A new Heist skin has appeared, meaning that we could have another High Stakes mode returning to Fortnite this summer.
Fortnite leaked backblings
There are several new backbling items to go with these skins, including one that looks a lot like Master Chief's helmet, a barbeque version of the Fork Knife backbling and a sick anemone style.
Fortnite leaked gliders
There are six new gliders for you today, including the Megabat, a rusty Crop Duster and a tent to get you in the festival mood.
Fortnite leaked wraps
There are several cool new Wraps coming to Fortnite to allow you to customise your gear even further, most of which are keeping in with Season 9's Neon style.
Fortnite leaked pickaxes
Eight new pickaxes were revealed, including a funky flamingo axe, the Conch Cleaver, a deadly look Flycatcher and a butterfly-adorned, mystical-looking Shard Sickle.
Fortnite leaked items
Alongside the standard items we'd expect to see in a leak, there were also new sprays, stickers and in-game items revealed including the Oozie water gun, a water balloon, a cooler filled with Slurp Juice and a jellyfish item we're not too sure of.
Fortnite leaked emotes
And finally, some cool summer-themed emotes for you to enjoy. The Sparkles and Saxy Groove emotes are possibly linked to the upcoming LTMs or in-game events, so watch this space for more news.
Fortnite Season 9 Weekly challenges
You can check out all the Fortbyte locations here.