The best games like Fortnite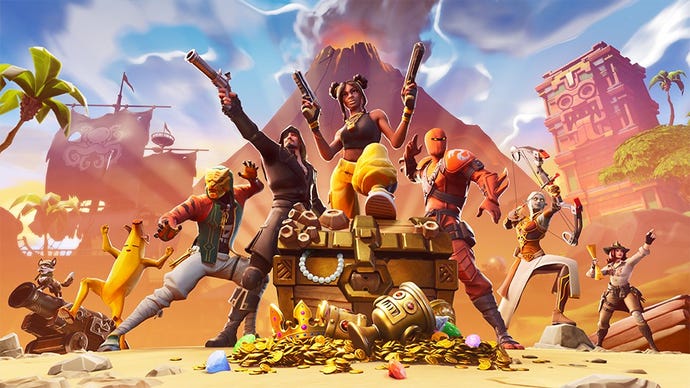 Fortnite is undoubtedly one of the most popular games out there, but what else could you be playing?
Now in its eighth season, Fortnite continues to have a massive player base. Previously, we might have said that PUBG was its main rival, but that was before Apex Legends burst onto the scene in 2019.
If you're bored of Fortnite and fancy a change, then you might want to check out some of these games. We've included some shooters, fantasy games and a few with no battle royale modes, just to mix it up.
Apex Legends
The latest contender in the battle royale genre is Apex Legends. In Apex Legends, you choose a Legend, which each have their own special moves, and play in a squad of three.
You can revive each other and work together to clinch that victory. The ping system got rid of the need for mics as you can highlight weapons, gear or enemies, adding a new way to communicate that makes Apex Legends a much more enjoyable and inclusive experience.
PlayerUnknown's BattleGrounds
PUBG is like Fortnite's grittier, militaristic cousin with realistic graphics and bigger maps. There are way more weapons and items to choose from and is definitely aimed towards serious shooter fans.
The skins and cosmetic items in PUBG are often more expensive like the Suicide Squad themed skins. It has an altogether more serious theme compared to the cartoonish look of Fortnite.
There's also no building mechanic, so you'll need to make do with whatever cover you can find on the map. Like Fortnite, each match begins with 100 players, so grab a weapon and find a place to hide.
Call of Duty: Blackout
Call of Duty: Black Ops 4 released in the latter half of 2018 and introduced Blackout, the first battle royale mode in the COD franchise. Its players-per-match count was reduced from 100 to 80 on PC for faster loading times
Blackout is an FPS battle royale experience and isn't for the faint-hearted. It takes all the best COD multiplayer qualities and sticks them on a map with Zombies, Mystery Boxes and the best weapons from previous games over the years.
It's probably the most hardcore battle royale game out there as you need to be wicked fast pulling the trigger, not to mention guns can often feel quite scarce on the ground.
For all you FPS fans out there, it's worthwhile considering buying Black Ops 4 just to join in the Blackout experience.
Tetris 99
Nintendo Switch players got their own unique battle royale game this year with Tetris 99. You battle it out with 98 other players for the coveted victory in a Tetris royale which is just as difficult as it sounds.
Using cool moves and blockers to make life more difficult for other players, the tempo keeps ramping up as you battle it out for the top spot.
It's a little different to the rest of the games on this list but definitely worth checking out if you're a fan of battle royale games.
Realm Royale
Realm Royale is a fantasy royale instead of the usual shooter experience. Like many others, you'll be battling it out against 100 opponents, but Realm Royale has some interesting mechanics to give you an edge.
You can carry way more loot than you usually would in your average battle royale game, which you can then disenchant into shards and craft more weapons at the Forge. This can give you a strategic edge as folk will have their own unique items and weapons as opposed to whatever they find lying around.
You can craft these items mid-game, but if you stoke up a Forge you'll be marked as a target, so make sure you've got a weapon to hand.
Minecraft
Minecraft has been running battle royale style games for years, so if you've somehow avoided the blocky world of Minecraft, it might be time to dive in at last.
Communities such as Mineplex offer balanced and competitive battle royale matches, and it's very kid-friendly, so if you're introducing a little one to games for the first time, this is the way to go about it.
H1Z1
H1Z1 is like a stripped back version of PUBG, with fewer items and weapons and you don't get to choose where you drop, so there's always a bit of a mad scrammie at the start.
It has a few different version of battle royale, including FFA Deathmatch where 50 players drop into a map and the first player with 25 kills wins if the 15-minute timer hasn't run out.
It also has Auto Royale which involves the use of vehicles, which is as wild as it sounds. You play Solo, in Duos or in Fives in H1Z1, and it's definitely worth a try on PS4 if you haven't installed it already.
Overwatch
While not technically a battle royale game, Overwatch has a similar vibe to Apex Legends where you'll choose to play as different heroes who each have their own unique skill sets.
Overwatch players are incredibly competitive and it's a 6v6 match to the death. It's got a colourful and cartoonish style which, combined with such fast-paced gameplay, can seem a bit overwhelming at first.
The different heroes mean there's a playstyle to suit everyone and you soon get the hang of it, though you might want to mute voice chat when things get a little heated.
Ring of Elysium
Ring of Elysium is different in that you can pick your own starting point, rather than jumping out of an aerial vehicle, and can choose your loadout before the match begins.
The changing weather can also impede your progress, so you'll need to think fast about how to defeat other players and protect yourself from the incoming blizzard.
Instead of trying to kill everyone just because, you're actually racing for the last chopper out of Europa, which is a different spin on the battle royale genre. You can choose a character and have access to loads of cosmetics, so it's definitely worth a try if you're looking for something new.
Destiny 2
Destiny 2 doesn't have a battle royale mode, but it's still an excellent online FPS with various PvP and PvPvE modes you can jump in to. Bungie has recently added two new modes, Gambit Prime and The Reckoning, which really put your teamwork and shooter skills to the test as you race to summon and defeat a Primeval and take on hordes of enemies.
Since splitting with Activision, Bungie has said that the roadmap will change slightly to allow them to take a more autonomous direction with Destiny 2, and Season of the Drifter already includes some of the best activities since Forsaken launched back in September.
Evergreen list
The best games of each platform
Best of series and misc