Tetris 99 - tips and tricks for beginners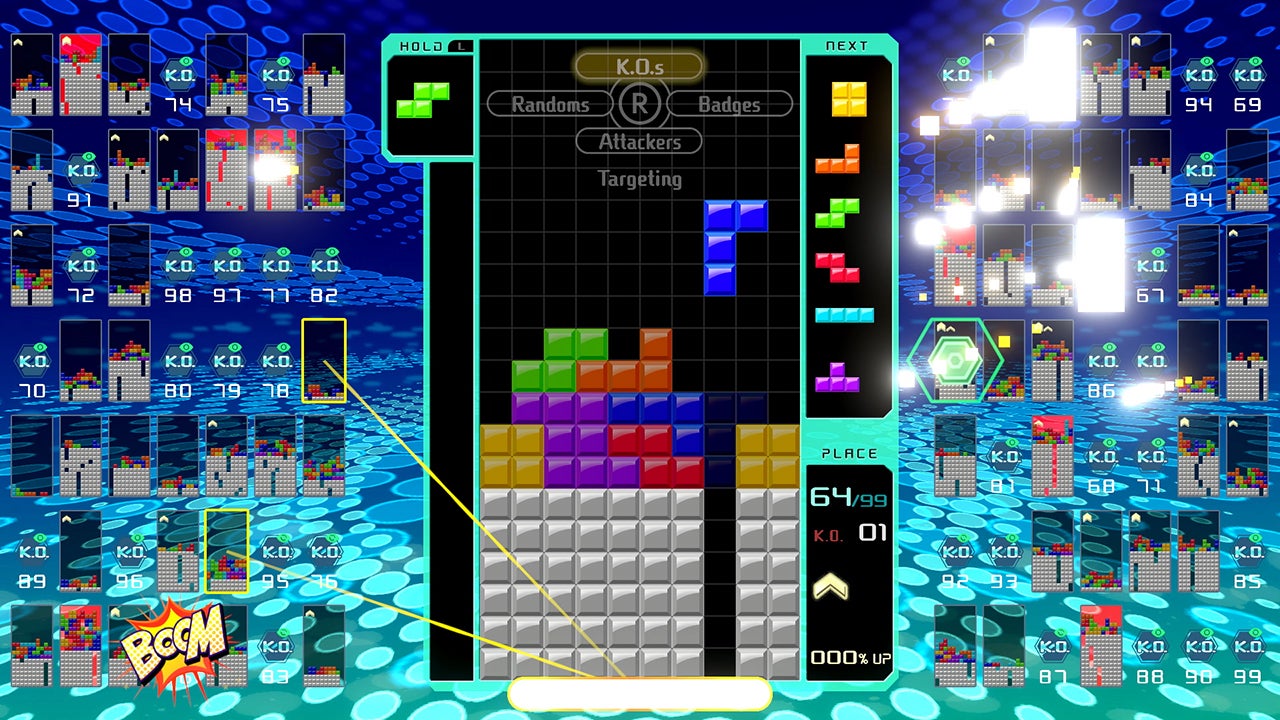 Get ready to throw down your blocks as we break down how to win a Tetris Royale.
Tetris 99 released last week on the Nintendo Switch and has proved incredibly popular with fans.
It puts a battle royale spin on a retro classic that takes just much skill as winning a match in Apex Legends. While many of you got the hang of Tetris 99 straight away, some of you are still wondering how to achieve that elusive first place.
In this guide, we're going to look at Tetris 99's rules, badges and attack modes, like the T-Spin.
Tetris 99 rules
Tetris 99 effectively works a bit like regular Tetris. You want to clear lines of blocks and get some cool combos.
As this is a battle royale game, however, things work a little differently. In Tetris 99, you'll be battling against 98 other players. You'll then need to choose between four different attack modes that can make or break a match.
Clearing lines of blocks will send out junk lines to your opponents, which is your best defensive move. Survive the chaos long enough and you'll win the match!
Tetris 99 attack
As we said earlier, there are four attack modes you can use to your advantage in Tetris 99. There's a lot of strategy behind Tetris 99's attack modes, so we've simplified the definitions.
Badge: You'll attack players with the most kills, or badges.
KO: You'll target players nearing the top of their screen who are likely about to die, getting an easy kill under your belt.
Attacker: You'll counterattack players who are targeting you, which is useful in the later stages of the game.
Random: This move randomly targets players.
There are obvious pros and cons to each of these moves. With the KO move, your opponent might get eliminated before your junk line reaches them, meaning that you won't get the Badge reward for killing them.
Conversely, if you decide to target the player with the most badges and defeat them, you'll receive all of their badges as a reward. This does put a target on your head, however, so be prepared for the incoming junk lines.
You could also play as a total maverick and choose a player yourself to send all your attacks to rather than letting the game decide for you.
Tetris 99 T-Spin
If you want to inflict an impressively devastating blow on your enemies, you need to master the T-spin.
Using the T-shaped block, pulling off a successful T-spin sends two lines over to your target. If you manage a Double or Triple spin, they'll get four and six lines respectively.
If you're quick on the trigger, pulling off a couple of T-Spins could easily seal your victory.
Tetris 99 Defence
Now that you've mastered the attack basics, it's time to look at how to best defend yourself.
Every line or block sent your way will show up in a column on the side of your main screen. These blocks are queueing up to throw themselves onto your board and will rise up from the bottom.
These blocks will change colour to red and will flash as time progresses. When the block begins to flash, you can expect them to appear on your screen once you've placed your next block.
When you have enemy blocks in this column, any junk lines you send out will fight against these blocks, rather than sending them over to your opponent's board. If enemy blocks begin to stack up you'll need to start clearing lines, as even clearing a single line delays the enemy block from entering your screen.
It can help to save a block which can clear lots of lines with the L/R button before deploying it as soon as your enemy block column starts to fill. A quick T-Spin could also help you clear the board so you can get back to attacking your enemy.
Tetris 99 is free for Nintendo Switch Online members.