Genshin Impact Memento Lens | How to find Abandoned Shrine and Mysterious Shadows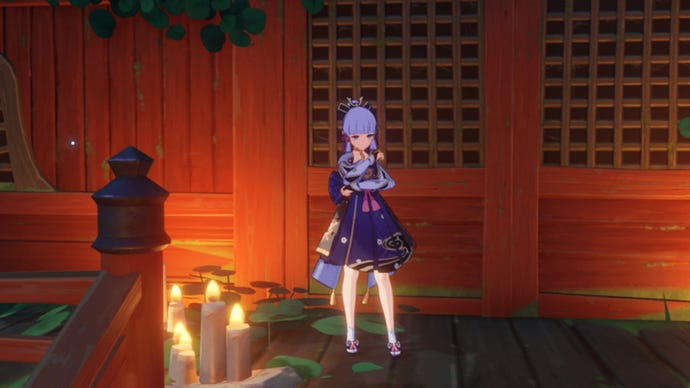 Genshin Impact Memento Lens is a new item that's mandatory for completing the Sacred Sakura Cleansing rituals during that branch off from Sacrificial Offering.
It takes a bit of work to get, including some ghost chasing and finding long-lost ruins. On the bright side, you'll be able to unlock a new Domain not long after obtaining the Memento Lens.
Genshin Impact Memento Lens | Abandoned Shrine
Once you complete the Strange Story quest in Konda, your next task is finding the Abandoned Shrine. It's northeast of the village, but the game gives you a broad range to search in. We've marked the Abandoned Shrine location on the image below.
Interact with the large kitsune statue once you arrive, and then it's time to hunt for ghosts.
Genshin Impact Memento Lens | Mysterious Shadows
You need to coax three mysterious shadows into position near the three kitsune statues in front of the shrine. Fortunately, it's not that difficult. All you need to do is find them and speak with them several times to get them in the right place.
Genshin Impact's Mysterious Shadows look like transparent NPCs, so they're easy to spot except the third one.
Face away from the shrine with the kitsune statue and you'll see another shrine building. There's an Electroculus inside it, so this one's also hard to miss.
Climb up to the roof, and you'll find the third Mysterious Shadow at the top.
Genshin Impact Memento Lens | Receiving the Memento Lens
Now head to Grand Narukami Shrine at the peak of Mt. Yougou.
Speak to Inagi the Shrine Maiden, and you'll get the Memento Lens. It's a type of gadget, and you can use it to uncover secrets hidden from the eye. These are often marked with small kitsune statues, so its worth grabbing the Lens whenever you come across them.
This is just the first part of the new Genshin Impact quest. You'll need the Memento Lens to finish the Araumi Sacred Sakura Cleansing and unlock the Empty Boat of a Thousand Gates Domain.
If you're tired of solving puzzles, take a break and get ready for the Thunder Sojourn event or hunt for Sakura Blossom and Handguard items to help with Kamisato Ayaka's Ascension.