Genshin Impact Handguard locations and Handguard farming routes
Handy dandy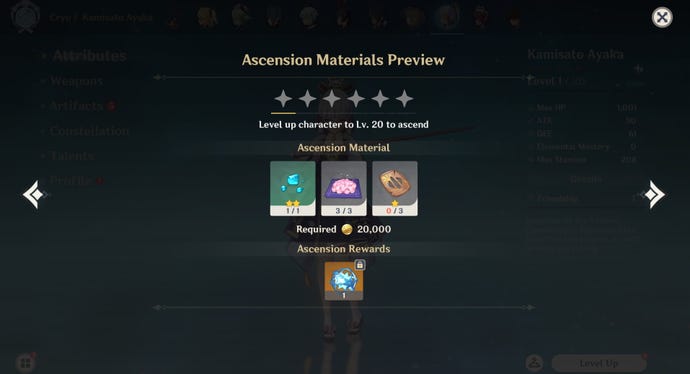 Genshin Impact handguard items are an essential part of several character ascensions, including Ayaka and Wanderer, the villain formerly known as Scaramouche, but finding handguard locations is a bit tricky if you don't know where to look.
Like other enemy drops, you can only get handguards from certain enemies - the Nobushi in Inazuma. Inazuma is a big place, though, and the in-game guide doesn't always point out the best places to look.
If you're wondering how to put these to good use with Wanderer, check out our Wanderer build for some hot tips and our Wanderer materials list for everything else you'll need.
Genshin Impact handguard locations
Handguards come from Nobushi, the wandering swordsmen you run into across all of Inazuma's islands. They may also drop from Kairaigi - the elite swordsmen infused with Pyro and Electro - but the fastest way to get Handguards is from Nobushi. Like other normal enemies, Nobushi respawn after 12 hours, so you can get quite a few of the items in one day.
Kairagi are classed as elite enemies, which means they respawn once per day, when the server refresh time (4 a.m. server time) rolls around. You may also find Nobushi show up in the enemies who spawn from a Ley Line Blossom
Nobushi and Handguard locations on Narukami Island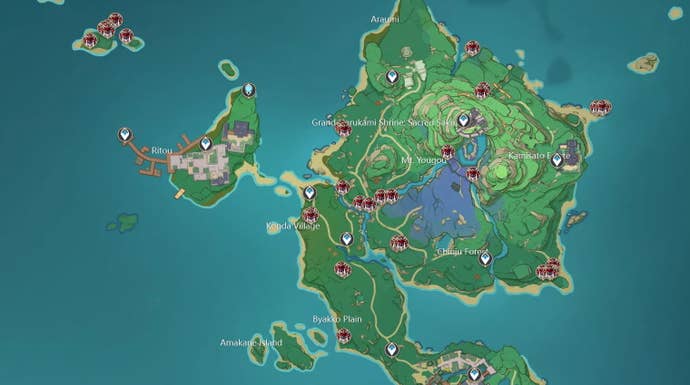 Narukami Island doesn't host too many Nobushi, but you can venture north to Jinren Island (not pictured) and find a large encampment of them.
Nobushi and Handguard locations on Tatarasuna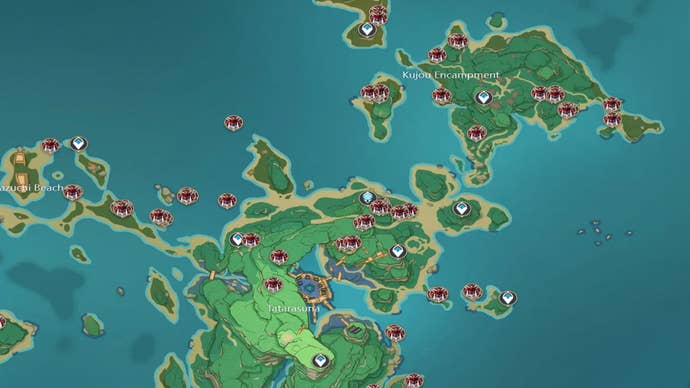 This island is home to many more Nobushi, especially north of the forge and around Kujou Encampment.
Nobushi and Handguard locations on Yashiori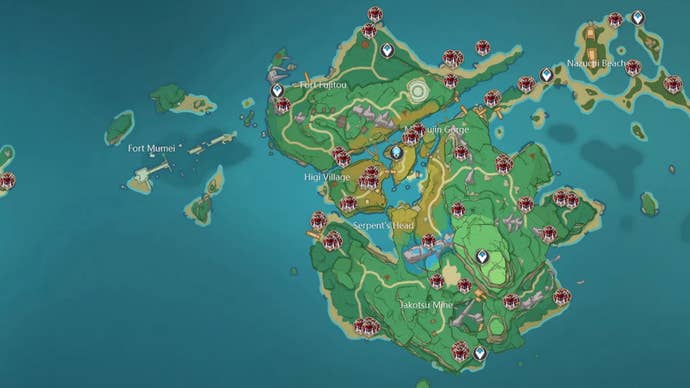 The Nobushi on Yashiori are rather a pain to track down, but if you fancy a tour of the island, there's plenty of them waiting for you.
Nobushi and Handguard locations on Watatsumi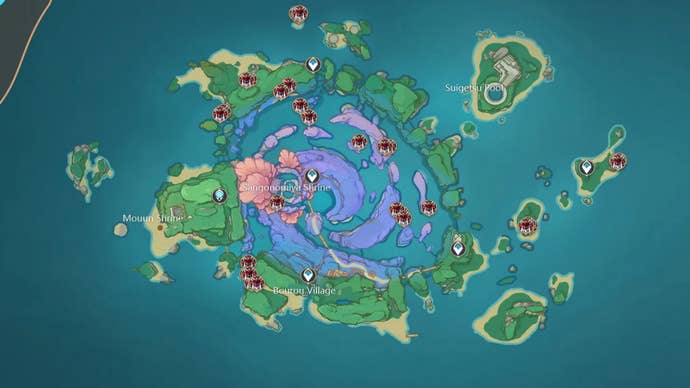 Far fewer Nobushi wander the shores of Watatsumi. Here, you mostly find Specters and Hilichurl.
Nobushi and Handguard locations on Seirai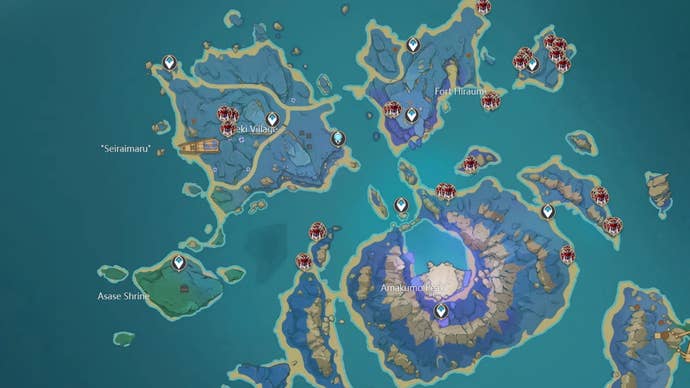 Seirai doesn't host many Nobushi either.
Genshin Impact handguard farming tips
Farming Handguards takes a bit of time, though many of the Nobushi locations are conveniently clustered near teleport waypoints.
Narukami Island handguard farming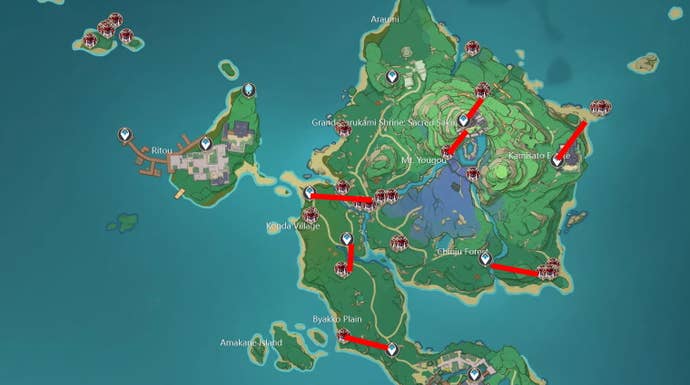 The Konda Village and Chinju Forest waypoints are you main ports of call here. Don't forget to head to Jinren Island to harass some more Nobushi once you're done on the mainland as well.
Tatarasuna Island handguard farming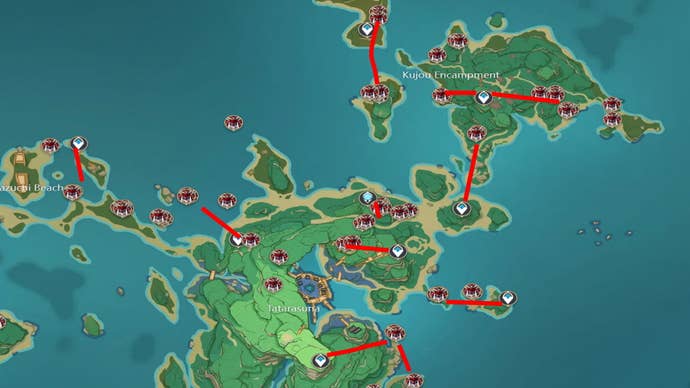 The farming route here is a bit messy. Kujou Encampment only has the one waypoint, so you don't have much choice there. Then travel to the Pyro Hypostasis waypoint for the northern cluster, the Statue of the Seven for the northern beach, and the waypoint north of the forge for the three groupings near there.
Yashiori Island handguard farming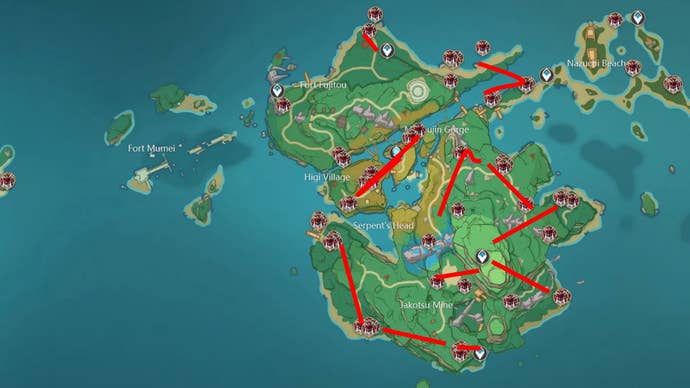 Hitting every Nobushi bunch on Yashiori essentially takes you around the island's perimeter. Use the roads to get around faster.
Watatsumi Island handguard farming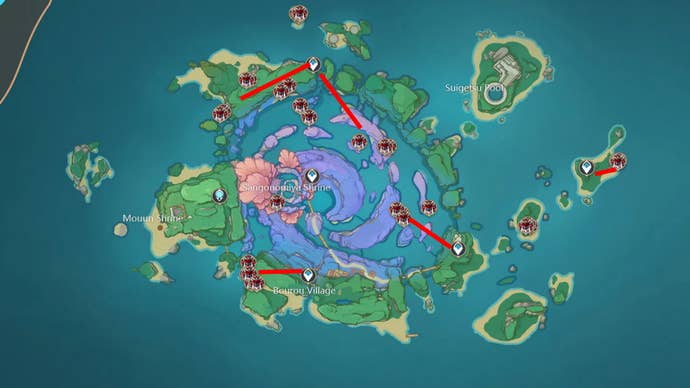 Watatsumi is a bit more forgiving and puts its Nobushi near most of the waypoints.
Seirai Island handguard farming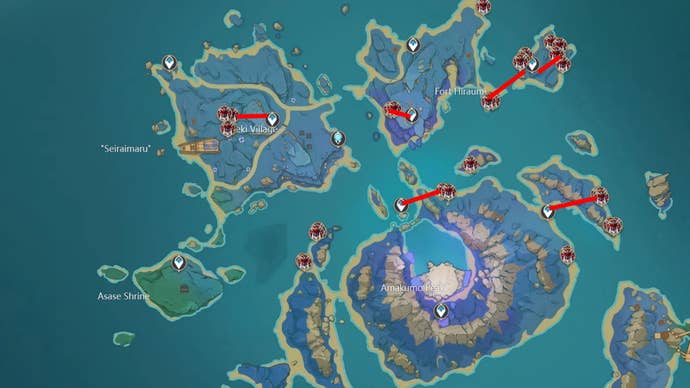 Seirai follows a similar pattern, though you'll need to use the Electro teleporters or take a dip to reach some of them.
Keep a thought for the upcoming Genshin Impact characters as well to see how they might fit with Layla, and make sure to redeem any active Genshin Impact codes because everyone loves freebies.