Mystic Messenger character guides [2022] - Zen, Yoosung, Jaehee, Ray, Jumin, 707 and V
A rundown of every major character in Mystic Messenger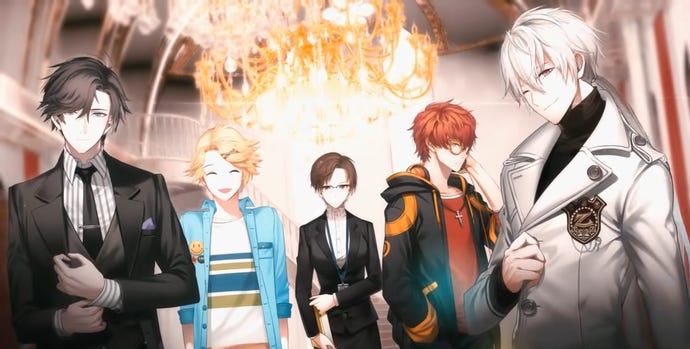 These Mystic Messenger character guides collate all of our character-specific guides so you can navigate between all of your beautiful boyfriends quickly and easily.
Mystic Messenger now offers seven potential love interests. Zen, Yoosung and Jaehee are available in Casual mode, while Jumin and 707 are only available if you unlock Deep story with HG. V, the mysterious leader of RFA, and the enigmatic Ray, are only available in Another Story, which will set you back 300 HG.
It's fun to play Mystic Messenger organically, making responses naturally and seeing where it takes you - but there's a lot to see, and since each playthrough takes 11 days unless you want to spend real money, you'll want to set out to unlock everything with maximum efficiency.
That's where these character-specific guides come in. The best way to see all of Mystic Messenger's endings is to go at it systematically, hitting them one at a time. With that in mind, we're working on a handful of guides for each Mystic Messenger character.
Visit each of the Mystic Messenger guide hubs below, and you'll find a selection of resources to help you: a series of hints as to each character's preferences, a breakdown of what endings are available on each route, a walkthrough of the common story (Days 1, 2, 3 and 4) to guide you to the character's route, a detailed walkthrough of the character route - or just a bare bones chat schedule for those who want to do it on their own.
Use these resources in conjunction with our more general Mystic Messenger guide pages (like the Mystic Messenger email guide), and you should have no problems getting to every Good End.
Head back to our Mystic Messenger guide for more information on this intricate mobile game.