Mystic Messenger: Jumin route tips and walkthroughs (Deep Story mode)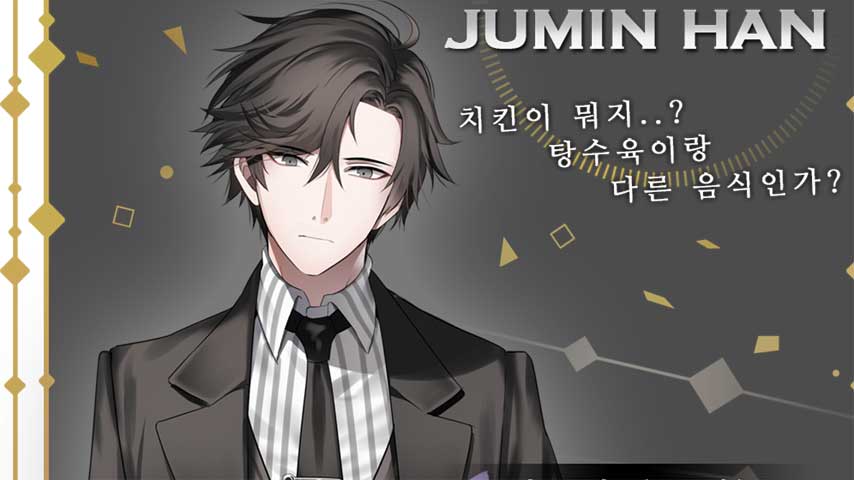 Mystic Messenger players, Jumin can be yours with these helpful resources ranging from spoiler-free to full walkthroughs.
As part of our Mystic Messenger guide, we're pleased to give you everything you need to master Jumin's route.
Cool, calm and confident, Jumin's dark good looks will tempt you to purchase Mystic Messenger's Deep Story mode, to which he is exclusive. We suggest clearing the three Casual Story routes before taking on Jumin, and completing his story before you hit up 707 and blow this thing wide open.
Jumin's suave exterior hides a troubled young man who struggles to balance his need to connect with people with his control issues. His kind heart is well hidden under his dominating professional facade and occasionally selfish worldview. He's also baffled by "normal" lives and his ignorance can come across as arrogance and boasting. If you can sort through this dangerous mess you'll find a devoted and generous man searching for someone who can value his protective instincts but rein in and stand firm against his more extreme impulses.
You'll earn a violet heart if one of your answers has a strong effect on Jumin, good or bad. In general, here are the actions you should and shouldn't pursue if you're after a Good End with Jumin:
Do:
admit that you want Jumin's help, but show concern for others before yourself
demonstrate elegance, refinement, and knowledge of the finer things in life
use formal language rather than slang and contractions
encourage and indulge Jumin's curiosity about normal people's lives
call Jumin cute
look past Jumin's cool exterior and focus on his feelings and concerns
scold the others for teasing Jumin
see the humour in Jumin's strange jokes
urge Jumin to stay calm and think things through rational at his own pace rather than firing up emotionally on his behalf
show interest in and concern for Elizabeth the Third
praise Jaehee for her efforts - without suggesting she is overworked
remind Jumin that his work is important and requires his attention
Don't:
let Jumin handwave away his good acts as part of his job or privilege
reference Jumin's wealth or enthuse over the glamour of his lifestyle
encourage Jumin to be snobby
sympathise with Jaehee when she complains about how much work Jumin gives her
act as if Jumin belongs to you and be jealous of and hostile to other women
be a gold digger
suggest you need to be sheltered, protected and locked up
try to replace Elizabeth
be afraid of Jumin
Detailed Jumin walkthroughs and guides
This guide will take you from the start of the game right through the end of Day 4, when - if you've followed our guidance - you'll find yourself on the Jumin route. With these responses you'll see violet hearts popping all over the place.

Once you're on the Jumin route, you can go your own way - or follow our detailed guide to achieving the best ending. Also includes a list of all the Bad Ends and how to get them, and tips for doing it all efficiently.

Looking for a bit of spoiler-free guidance? The chat times schedule shows you when you should tune in to talk to your sweetie to grab those emails, and helps you plan your day to ensure you can hit up as many IMs as you like. Don't miss sleep or skip class; play it smart!
Return to our Mystic Messenger guide and walkthrough hub for more resources and other character guides. We'll keep adding pages till we've covered every main ending in the game, hopefully.