Fortnite presents guide and how to get Winterfest skins
The joy is in the getting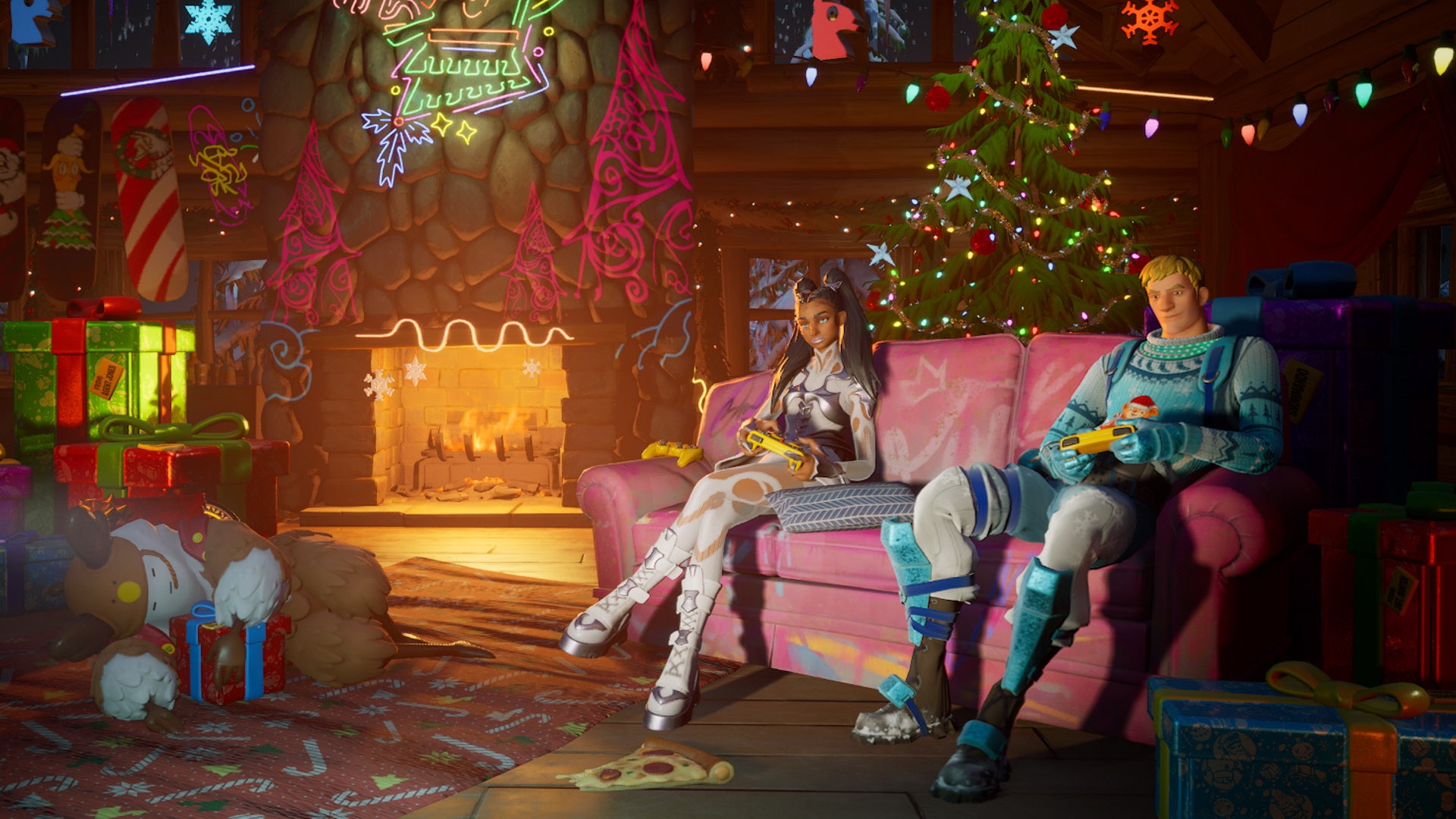 Winterfest 2022 is here, bringing a sled full of Fortnite presents with it. There's a gift a day for two weeks during the event, which runs from December 13, 2022, through January 3, 2023, with two free winter-themed skins up for grabs as well.
You can only pick one present each day, and one of them is intentionally blocked off so you can't open it until the end of the event.
However, it doesn't matter which present you pick first. You'll still be able to get them all just by logging in each day and opening a package.
Check out the trailer for Chapter 4 of Fortnite here.
All Fortnite Winterfest 20222 presents
Enter the Cozy Cabin by way of the giant snowflake icon from the main menu. Then, select either pile of presents and pick the one you want. There's a bundle of them to the right of the sofa that Agent Jones is sitting on as well, so don't forget to check those.
Cozy up to the fire for a few seconds to get an XP boost before heading out.
Here's what you can expect to find in the package pile to your left.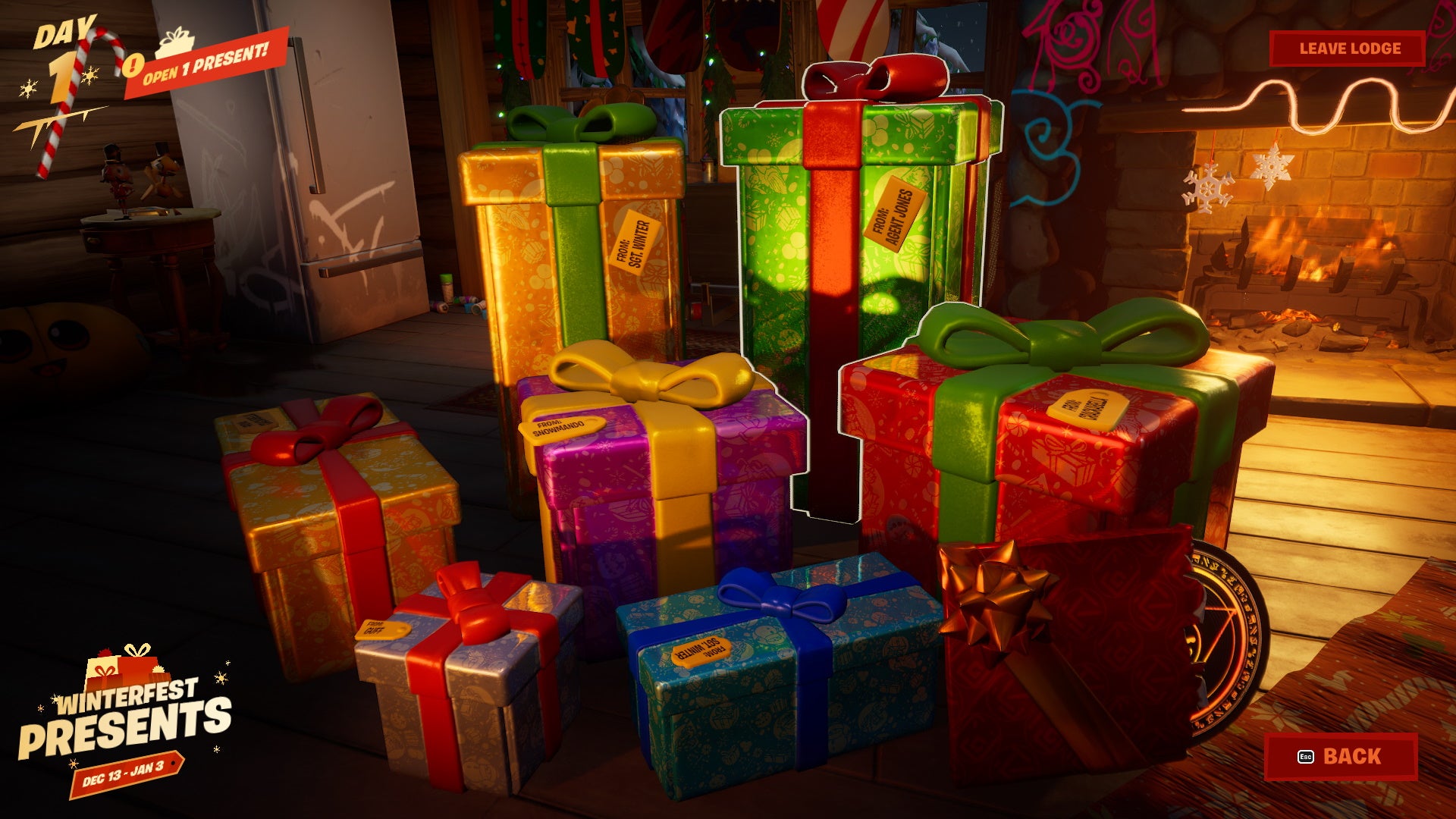 | Gift | Wrapping and box |
| --- | --- |
| Arctic Adeline Skin | Tall green box, can't open until other gifts are opened |
| Har-Har-Har Glider | Tall gold box next to the green one |
| Sledgecracker Pickaxe | Squat gold box in the middle row on the far left |
| Lil' Prancer Emote | Purple box in the middle of the second row |
| Slushy Sneak Wrap | Large red box on the right in the middle row |
| Rip & Tear Music | Square, record sleeve-shaped package on the bottom right |
| Boom Bauble Emoticon | Green box in the middle of the bottom row |
| Seasons Gruffings Spray | Gold box on the left in the bottom row |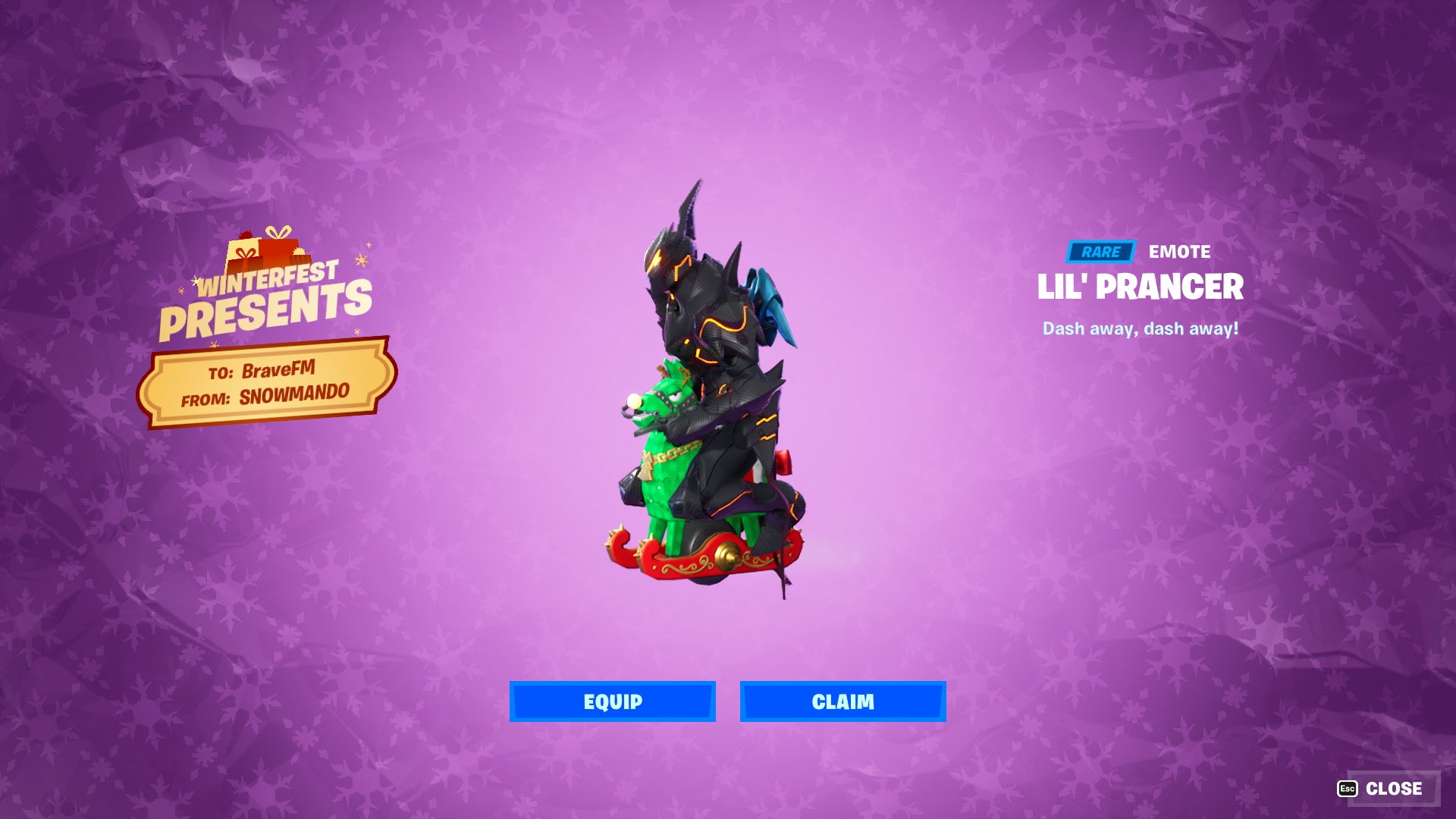 These are the freebies in the gift pile to your right.
| Gift | Wrapping and box |
| --- | --- |
| Wintry Whirligig Glider | Tall box behind Jonesy |
| Ribbon Trail | Small present on the bookshelf |
| Gringle Gift Wrap | Medium-sized red box next to Jonesy |
| Fa-la-la-la-llama Back Bling | Box at the back of the pile |
| When the Wind Blows Music | Pink box on the right |
Fortnite Winterfest 2022 skins
The two Winterfest 2022 skins are:
Arctic Adeline
Sled-Ready Guff Skin
Arctic Adeline is in the box from Jonesy, which you have to save for last. Guff is holding the Guff Skin, and he won't give it up until you open all the other presents.
While you're waiting for time to pass and a new present to come up for grabs, hunt down the from an Oathbound Chest and hop on a dirt bike to pull off some sick tricks.