Fall Guys Free for All launches, immediately plagued with server issues
Mediatonic certainly didn't expect so many clumsy beans to jump into the game at once.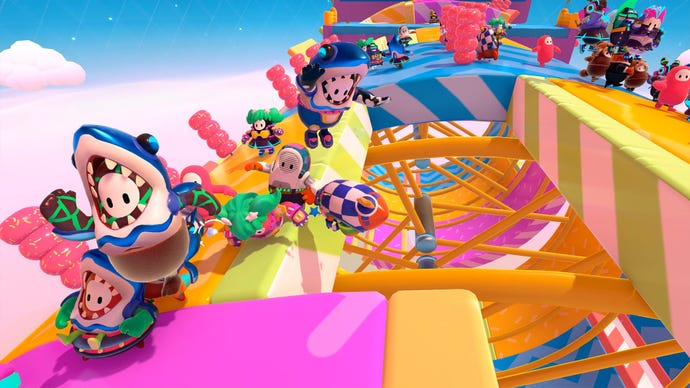 Yesterday, Fall Guys did something that many of us had been wanting them to do for a while now. Mediatonic's clumsy title went free to play, arrived on Xbox and Nintendo Switch, and introduced cross-platform play. This is a big move for the title, which appears to have a copious amount of adoring fans who have been waiting for this day.
Jump into Fall Guys Free for All now! Server issues permitting.
Sadly, the launch wasn't without its problems. It took me about forty minutes of sitting in an eternal loading screen before realising something was up, and sure enough, Fall Guys had taken to Twitter to share that server issues were ongoing.
we are aware that some players are unable to matchmake right now!

to celebrate our Free for All launch, I baked us a cake, but I dropped it on the servers and now i am cleaning up the frosting from the computery bits

will bake us a new cake though

thanks for your patience!!!! pic.twitter.com/3VtHlBqjEc

— Fall Guys - Creative Construction (@FallGuysGame) June 21, 2022
The problem didn't stop there, however, and not long after public matchmaking was unavailable, custom lobbies were temporarily disabled too. Updates from Fall Guys were met with a lot of disdain, with people complaining that the team clearly hadn't prepared enough and that they'd messed up their launch.
Needless to say, if Fall Guys' tweets are anything to go by, it appears as though Mediatonic never anticipated that so many people would jump onto the game the moment that it went free to play.
Okay, so, got some of the frosting, got some of the ants

Say 54% of the frosting and 44% of the ants

Servers are starting to look better but there may be some teething issues whilst all bajillion of you try to play at once

Thanks for baring with us as we continue fixing it!! pic.twitter.com/3JzzRNYr27

— Fall Guys - Creative Construction (@FallGuysGame) June 21, 2022
As of right now, it appears that the server issues are mostly fixed. It's still early days, and there's bound to be more teething issues as Mediatonic iron things out on their end, but players should be able to jump into the chaotic battle royale with few issues.
Here's to hoping the rest of the cake and ants are cleared up soon. In the meantime, here's everything you need to know about cross-platform play and cross-progression in Fall Guys. Happy falling!