You can play Starfield five days early if you spend extra on the Premium Edition
There's a way for you to play Starfield on Friday, September 1 instead of when it releases on Game Pass.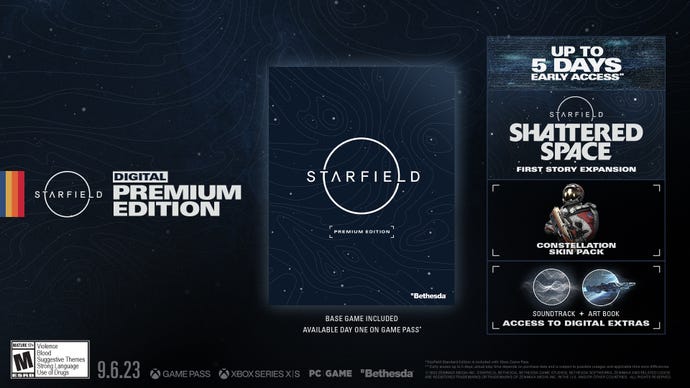 Microsoft is unquestionably positioning Starfield as its biggest game this year. In case it wasn't clear from the 55-minute deep dive that aired just after the Xbox Games Showcase. But that also extends to the stunning Constellation Edition, and in giving the RPG the Forza treatment when it comes to the different version on sale.
Like Forza, you will be able to play Starfield on Game Pass on day one as part of your membership. But, if you're willing to spend a little extra, you can play it earlier.
Enter Starfield Premium Edition, available digitally and physically. Both include the Shattered Space story expansion (when it releases), up to five days of early access, the Constellation Skin Pack, and digital access to the artbook & original soundtrack. If you go with the physical version, you'll also get a Steelbook Display Case (available at some retailers), and the Constellation Patch (available at some retailers).
The Starfield Premium Edition will cost you $100. You can also upgrade the base version to unlock those benefits for $30. Either will let you play on Friday, September 1.
That practice has been proving very popular for Forza, and Forza Horizon 5 attracted over one million players, all of whom bought the game's more expensive Premium Edition to play ahead of the Game Pass/public launch.
Considering how much anticipation there is for Starfield, and following all the excitement coming from today's solid showcase, this is undoubtedly going to be another big success for Xbox.