Red Dead Online guide: tips and tricks for missions, multiplayer modes and open world survival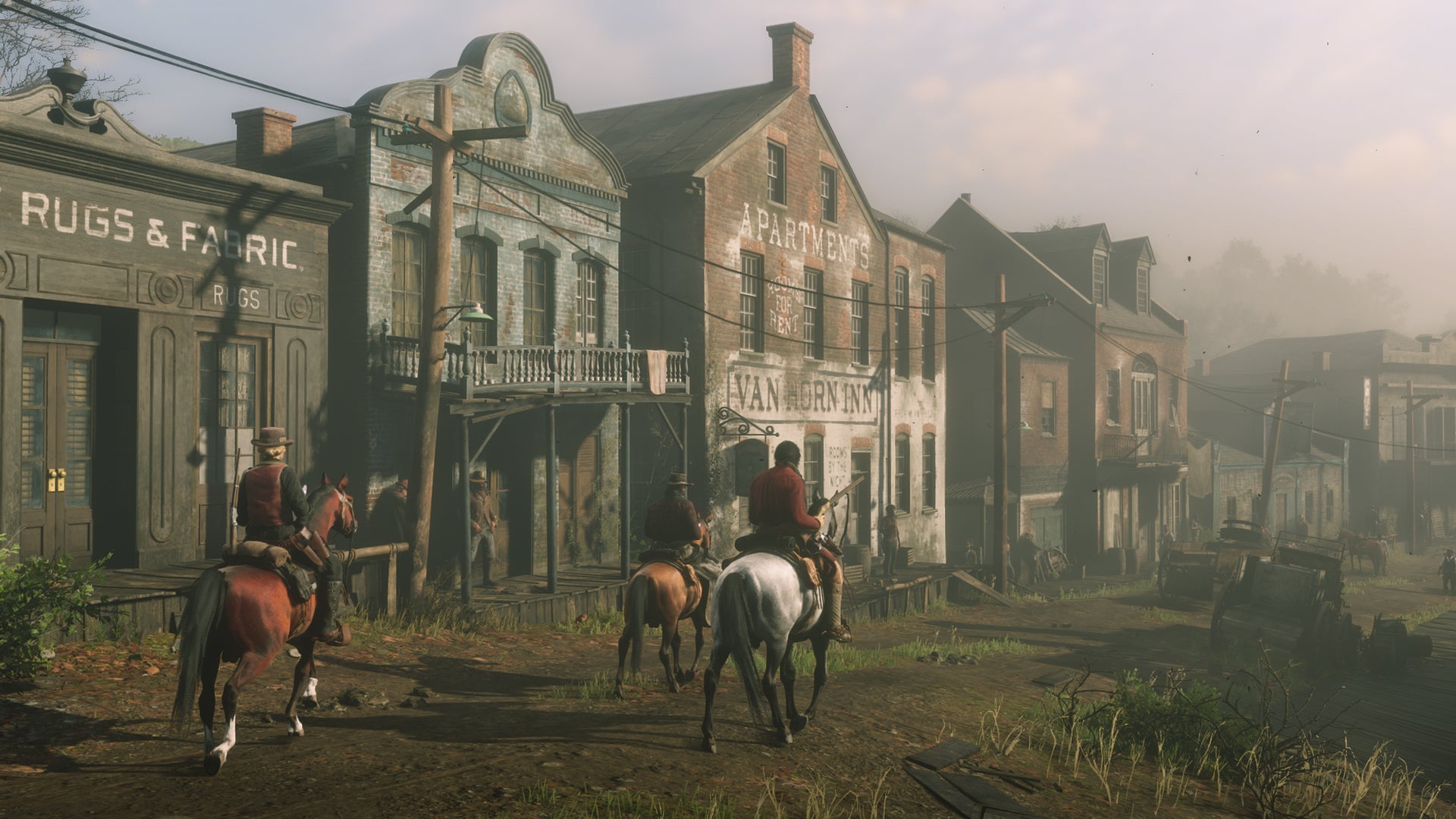 The wild west fantasy of Red Dead Online is well underway, so here's what you can expect from it.
Red Dead Online comes with its own story and a host of new multiplayer modes, character creation and missions to complete solo or with friends. There's also a battle royale-style mode called Make It Count which has 32 players battle it out for the top spot.
We've created this guide to give you all the top tips and advice to get the most out of the beta period, however long it lasts.
Red Dead Online guide
You can check out our guide on how to get on the Red Dead Online beta here, which includes the launch times over the next few days and a brief synopsis of what you can expect.
Red Dead Online Multiplayer modes
There are six multiplayer modes in Red Dead Online. So far, 32 players can take part in multiplayer modes, with the aim of increasing that number as the beta progresses.
There's also a new battle royale mode called Gun Rush. It involves 32 players gathering weapons and ammunition while the play area shrinks and last one standing wins.
Make It Count

A battle royale-style mode with limited weapons, such as bows and throwing knives, in a shrinking circle.

Most Wanted

Players are pit against each other, with the player getting the most kills climbing a leaderboard but also getting a higher bounty on their head for others to earn.

Name Your Weapon

This mode is a free for all with a set list of weapons. Some weapons judged harder to use than others and may earn you more points.

Team Shootout/ Shootout

A good old deathmatch. Compete for the most kills before the timer runs out or, if there's a tie, compete in Sudden Death until you win or lose.

Races

There are three types of horse racing: Point to point, laps and open races.

Hostile Territory

Capture zones around the map and rack up points to take the match.
Red Dead Online single-player and co-op missions
Alongside the multiplayer modes, there are several single-player story activities and missions you can get on with.
Posses and activities

In this mode, you can play solo or ride with a Posse with up to seven friends. You can go hunting and fishing together, set up a Camp, fight with other Posses or just roam the wilderness with your buddies.

XP and Ability Cards

All the XP you earn counts towards your rank in different areas, and there are 12 Award categories that will allow you to expand your combat, hunting, sharpshooter or survivalist skills. You'll also allocate attribute points to your character at the start which you can choose depending on what play style you favour.

Honor

The Honor system is back in Red Dead Online. Not only will characters treat you differently depending on your Honor ranking, but it will also affect the outcome of certain quests whether you're a hero or an outlaw.

A Land of Opportunities

These multi-part missions are playable with two-to-four players, and the missions can change course based on your actions within them. If your Honor ranking changes, expect the mission parameters to change accordingly.
Red Dead Online character creation
You can choose to play as a male or female character in Red Dead Online, changing their face, age, complexion and of course, there are a wealth of excellent beards to choose from.
You'll also choose your Attributes at this stage, which are based on combat, hunting, sharpshooter or survivalist skills.
Rank unlocks and progression
As you play through Red Dead Online you'll earn XP. This increases your rank, and as you rank up, more items, weapons, clothing, horse skins and ammo becomes available to you.
How to make money
Every job will earn you money, but some pay out better than others. Red Dead Online also uses Gold Bars as currency, which can be purchased from the online store. Here's how long it takes to grind out a single gold bar. If you need help finding the treasure at Bard's Crossing, here's a map.
Fast travel
Just like in Red Dead Redemption 2, you have the option to fast travel around the Red Dead Online map. This time, you're looking for posts along the side of the road that will allow you to fast travel around the map for a cost. You'll be able to fast travel from the start of the game and the ability to do so isn't locked behind any missions. Once you get to rank 65 you're able to unlock and buy your own Fast Travel post.
Red Dead Online: how to play with friends, join and invite players
Not sure how to invite your pals to join your Posse? Let us give you a hand.
In Free Roam, press the d-pad left to open the Free Roam menu. Select Players and you should be able to see Friends, Crew and Recent Players. Select Friends and choose which friend you want to play with and you'll see you can invite them to join your session or if they are already playing, join their session.
You'll also be able to see their Ability Loadout and Posse details if they have any. If there's space, you can join their Posse and explore the world of Red Dead Online together.
Red Dead Online achievements and trophies
There are a bunch of achievements/ trophies to earn in Red Dead Online, the first of which you can unlock by completing the introductory mission in the game. You can see the cinematic opening in our video below, but beware for spoilers if you haven't got access to Red Dead Online yet.
Red Dead Online: stranger missions
We don't know all the details about the kinds of stranger missions there'll be in Red Dead Online, but there's a special one we do know about.
Spoiler alert - last warning!
You can head over to the MacFarlane Ranch and meet Bonnie MacFarlane there, who'll offer you a quest to find a lost cart. It's a nice little easter egg for fans of the previous game.
Red Dead Online beta feedback and troubleshooting
As Red Dead Online is still in beta, you can expect a few problems to arise every now and again. Xbox One players had some difficulty accessing Red Dead Online at launch, though Rockstar has already remedied this.
The first patch for Red Dead Redemption 2 added access to Red Dead Online but hasn't changed anything in the online world. Be aware that players might lose progress of their characters during the beta period.
If players encounter any game breaking bugs, hilarious or otherwise, they are encouraged to report it to Rockstar via the support page.