Red Dead Redemption 2 robbery guide: how to rob trains, open a safe, rob the doctor and more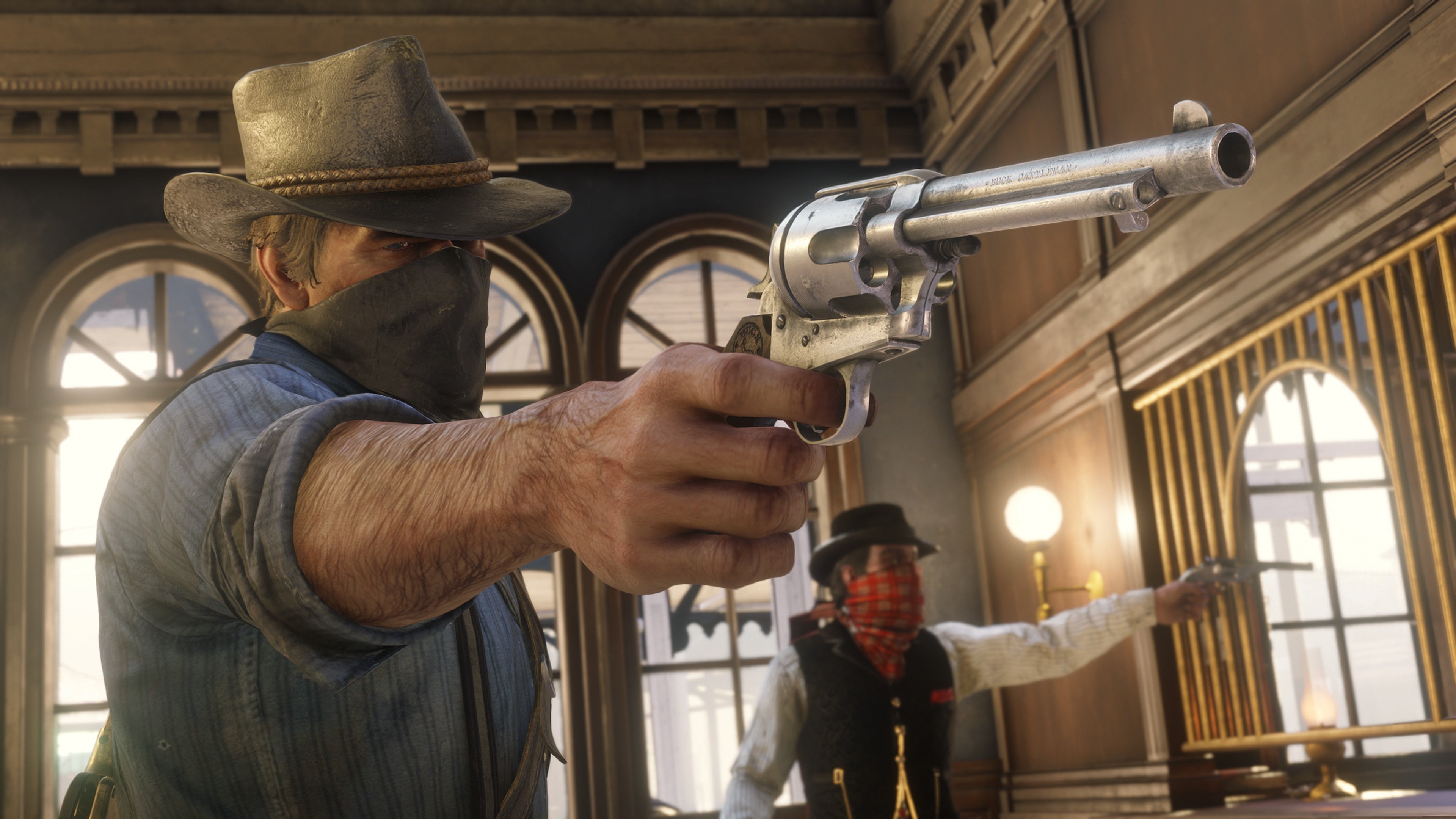 Sometimes you've got to go for the big loot - and that involves pulling off a big robbery.

Pulling a bank or train robbery in Red Dead Redemption is one of the most exciting things to do, nets you stacks of swag and usually ends up with a violent face-off against lawmen. It's why you bought Red Dead Redemption 2, be serious.
You'll rob trains as per of the main story of Red Dead Redemption 2, and that will bag you loads of cash that you can invest in your camp, whether that's to unlock the ability to fast travel with general upgrades like adding the leather working tools or upgrading Dutch's lodgings to unlock fast travel.
Red Dead Redemption 2 Robbery Tips
You are also free to rob any store, gunsmith, doctor, or other business, as well as people in general. We wouldn't recommend this as it will destroy your Honor System rank, which can upset the value of discounts and restrict unlocks, and the payoff is never that spectacular.
If you're desperate for cash then make sure you take as many precautions as you can. Rob away from the busiest areas to avoid witnesses and be prepared to flee when your Wanted level rises. You'll probably end up with a Bounty on your head, and that will need paying off so don't rob random characters as you'll usually have to pay more than you steal. And make sure you have your mask on (select it from your item menu), don't be an amateur.
How to rob a train
If you're going to go on a robbing spree, you may as well go big. Robbing a train comes with a big risk but it easily gets you the most lucrative of payoffs as you can fleece passengers and their items. Freight trains usually have a lockbox with decent items in too.
To rob a train successfully, we recommend stopping it outside of towns, preferably between stations. Ride alongside a train and press the X/Square button to jump onto it while it's moving. We recommend jumping onto a train while it's travelling between locations; if you get on at a train station there will be more witnesses.
This reduces the number of lawmen who will come looking for you. To stop a train make your way to the engine and beat the driver into submission. Now you should make your way through the passenger carriages intimidating and beating the passengers so they hand you money and jewellery. Some trains are guarded so be sure to kill any, otherwise, you risk them escaping to tell the law.
How to rob a stagecoach
Robbing stagecoaches isn't that lucrative until you unlock the stagecoach fence at Emerald Ranch.
In Chapter 3, you will then unlock a bunch of specific coach robberies. You'll be introduced to bent postal workers - one in Strawberry and one in Rhodes - who are happy to give you the details of various stagecoaches for a price. These start out easy enough and graduate up to armed stagecoaches where you'll need dynamite and fight numerous guards.
Banks and how to open a safe
Banks are easy targets, and the pay is good. There's always a shoot out at the end, so you better be prepared to flee and avoid the town for a while as it will go into lockdown. Once inside the bank, intimidate the clerk until he or she opens up the vault, then decide how you're going to open the safe.
You have two options - you can blow them with dynamite or crack them open silently. Dynamite is quick but it attracts more lawmen and as far as we can tell produces less cash than cracking a safe. You'll need to have dynamite in your inventory and make sure you stand well back or get caught in the blast.
To crack a safe takes longer, which means any witnesses have more time to reach the sheriff or call for help. If you didn't leave any witnesses, then you have more time to crack a safe and make a quieter getaway.
You'll need to rotate the analogue stick to the left, then to the right, back to the left and to the right again before the lock pops open. The secret is to slow down when the controller vibrates a lot and as soon as it clicks rotate in the opposite direction. It gets easier with practice.
Rob the doctor in Valentine
There's a good reason to rob the doctor in Valentine - it gives you the Schofield Revolver, one of the best weapons in Red Dead Redemption 2.
Robbing the doc results in a shootout and a brush with the law, so go prepared and get ready to outrun the sheriff and his deputies rather than get in an escalating conflict. You'll have to force the doctor to open the two locked doors here as there's no way to shoot them open.
Or, you could check out our guide on how to make some honest money, as well as how to exploit a glitch for a tonne of gold bars.
Home robberies in Red Dead Redemption 2
As you progress through your adventure in the old west, you'll get the opportunity to rob homesteads and houses in some of the most lucrative side-missions in the whole game. A couple can only be completed at certain times during the story because you get another member of the gang to tag along with you. We've listed them below:
Chez Porter with Javier - At camp in Chapter 2 or 3
Lonnie's Shack with Sean - At camp during chapter 3
There are a few more houses that you can loot as well, each with their own unique encounters. You don't have to be super sneaky or shoot the place up on every occasion though, some require a bit more finesse and subterfuge to get what you want.
Here are the ones we've found so far:
Aberdeen Pig Farm - Southeast of Emerald Ranch, past the county line, northeast of where it says Bluewater Marsh on the map - Greet the farmer and he'll let you into the house which you can then ransack. Accept there offers for a unique scene.
Watson's Cabin - Over to the northwest of Wallace Station, which is north of Strawberry - The first time you go to the house you can wander in and the elderly resident will think you're someone else and let you into the cellar, where you can claim a semi-automatic shotgun. If you come back though four men will have arrived, who turn hostile if you barge in. You'll have to kill them, or at least the old woman, if you want to loot the rest of the house.
Van Horn Mansion - Along the bank of the river to the south of the Van Horn Trading Post - This encounter is quite similar to the first one that introduces the mechanic with Hosea. The inhabitants are asleep if you try and enter at night, so you can sneak around and take everything while they're grabbing some shut-eye.
Red Dead Online is now available for all players, and you can claim your early access content now as well as play in Free Roam missions.
If you're new to Red Dead Redemption 2, then check out our guides on how to upgrade your boys and arrows, how to level up and use Dead Eye and where to find the best horse.
Now that you've got to grip with the basics, here's our guide to the best weapons in Red Dead Redemption 2. If you want to get rich quick, find a fence or want to know where to hunt legendary animals, then check out our complete Red Dead Redemption 2 guide here.
Red Dead Redemption 2 comes to PC on November 5, and you can check out what new content is coming here.