GTA 5 guide for PS4, Xbox One and PC: absolutely everything you need to know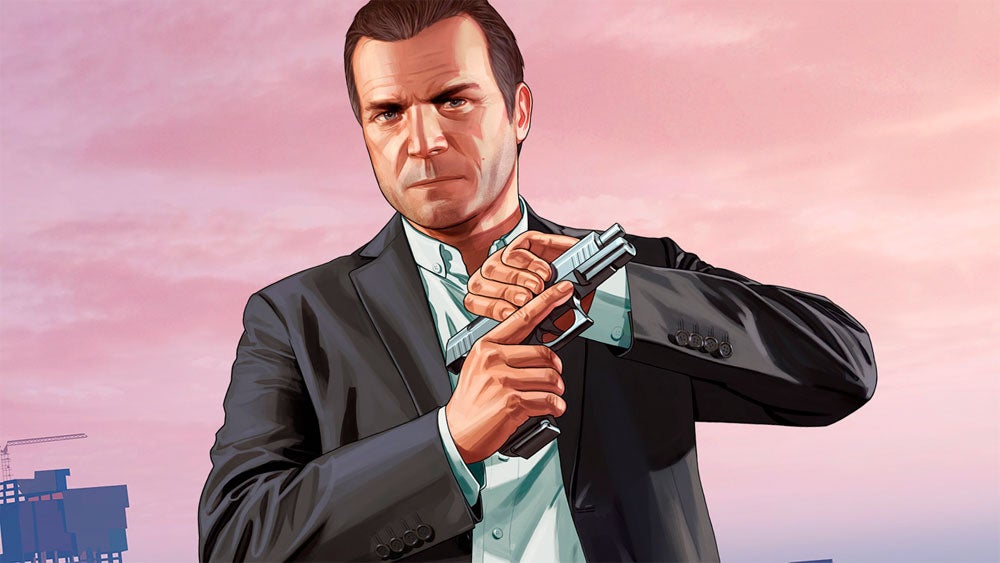 It's here. You can now enter Los Santos on PS4 and Xbox One. Want to prosper? Bookmark our full guide right now.
GTA 5 guide for PS4, Xbox One and PC
GTA 5 on PS4 and Xbox One could well be game of the year. The poor old PC people will have to wait until 2015 to get involved with some hi-fi Rockstar robbery, but that isn't going to stop new-gen console owners leaping on this massively anticipated upgrade with gusto. It's been a long time coming, but the updates are well worth the wait.
Thousands (millions?) of new players are about to enter the world of Los Santos for the first time, having put off their crime career until the "real" versions came along. GTA 5's story is a long one but there's plenty of hand-holding. It shouldn't cause you too much trouble. GTA Online? It's a brutal game, and you're largely left to your own devices. Luckily for you, we're here to help.
GTA Online is a tough, instance-based MMO in which you begin as a two-bit hood and ascend to riches and notoriety. The PS4 and Xbox One versions feature 30-player cities and, obviously, vastly overhauled tech, granting a unique GTA experience and one you may struggle to understand from the off.
You'll find a list of articles and guide pages below to help you on your journey. We're going to be growing this guide over time, so if there's anything you specifically want us to cover, just let us know in the comments below.
The VG247 crew is Halcyon Death Squad. We're going to be playing a great deal over the coming weeks and months, so join up for some general idiocy. We don't take ourselves very seriously! We just want to have fun.
Good luck!
General information and beginner's tips
Really don't know what's going on with GTA 5? Never played it before? This page is for you. It tells you what GTA 5 is, how to get up and running, what to expect from GTA Online and how to get used to the controls. For absolute beginners.
Still haven't made the decision about upgrading? If you're unsure whether or not to make the investment in either the Xbox One or PS4 version of GTA 5, take a look kat this to see whether or not the new stuff's worth it. There's a lot of information here on technical upgrades and gameplay additions, such as the first-person mode.
You have to know how to make stuff work. Here's a shot of the PS4 manual, showing all the on-foot and in-vehicle controls. There are many control options in GTA 5, as the variety of game states makes for a complex set-up. You'll need to make your own tweaks in-game, but you'll find all the basic information here.
Can't be bothered to sift through the reams of information in the other "what's new" article? This is the best new stuff in the PS4 and Xbox One versions. Be sure to check this to make sure there's nothing you've missed, such as the ability to throw grenades with the PS4 touchpad when aiming with another weapon.
Setting up GTA 5's first-person view to behave as you'd like isn't as simple as it could have been. Walking and shooting in first-person is all well and good, but if you want to drop into third-person when you move into cover or enter a vehicle, you should take a look at this.
GTA 5 Online guide
You need to know how to do this. If you're coming over to the Xbox One or PS4 versions from Xbox 360 or PS3, you'll probably want to transfer your character. Remember, you can only do this once, so be sure to check our this guide to making sure the transition goes as smoothly as possible.
GTA Online is a tough game, but can be one of the most rewarding connected experiences available. Your journey will be easier if you take a little advice. The less time you waste, the sooner you'll be playing with attack choppers and tanks.
Pat breaks down all of the major weapons groups and suggests a versatile load-out in this guide. You should definitely check this out for clear-cut facts on the best assault rifles and shotguns to equip. Don't die. Be prepared.
GTA Online's weapons, vehicles and upgrades unlock as you move up through the ranks. How long will you have to wait for the Heavy Sniper? Hit the link to see.
The Buzzard attack chopper is one of the most powerful weapons in GTA Online, but it comes with a lunatic price-tag. Can't wait? Check out this guide to finding one for free.
You're definitely going to need to know how to use your phone's camera in GTA Online (it's actually required for some of the missions, so it isn't just for vanity). Los Santos is a pretty place, aside from anything, so you'll want to record your time there. And there are the 40,000 selfies you need to broadcast to the world, obviously.
Basic information to get you involved. The first few days in GTA Online can be bewildering, so this is how to stop just wandering around and get into some instance that reap cash and experience. Don't be aimless. Achieve.
Deathmatch is where you go when you want to prove a point. GTA Online supports both vanilla and team deathmatch, with the new maps taking advantage of the next-gen boost up to 30 players. If you're clueless in the mode, you're going to end up dead. Get ahead with these tips.
Most players will stick to co-op missions to level in GTA Online, but you shouldn't ignore the other modes. Deathmatch is amazing fun in a group. Here's why.
A living document collecting together all the best Missions for big cash and RP payouts. We've also got advice on loadouts, tactics and techniques to makes sure you can master some of the toughest missions in GTA Online.
Matt took the time to try out GTA Online on Vita. If you're playing the PS4 version, you can connect a Vita via Remote Play and get on with your virtual life of crime while others are watching the TV. But does it work? Find out here.
Head over the page for tons of pre-release information about the PS4, Xbox One and PC versions of GTA 5, including details on the first-person mode, technical upgrades and much more.
First up, let's take a look at the launch trailer for this open-world beauty in action:
General upgrades
Now we know what we're going to be dealing with, let's get started on the basics...
Everyone who pre-orders the game will get a bonus $1 million to play with - split evenly between GTA Online and the single-player game. We suggest putting it towards a house in GTA Online, or some decent weapons.
You'll be able to transfer your save game over to any version of the game. If you have a PS3 save and want to buy the PC or Xbox One version that's absolutely fine. It should all be saved on Rockstar's cloud server.
Transferring over your save includes your GTA Online characters, all weapons, cash and any extra perks. This includes all the stuff you got from buying the Special Edition and Collector's Edition last year, single-player and multiplayer content.
You'll only get one chance to port your save over. After that, any progress you make in the old-gen version won't be updated in the next-gen version. But why would you go back?
GTA V for PC may have a video editor built in, according to this leak.
Clear some space on your hard drive. It looks like it's going to be 50GB on PS4 at least. It might even have some form of motion control nonsense going on.
If you think you've been lucky enough to be invited to a PC beta for GTA 5, you haven't. It's a scam.
First-person mode
This is the biggie. Grand Theft Auto V on PC, PS4 and Xbox One will have a first-person view. Players will be able to switch between third and first-person on the fly.
You'll also be able to set up options to automatically switch to third-person when you snap to cover, or when you get inside a vehicle. Or not. The choice is going to be yours.
In first-person mode you can switch between free aim, assisted aim and semi-assisted aim. When playing online, hosts of races and missions will be able to force third or first-person view.
Here's some gameplay of the first-person view, but be warned, it's a recording of of a poor quality Twitch stream. Better to watch the official video from Rockstar below:
Improvements to the game
In a nutshell Rockstar is promising "a range of major visual and technical upgrades to make Los Santos and Blaine County more immersive than ever" which includes better draw distances and a higher resolution. According to this report, we're talking 1080p/30fps on PlayStation 4 and there's a 4k resolution option for PC.
Other noticeable differences will include more traffic on the streets of Los Santos and enhanced weather and damage effects. Don't underestimate the improvements to lighting, as we can see from the first next-gen trailer:
A lot of the details seen in the above video were reiterated in this leaked retailer presentation. Character models have been improved, and rain water will pool in the streets after a downpour. There's more wildlife in the game (including 20 new species), with specific lessons learnt from Red Dead Redemption, apparently.
Here's a list of improvements directly from Rockstar:
Dynamically adaptive depth of field
Increased particle effects quality and number of particle effects rendered on-screen at once
Improved wind dynamics for clothing, flags, foliage, trees and more
More realistic fluid dynamics
Improved weather effects
Improved damage effects
Volumetric light pollution
3x number of light sources from 360/PS3
Animals are said to have detailed fur rather than flat textures. When it comes to foliage, expect detailed bark, individual flowers and blades of grass.
It looks like all the radio stations are getting extra tracks too. Non-Stop Pop certainly is, as is FlyLo FM. This is good news. Can we get some Luniz on West Coast Classics? Officially that's "over 100" new songs across the 17 radio stations.
In terms of new content available to all, Rockstar is promising a "a fleet of classic GTA vehicles" as well as surprises. Some of those surprises aren't likely to be officially announced, so players can find them out for themselves.
You can also expect new shooting range challenges and a new race location.
The PS4's controller will get some unique features too. The lightbar will flash red and blue when the LSPD are in pursuit, and radio chatter and phone calls will play through the speaker.
Exclusive content for upgrading
If you upgrade from your existing game on old-gen consoles you're going to get access to quite a lot of single-player content, vehicles and weapons. It's for returning players only, not those that are coming to GTA 5 fresh. Here it is in full:
One of Trevor's missions is to find the Impotente Duke O'Death muscle car. Complete the mission and its yours to own.
Franklin is getting extra wildlife photography missions. As a reward you'll receive access to the Kraken submarine.
Solving a murder mystery storyline for Michael will gift you new noir filters for the Instamatic camera.
Two new weapons are yours to own: the high-velocity Rail Gun and the brutal Hatchet for melee kills.
New stock car races will unlock custom muscle cars and logos for companies featured in the game.
Track down and photograph monkey graffiti and you'll unlock the Go Go Monkey Blista dune buggy.
Returning players will also have access to the Dodo Seaplane, the Xero Gas Blimp and the Cheval Marshall monster truck.
What's not clear about the above content is whether those vehicles, weapons and other stuff will be available in GTA Online. We've got our fingers crossed they will be.
GTA Online
The number of players in each session has been increased to 30. It's going to be utter carnage on the streets.
That also means 30 players in competitive mode too, so long as the job supports it. 30-player deathmatch? HELL JEAH.
All player-created missions and playlists are being copied over to the next-gen version. There's some great player-created content, but it does mean those terrible "Best Quick Rank FREE $$$$ !!! Guns!" deathmatches are coming across too. Boo.
Any bookmarks for Jobs, Playlists, Snapmatics and Leaderboards aren't being carried over to the new-gen.
All the content released for GTA Online will be bundled into the new version of the game, and all those vehicles, weapons and gear will be available in the single-player story mode. New vehicles from the last 11 updates will also make up some of the ambient traffic in Los Santos.
For Creator content, Rockstar has added 120 new props to use.
There's a completely new Character Creation tool, allowing the player to tweak facial features as well as body type and size.
Next page: those first-person screenshots in full
GTA 5: first-person gallery
Next page: single-player and GTA Online gallery
GTA 5: single-player and GTA Online gallery
GTA 5: the first PS4, PC, Xbox One screens gallery