GTA Online rank 1-50: what I wish I'd known at the start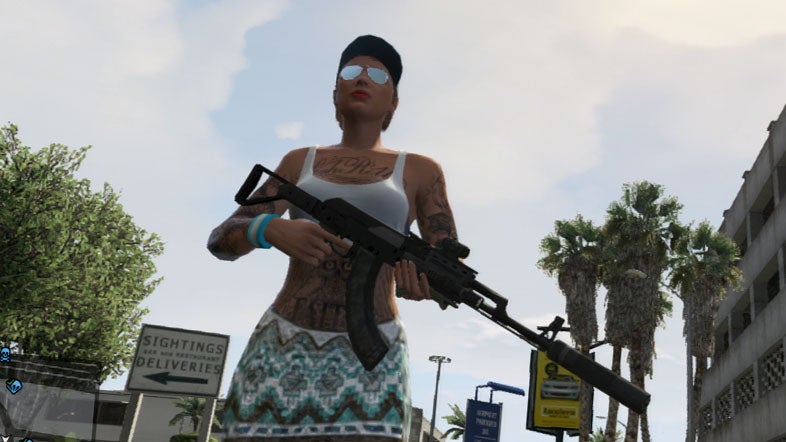 A life of crime has never been so much fun, Ringo. But let me offer you some advice.
I turned 50 last night. I've played GTA Online for a little short of 60 hours. I've killed 419 people with my AK-47. I've traveled 1,368.28 miles.
It feels good, but Rockstar's multiplayer opus is unforgiving, and less dedicated newcomers could easily be repelled. GTA Online is seen as a heavy grind by many, especially those obsessed with getting rich quickly.
The truth is that it doesn't have to be that way. It's one of the funniest, stupidest, broadest sandboxes ever made, and is certainly in a league of its own on console.
With the PS4, Xbox One and PC versions imminent, thousands of brand new players are about to start from zero. Here's what I've learnt about quick leveling and general enjoyment in GTA Online from playing through the first 50 ranks.
1 - Join a crew.
Absolutely do this. There are loads to choose from (just browse some on the Social Club) and you'll get a 10% RP bonus doing jobs with fellow members. An added plus of creating a Social Club account is the Elegy RH8, a Skyline-style sports car: you get one for free. Aside from giving leveling bonuses, joining a crew also means there are people to play with when you're all on your lonesome. The VG247 crew is Halcyon Death Squad. Join and you can talk rubbish with us while we kill people.
2 - Do missions.
The easiest (legitimate) way to earn RP and money in GTA Online is by doing missions. Missions are a co-op job-type. To get into a mission quickly, press up on the d-pad to bring up your phone, then go to the Quick Job app (it's on the left in the middle). You then ask the phone to find you a mission, and can choose to be placed in the lobby "on-call". That means you can carry on playing in the city until the mission's ready to start and you get sucked in.
Alternatively, you can press Start, then go to Online by pressing the shoulder buttons on the pad, then Jobs, Join Job, Join Mission. You'll see the types listed. This'll slot you into a random mission based on availability, but there's no on-call fucntion. If you want to host a mission and try it alone, you're free to do so.
The missions in GTA Online tend to be a "go-fetch" structure. You'll normally start standing in a group with your personal vehicles beside you. You then have to get something and take it somewhere, normally with a bunch of shooting in between. The variation usually comes with the method (boats, helicopters, planes, etc), and some split the players into teams of snipers and those involved in closer combat.
3 - Read up on the best missions.
Certain GTA Online missions are famous for being easy RP-boosters. The best-known are probably Rooftop Rumble, Coveted and Potshots, but there are plenty of others. A good place to gen-up is this /r/GTABank post, which lists all the best missions after the Flight School patch adjustments.
Remember, many of these instances only unlock after a certain level (so you won't be able to host them yourself until you rank-up), but more advanced players will be regularly launching them and and openly inviting the whole server. Watch your invites in the bottom left of the screen: if you see one for Rooftop Rumble, say, quickly accept it (as the lobby will probably fill up almost instantly). Be savvy to the names of the key leveling missions and you'll be out of the lesser ranks quickly.
4 - Play with others.
GTA Online is a social game, and it can be a funny one. Apart from the obvious social benefits of playing with others, you'll level faster because you naturally "do stuff" together (like missions and races) instead of just wandering around nicking cars. After the Flight School update, you get percentage bonuses for doing missions with other players. You can solo everything, but if you want top bucks you need some buddies. Who else do you know that's playing?
5 - Take advantage of double-RP events.
Rockstar tends to hold a double-RP event with every DLC, and taking part properly can seriously help you level. The events vary from double-RP on all activities to bonuses on a specific playlist or type of event. We always post event details, so stay with us for information.
As with the Flight School event, the bonus jobs may force you out of your comfort zone (parachuting bagged double-cash in the last shindig, for example), but embrace the challenge and boost your skills as well as your rank. You can easily pick off ten low-ish levels in a special event weekend if you put the hours in.
6 - Do playlists.
Instead of doing a job then picking another after it, you can use playlists. You can create playlists or use those made by other players and Rockstar. Running playlists has the major benefit of cutting down the time between jobs, meaning you still get the variety without all the waiting. If there's one obvious problem with GTA Online, it's the time it takes to load and match-make (play it for a while and you'll soon see what I mean), so anything you can do to chop out the waiting screens is a good deal.
7 - Open play is amazing, but save it till later.
GTA Online's sandbox is an urban crime simulator of which I have seen no equal, but don't be surprised when you end up dead. A lot. If you walk around on the open streets looking for trouble, you'll find it quickly. Simply being a player makes you a target, and the lower ranks are easy notches on the bedpost. Many players in GTA Online are well past rank 120, the level of the final weapons and vehicle unlocks, so you at rank 10 facing off against xxXXbulldogrimmer123XXxx at rank 385 (yes, you'll see plenty of people that high) is like a garden snail fighting a lawnmower. I've had some of the most incredible experiences of my gaming career in GTA Online open play, but I didn't feel as though it started to make much sense until I was past rank 30. I'd stick to missions and races until you're tougher and generally better at playing the game.
8 - Don't grind. Just play.
This is the most important piece of advice I can give you, I think. If you look on YouTube you'll see countless videos showing you missions you can grind for cash and RP. Yes, it's useful to know which jobs give the best profits, but there's a trend in GTA Online to just play the same missions over and over again in search of progression. Don't do it. If anything's going to spoil the game for you, it's intentional grinding. Find some other people and just play the game.
The level of variation on offer in GTA Online is absolutely staggering. There are hundreds of jobs, immense customisation options for both vehicles and avatars, crews to join, a city to roam, friends to make. Walk out of your apartment. Instead of shooting the next player you see, get in her car and and go for a ride. See what happens. Every session is a story, as long as you allow it be told. Don't worry about RP so much. Have fun. The ranks will come. They always do.