Genshin Impact Chinju Forest barrier and Hayashi of Tanuki quest
The Genshin Impact Chinju Forest barrier is another part of the Sacred Sakura Cleansing questline, one that involves a few detours along the way.
It kicks off after finishing the Konda Well quest and leads you to a rather unusual statue spirit in the process. Comply with its requests, and you'll unlock the path to the Chinju Forest barrier.
Genshin Impact Chinju Forest barrier | Hayashi of Tanuki in the Forest
Chinju Forest's first step involves the Hayashi of Tanuki in the Forest quest, which is fairly straightforward. Head to Chinju Forest, and start following the path upwards through the gates to trigger the Hayashi of Tanuki in the Forest quest.
Eventually, an odd statue summons you over. Defeat the enemies surrounding it, then interact with the giant Tanuki statue. The statue asks you to find three missing tanuki and marks the general areas on your map.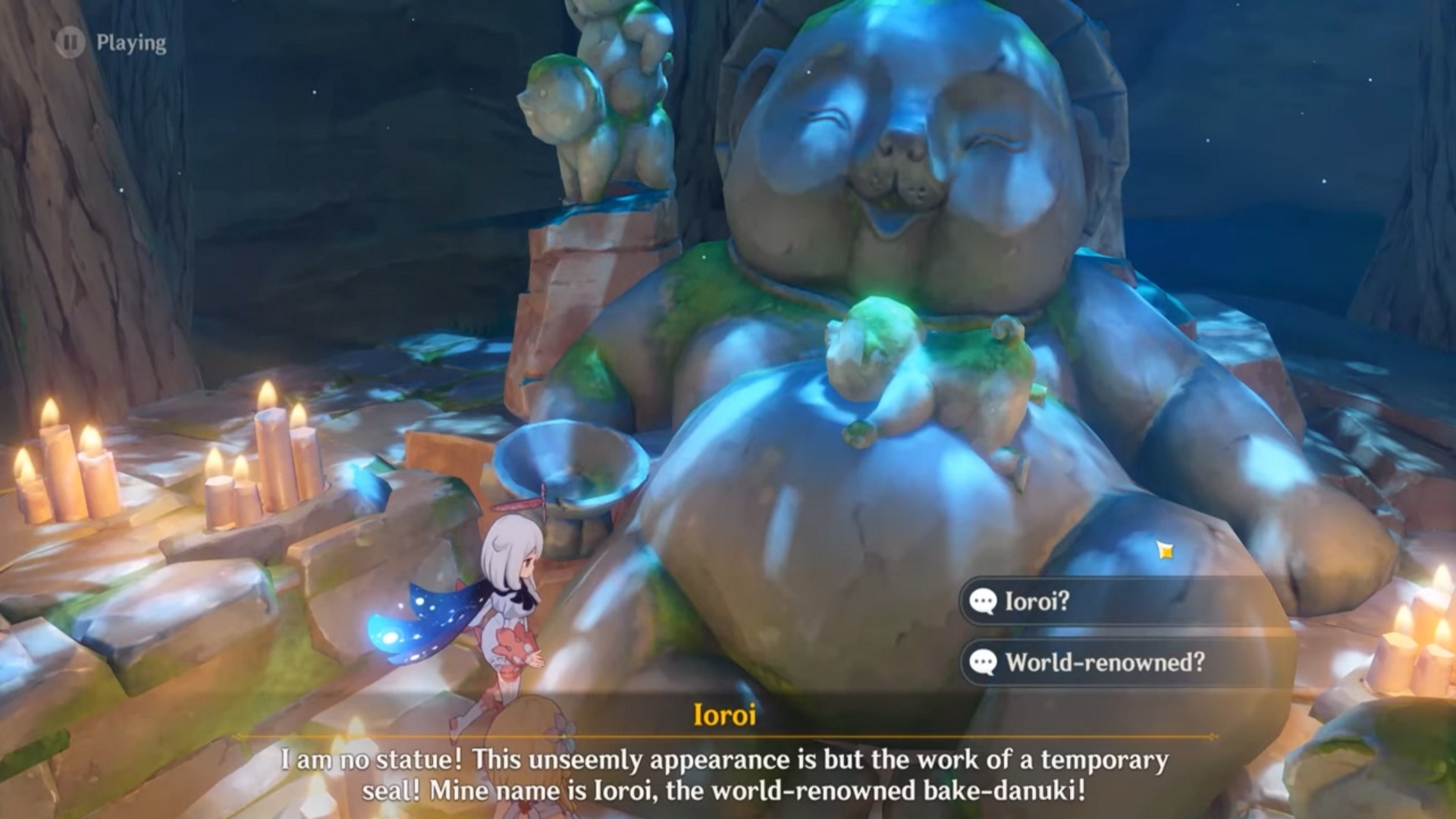 Genshin Impact Chinju Forest barrier | Tanuki locations
Each tanuki plays a joke on you and either runs away, turns into a different object, or both. The closest one transforms into a torch in the middle of the path. Use Pyro on it to break the enchantment.
The second one is a barrel on some rocks. Defeat the Hilichurls nearby, then break the barrel and investigate the area to reveal the second tanuki.
The third one leads you to an area with several torches, but the middle one is the actual tanuki. Light it up, get the Ward from the big statue, and find the Chinju Barrier.
Genshin Impact Chinju Forest barrier | How to destroy Chinju Forest barrier
As with other barriers in the cleansing ritual, you'll need to interact with a series of lanterns and set the correct number of marks over them to destroy the barrier.
The chief lantern is always "one." The two higher up, to the left and right of the gate, are "two." The lantern directly in front of the primary lantern is "four," and the one behind the root is "three." Another Ochimusha spawns after you destroy the barrier, so make sure to have a Cryo character, such as Ayaka, on hand.
If you're working through the other barrier quests, make sure to check out the Araumi puzzle along the way to unlock a new Genshin Impact Domain. Speaking of Domains, Watatsumi Island hides Shakkei Pavilion, a new one-time Domain with some good rewards worth checking out.