UK charts: Bad Company 2 becomes number one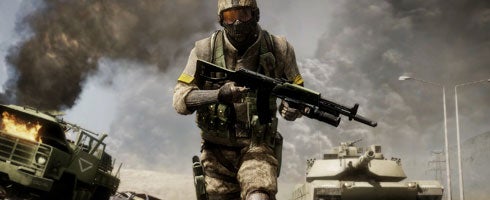 Battlefield: Bad Company 2 has instantly moved past Heavy Rain to become the new number one in this week's UK charts.
The EA DICE shooter saw off the Quantic Dream thriller, as well as Ubisoft's Just Dance, Sega's Alien vs Predator and Sonic & SEGA All-Stars Racing.
The 360 version saw the biggest amount of sales for BC2 with 51 percent, while the PS3 version sold 31 percent. The PC SKU sold 13 percent.
The full top ten is below. Last week's data is here.
1 - Battlefield: Bad Company 2 (EA DICE, EA)
2 - Just Dance (Ubisoft, Ubisoft)
3 - Alien vs Predator (Rebellion, Sega)
4 - Heavy Rain (Quantic Dream, Sony)
5 - Sonic & SEGA All-Stars Racing (Sumo Digital, Sega)
6 - Wii Fit Plus (Nintendo, Nintendo)
7 - Modern Warfare 2 (Infinity Ward, Activision-Blizzard)
8 - Wii Sports Resort (Nintendo, Nintendo)
9 - FIFA 10 (EA Sports, EA)
10 - New Super Mario Bros. Wii (Nintendo, Nintendo)