Battlefield Builder is the Battlefield mod tool we've waited years for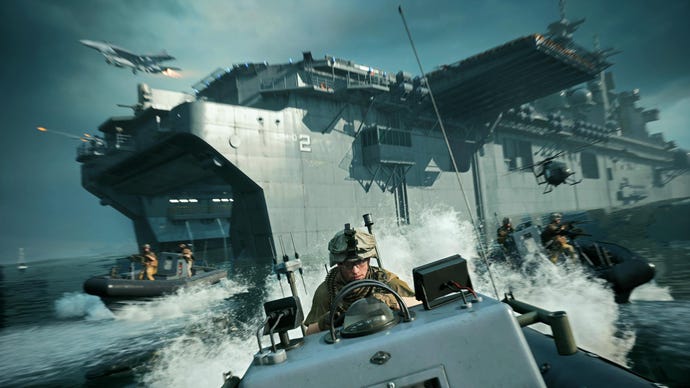 Everything we learned about Battlefield Builder, the modding suite coming with Battlefield 2042.
Battlefield 2042's second major experience has been revealed as Battlefield Portal, a suite of creation tools, and a browser for all sorts of community-created and official mods.
At a preview event ahead of EA Play Live, developer Ripple Effect detailed so much of what Battlefield Builder is. For starters, Builder is available for free to anyone on the web. It works in any web browser, and gives you access to a wide set of tools to create game modes and modify rules as you like. You can save your creation for later, share it with others using a share code, or publish it on live Battlefield 2042 servers (though obviously you need to own the game to play).
Dedicated servers will be used for all community creations, and Ripple Effect confirmed to VG247 that you won't have to pay for server hosting, no matter how big or small your experience is. So long as someone is playing, the server will remain online. The experiences you create can also be made private (solo or co-op), or password-protected.
Before we get into what Builder is, let's quickly go over what it is not. For all of its expansive options, Battlefield Builder does not currently let you create maps, or modify existing maps. This is something Ripple Effect told us is being looked at, but nothing to confirm there just yet.
Builder has access to all the content and rules from Battlefield 2042, alongside select content from three classic games: Battlefield 1942, Bad Company 2, and Battlefield 3. Factions from those games, alongside weapons, attachments, gadgets and soldier kits will return. Ripple Effect is also bringing back two maps from each of those games: BF1942's Battle of the Bulge and El Alamein, BC2's Arica Harbor and Valparaiso, and BF3's Caspian Border and Noshahr Canals.
The maps have been completely rebuilt in the latest version of Frostbite, but all of their existing quirks are intact. But the remasters also allow for things not possible in those games, such as the addition of destruction to BF1942's maps. You can expect these maps to support Battlefield 2042's massive weather events, too, and really anything you can do on vanilla BF2042 maps.
The real meat of Battlefield Builder, however, is how you'll be able to combine all those different elements to create, well, whatever you want. The toolset is easy to understand, split into simple categories that control soldier, weapons, vehicles, game rules etc. Each consists mostly of dials and buttons anyone could play with. You can go in and do something as simple as setting different eras per team, or exploring the madness of 128 players on a map designed for 24. The finer rules of balance and feel can be tweaked, too, like having a different damage models for each team, or controlling what movement (sprint/crouch) and gunplay abilities (iron sights only) players have access to.
The logic editor takes this a step further, and lets you really dig deep using a visual scripter that opens up even more options. In one example, the creator was able to code a script that would heal players back to full health on kill, or change the loadout of the entire team once certain events have occurred - a sort of 4D version of Gun Game.
Because of Builder's nature as a web-based application, you can easily share what you're working on with others by simply copying the URL. This allows whoever receives it to modify and build on your work. If you'd instead like to protect your design, you can simply generate a share code that allows players to see - but not modify - your mod.
Once your mod goes live on dedicated servers, you'll have basic admin tools such as kicking and banning. So long as at least one player is playing, the experience will remain live. Players who don't have the share code can still find your experience organically through a server browser, or if/when it gets selected as a featured experience. The browser itself supports searching by name and tags.
AI soldiers, which are in every facet of Battlefield 2042, can also be brought into your experiences. Ripple Effect told us that while you won't be able to design spawn logic - to create a Destiny-like PvE experience, for instance - you will be able to change how good AI soldiers are, and decide how many of them you want in your game. The AI can also backfill your game while real players join just like they could in vanilla BF2042, but at least you can turn them off here.
On top of the mods created by DICE and Ripple Effect, you'll also find a curated list of user-made mods, updated weekly, under the Community Experience tab. The studio also confirmed to VG247 that you can expect live events and limited-time modes to bring you to Battlefield Portal, and show you around other areas of the game.
The replay feature from classic Battlefield games sadly does not return, which is a missed opportunity, as it would be great to re-live what you could tell will be magical moments. The team is open the idea, though, so we may see it at some point in the future.
DICE and Ripple Effect know that Builder can be complex, and frankly a little overwhelming, and they plan on publishing guides and tutorials for players interested in getting more out of it. You can also expect the number of options to increase over time as the tools get expanded based on feedback. The developer wouldn't say whether we can expect new content from the three included games - or new games altogether - down the line.
Battlefield 2042, and everything included in Battlefield Portal, will be available October 22.