ESRB details Heavy Rain sex scenes, "intense" violent scene described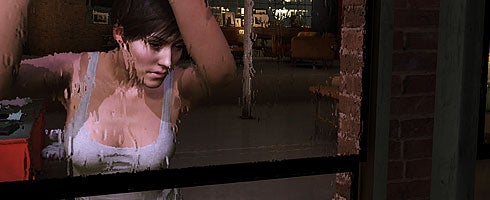 The ESRB has detailed why Heavy Rain got its M rating.
Beware. Spoilers abound as it details what kind of sex scenes to expect, and mentions a "most intense" violent scene.
The US ratings board said on the sex scenes:
"Shower cutscenes may depict a male character's bare butt; if players control the female character, her breasts and buttocks are also briefly visible. A more prolonged instance of nudity occurs during a female character's investigation of a seedy club owner: After getting him alone in a room, the player-character is asked to strip; at gunpoint, she dances topless in front of the man.
The game also contains a prompt-based love scene (kissing and rubbing) in which players match on-screen cues to angle characters' mouths, remove shirts and blouses, unhook bras, and lower to the floor; a woman briefly appears topless amidst the dark shadows and heavy breathing—actual sex is never depicted as the camera fades to black."
The listing also makes mention of an "most intense" violent scene involving co-main character Ethan Mars.
"The most intense instance of violence occurs during a "lizard trial" sequence in which players' character, Ethan, is forced to cut off a segment of his own finger to save his son's life: Several instruments (saw, scissors, knife, etc.) can be used to remove the finger; and though the camera pans away from the actual dismemberment—instead the blade, the blood, the scream—the scene's poring focus on Ethan's psychological tenor/terror (the dread deliberation before the cut) may be unnerving for some."
Ouch, etc.
Heavy Rain releases on February 23 in the US, and February 26 in the UK for PS3.
A pre-release demo is on the way, SCEE told us a while back.