Heavy Rain, Beyond: Two Souls, Detroit: Become Human coming to PC as Epic Games Store exclusives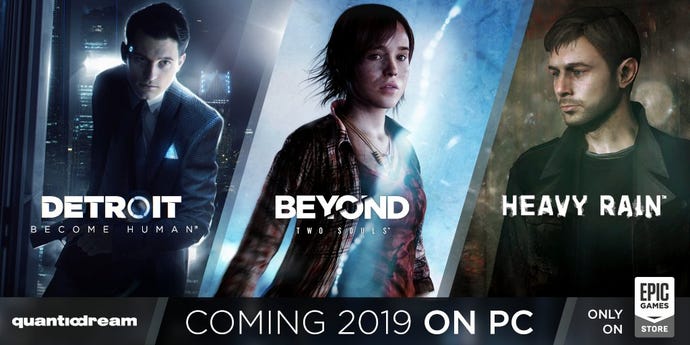 Quantic Dream's PlayStation 4 titles will finally arrive on PC, and each will be an Epic Games Store timed-exclusives.
Beyond: Two Souls, Heavy Rain, and Detroit: Become Human are coming to PC through the Epic Games Store.
The games were announced as timed-exclusives today at GDC 2019. Like Phoenix Point, all three Quantic Dream titles will be exclusive to Epic Games Store for one year.
A sizzle reel showing games on the store, or coming to it, was released as is posted below.
After being a PlayStation-exclusive developer for 12 years, Quantic Dream announced earlier this year it would be going multi-platform.
Quantic Dream is also working on a new, cross-platform game engine which will allow it to release multi-platform games in the future. It will continue to work on games for PlayStation, but will also consider other platforms.
The goal is to make its games "accessible to as many gamers as possible worldwide, regardless of the platform." This is the start of it, then.
Beyond: Two Souls, Heavy Rain, and Detroit: Become Human will be released this year on the Epic Games Store.