The Elder Scrolls Online is heading to Oblivion next year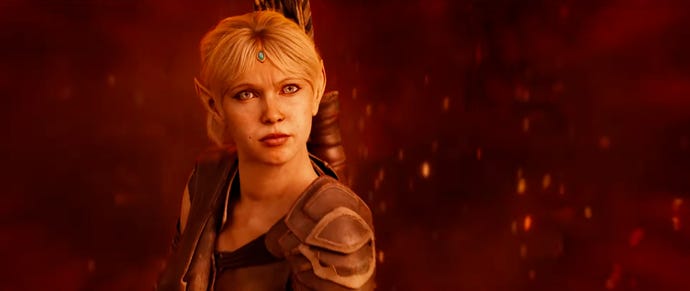 Looks like players are in for one hell of a time.
The next chapter of MMO The Elder Scrolls Online is going to be set in the region of Oblivion.
A teaser trailer for the Gates of Oblivion expansion was released yesterday at The Game Awards 2020 and gave us our first look at the next chapter in developer ZeniMax Online Studios' long-running fantasy RPG. The video features a woman having a pretty intense nightmare featuring a horned demon while a book she has... sort of catches fire? Oh, and then the symbol for Oblivion appears in the cover of the book.
Bethesda is hosting a reveal event on Twitch on January 21, 2021. So something to look forward to in the New Year!
This isn't the first time that players have headed to Oblivion. 2006's The Elder Scrolls 4: Oblivion – as the name suggests – was set in this region, while the Dawnguard and Dragonborn DLC for The Elder Scrolls 5: Skyrim.
The last expansion for The Elder Scrolls Online took players to the land of Skyrim. This year-long event – Dark Heart of Skyrim – ended with the launch of the Markarth DLC in November.
Between its launch back in 2014 and June 2019, the MMO had attracted 13.5 million players. At the time of writing, the title boasts around 16 million users.
The Elder Scrolls Online is currently available on PC, PS4, Xbox One and Google Stadia, but Bethesda revealed earlier in 2020 that the game would be coming to both PlayStation 5 and Xbox Series X. Those who already own the PS4 and Xbox One versions will be able to upgrade to these new versions for free, but only if you're remaining in the same ecosystem.