Bloodborne: how to beat Micolash, Host of the Nightmare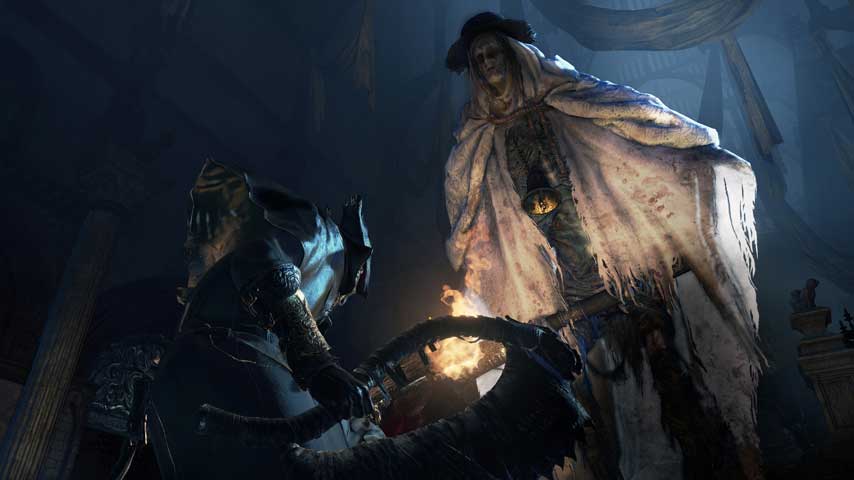 Our Bloodborne guide continues with a new boss battle.

Bloodborne is getting weirder. This boss fight against Micolash, Host of the Nightmare is best accompanied by the Benny Hill theme. I'm considering spending a bunch of Insight because I think my character's sanity levels are dangerously low.
The thing about this battle is: Miolash wants none of it. He takes one look at you and legs it, and you spend much of the battle chasing after his skinny ass. Meanwhile, his friends - a bunch of Skeletons and Tiny Gents - are chasing you. It would be laughable if it were not such a tricky encounter; hopefully you remember everything you learned from fighting Hunters so far.
How to beat Micolash, Host of the Nightmare
When the battle starts, head up the stairs and run around the top floor until you find Micolash. he'll run away into a room; follow him to battle two Skeletons while fending off his attacks.
When the skellies are down you can turn your attention to Micolash. He's not terribly difficult to duel; watch for a blue spark indicating he's about to use his tentacle arm (where's my tentacle arm, From?) and dodge left or right - or even behind if you're close enough, giving you a narrow window for a Charged Attack and Backstrike. Otherwise, just wait for his attack, dodge and counter, as you've been doing for hours now.
When you beat Micolash down to 50% he takes to his heels, the little baby. Exit the room and take the stairs up to the right, passing through the mist and up a circular staircase. Battle two Tiny Gents - one with a whip and another with a crossbow - one at a time as you progress. You can collect 12 Quicksilver Bullets, eight Blood Vials, a Frenzied Coldblood and a Blood Stone Chunk as you move forward. Yes, that's right: we're stopping in the middle of one of the final boss fights of the game to pick up random treasure. What is happening.
When you eventually track Micolash down, he legs it again. Chase him till he drops down one level and enters a new room - but this time, he remembers to lock the door, ah ha ha. Instead of following, keep moving up and around to the right until you see a hole in the floor; you can get through it by squeezing around to the right. Drop through to face our man again.
It's much the same this round but Micolash has one new and nasty attack: a ball of Arcane energy that fires multiple projectiles. If your weapon isn't good enough to interrupt this attack, dodge over and over again until it ends - but it probably is.
When you win and have stopped laughing, you'll get the Mensis Cage head attire. Exit the room and take the stairs on the right, go around the corner, collect the Kin Coldblood hidden around another corner, and make sure you pick up the Iron Door Key further along to the right and in a corner.
Finally, climb up as high as you can go, cross the bridge and activate the Mergo's Loft: Middle Lantern. Now we're going to finish off the Nightmare of Mensis.
Back to Bloodborne guide and walkthrough.