The best tank games across all platforms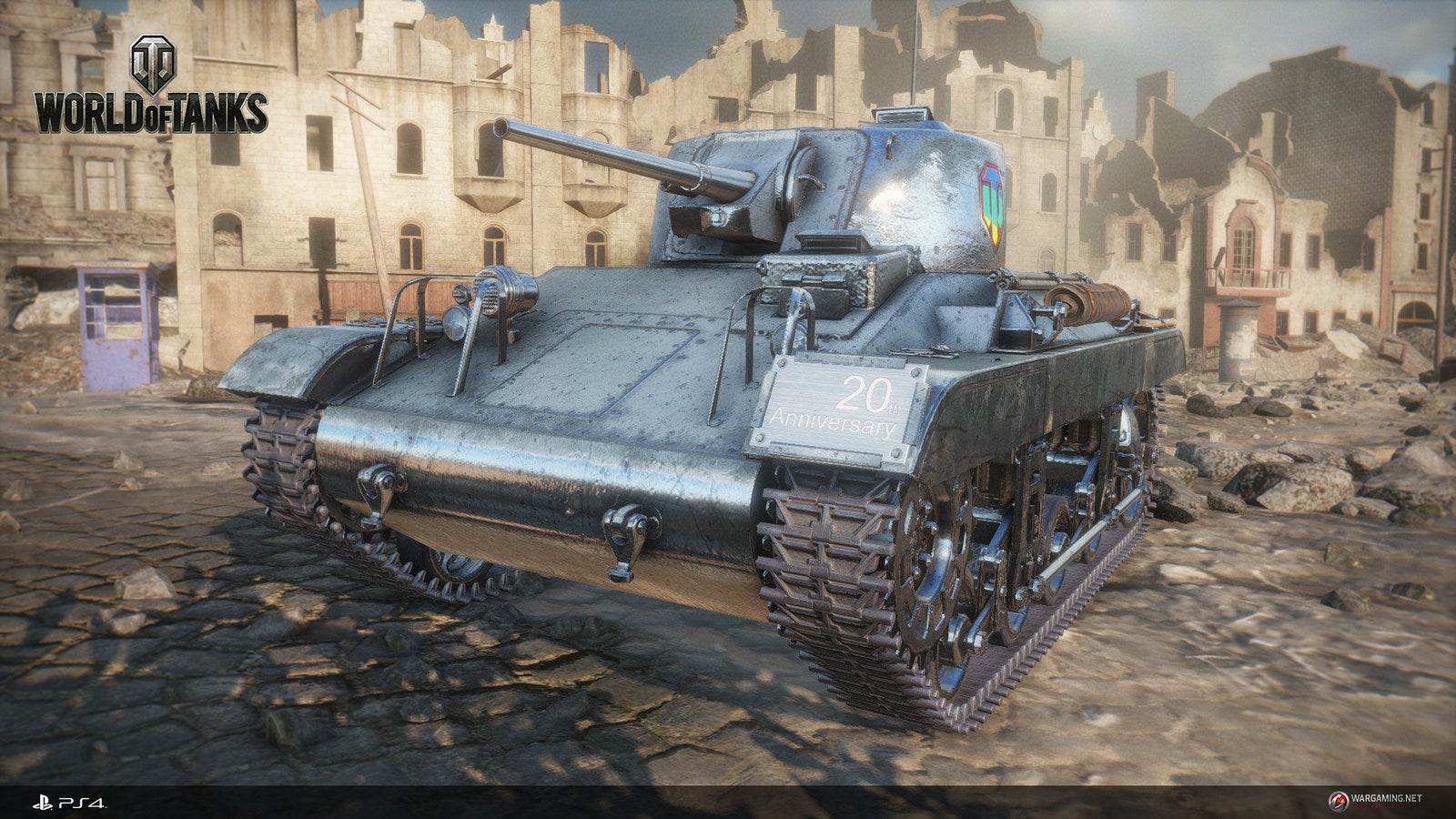 Crushing your enemies with a tank is always fun, so let's take a look at some of the best tank games going.
Whether you're blowing a hole in enemy defences or continually running over your foes, tanks are brilliant. There aren't many dedicated tank games out there, so we'll be looking at a mix of games that have excellent tank levels too.
As ever, we'll talk about one game from each franchise so we're not repeating ourselves. This isn't a ranked list, either; only you can decide which is your favourite on this list.
Best tank games
World of Tanks
This free-to-play title offers a fun, arcade-like tank experience for folk who want something a bit less realistic. There are over 250 tanks to choose from, all in various styles from around the world.
You'll unlock more tanks as you play and go up the tiers, and with regular updates, there's plenty to keep you going. After a lengthy beta period, World of Tanks properly released in 2018 and has a steady concurrent player count on Steam and across consoles.
War Thunder
War Thunder is the older, more sophisticated brother of World of Tanks. There are loads of tanks you can research, but you should be mindful of your choices as you'll need ample strategy and tact to win a match.
Novice players often find War Thunder quite impenetrable, as its not known for its accessibility for new players. However, once you've found a strategy that works for you, you'll spend tens of hours on the smallest of details that'll turn your tanks into a tour de force.
Much like lining up a sniper shot, you'll want to carefully consider and time your shots in War Thunder, as even one misfire can wreck a game.
Panzer Elite Action: Gold Edition
If you like traversing big maps and wrecking stuff along the way, then Panzer Elite Action: Gold Edition is the tank game for you. It's super accessible and there are loads of tanks and items to unlock to keep you engaged.
You'll play through historical battles - both as the goodies and the baddies - and you'll need to constantly improve on your crew and tanks in order to succeed. There's a fair amount of historical accuracy going on for those that want it, otherwise, it is just an excellent tactical tank sim.
Arma 3
Arma 3 is by far one of the top war simulation games out there, and its tanks are simply brilliant. Trudging along in an open-world environment, you'll need to be on the lookout for enemies constantly.
The tanks are as realistic looking and feeling as they can get, and they have some amount of power behind them. If you're feeling too exposed in your tank, you can always hop out and snipe the shit out of the enemy - all is fair in love and war, after all.
While not strictly a dedicated tank game, the tanks in Arma 3 stand out on their own.
Company of Heroes 2
Company of Heroes 2 is one of the best RTS games out there, and your tanks can really make or break your chances of victory. You'll need to cover all lines of sight and suppress enemy fire if you want to stand a chance at winning, and managing your tanks alongside everything else can pose quite the challenge.
It doesn't pay to just build a bunch of tanks and send them careering towards the unknown, either. It's one of the more unforgiving RTS war simulations out there, and your armoured tanks can easily be overpowered if you don't plan your attack properly.
Red Orchestra 2: Heroes of Stalingrad
Red Orchestra 2 has one of the best war multiplayer modes out there as there's always a significantly high chance you'll be blown to smithereens at any second. You'll need to carefully plan where you're going to place your tanks and what shot you're going to take, as going in all guns blazing isn't likely to get you very far.
You'll be choosing from either German or Soviet tanks, which is a nice departure from British and American models. You'll need to manage your soldiers as your tank commander can get killed in an instant, as well as the rest of the tank crew.
The Game of the Year Edition added in new, slightly faster tanks, including a British model, to help you navigate through enemy lines a bit faster. There are also lots of mods out there on Steam, so fill your boots with this realistic tank experience.
Steel Armor: Blaze of War
There are two ways you can go about things in Steel Armor: Blaze of War. You can either play an operational role wherein you supply your units, repair and augment vehicles and generally keep a very watchful and tactful eye over things, or you can command a tank platoon. We know what we're choosing.
There are only two tanks to choose from but both are well detailed and modelled almost exactly like their real-life counterparts. It takes a while to get used to what you're supposed to be doing, so expect a lot of death in the first few hours as you get to grips with the mechanics.
It's set during the 1980s, so has a more modern feel to it compared to the majority of tank games that are set during the two world wars. If you love micromanagement and vast attention to detail, this could be the tank game for you.
Armored Warfare
Armored Warfare is another free-to-play tank MMO that constantly has new tanks and gear added to it. Think of it as World of Tanks cousin; it's equally accessible, but it's set in the modern era, complete with new tank tech.
You can practice in PvE modes before facing other players where the difficulty ramps up substantially. It's team-based multiplayer is great fun either against the AI or with folk online. Levelling up takes some patience, though, especially as you go higher up the difficulty tiers.
There's so much to unlock and modernise your tank with, you'll wonder why you didn't play Armored Warfare sooner.
Valkyria Chronicles 4
Valkyria Chronicles takes place during World War 11 in an alternate reality European setting. The two main factions are the Federation and the Empire, though you'll be playing as the former.
It's a tactical RPG, making it a little different from the rest of the entries on this list. Unlike other infantry forces, tanks will need to be repaired with the Engineer Tool, unless you retreat them back to your base.
There's a good mixture of light, medium and heavy tanks in your arsenal, each with their own pros and cons. While the light tanks are good for heading up front fast and gaining an initial advantage, the slower, heavier tanks bringing up the rear could sway the fight in your favour.
If you're looking for something with a bit more story, you can check this out on all platforms, including the Switch.
Battlefield 5
Whilst the Battlefield franchise isn't a dedicated tank game, tanks do play a crucial part. There are nine tanks to unlock, each with its own strengths and weaknesses. Some come with faster reload speeds, other with better sights or speed.
Tanks in Battlefield 5 can tow the likes of anti-aircraft guns, mounted weapons and other support weapons which can make all the difference in a match. You can also use tanks in Battlefield 5's battle royale mode, Firestorm, though you'll need to move fast to get inside one before you get sniped.
It would be a good idea to avoid trying to get a tank if you're playing solo, as it's quite time-consuming and obviously dangerous, but I'm not your mum - do what you want.
Halo: Combat Evolved
Halo: Combat Evolved introduced us to the Scorpion tank in the Assault on the Control Room level. There's nothing quite like running over Grunts and Elites as you power your way through the infrequent but enjoyable tank missions in the Halo franchise. Johnson was right when he said he knows what the ladies like.
It has a good balance between mobility and firepower, though you won't be moving in it in a hurry. I'd like to say the Scorpion became more manoeuvrable over the years, but that would be a lie. Even in the likes of Halo Wars 2, having a tank is always a good idea as a back-up plan when facing a full-frontal assault
The Scorpion is the perfect example of a token vehicle level in any game, much like the Water Temple in The Legend of Zelda: Ocarina of Time represents every and all bastardly hard water level. It's not great, but it wouldn't be a Halo game without a Scorpion or Warthog level. Hopefully, Halo Infinite will have improved on its speed a little.
And that's our list! As always, if you have any more suggestions comment below and we'll consider adding them in.
Evergreen list
The best games of each platform
Best of series and misc