Titanfall 2: Deluxe and Collectors editions now available for preorder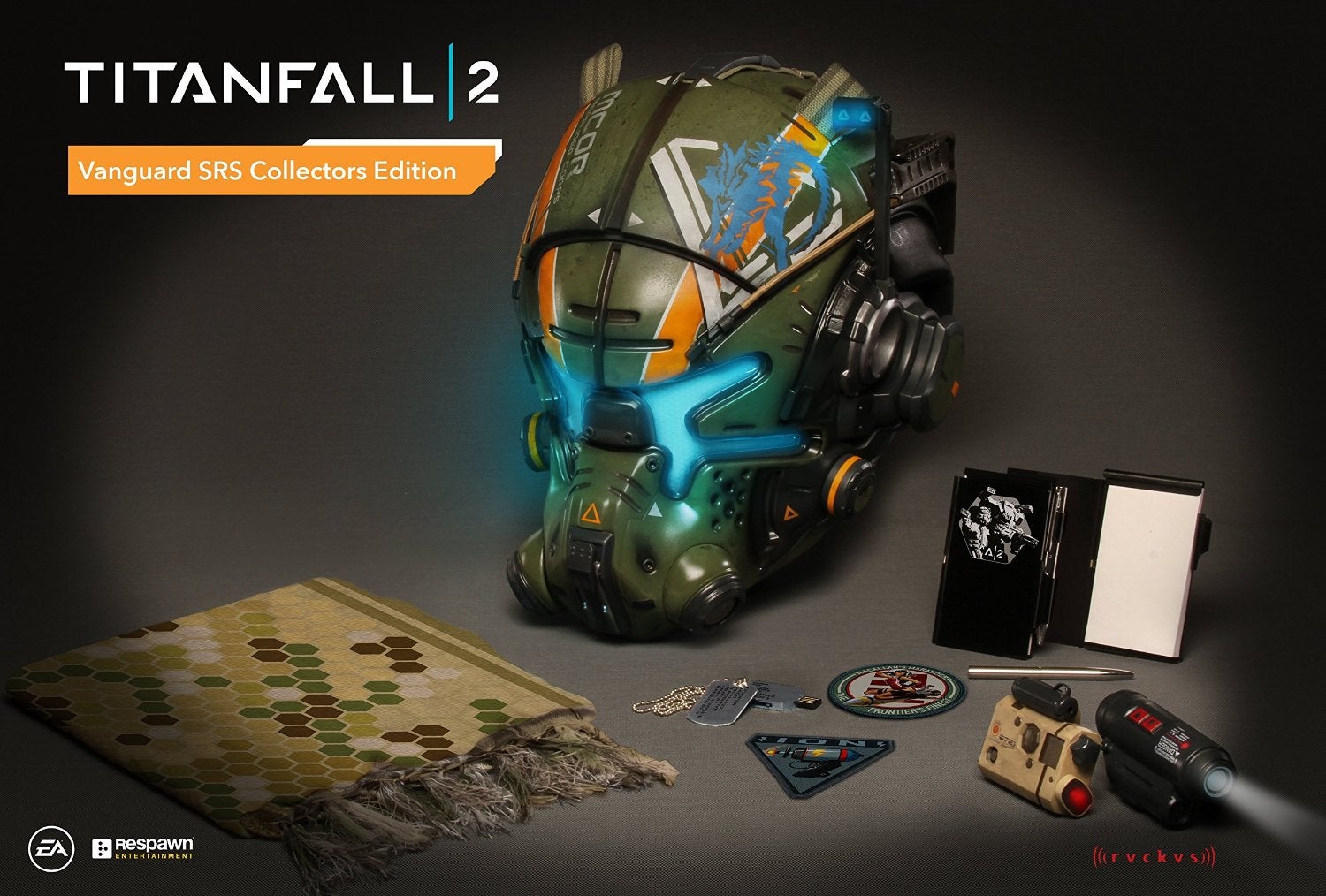 Two special editions of Titanfall 2 are currently available for preorder on Amazon, although it seems like there will be other, retailer-exclusive options.
Titanfall 2: Deluxe and Collector's editions now available for preorder
The $79.99 Deluxe Edition comes with a bunch of cosmetic DLC:
Exclusive Deluxe Nose Arts for each titan
Exclusive Deluxe Warpaints for each titan
Two Camouflages applicable to every titan, pilot and weapon
Exclusive Deluxe Callsign
The Vanguard SRS Collectors Edition, pictured above, comes with several physical goodies:
Dog Tag Flash Drive: A Pilot's secrets must be carefully guarded, and what better way to keep them close than to store them inside your dog tag. This 8GB USB custom flash drive cleverly retracts into the dog tag on an 18" metallic ball chain.
Pilot SRS Field Journal: An essential accessory for every Pilot, the field journal is 3" x 4.5" and features an aluminum case, pen and Vanguard Squad logo.
Titanfall 2 Vanguard Pilot Helmet Replica: The iconic Titanfall Pilot helmet has been brought to life in this 1:1 full scale replica. Featuring mixed material elements, the helmet includes a battery operated blue light-up translucent faceplate, blue status/task light, functional tactical ARC rail system/an adjustable interior head strap and display stand. Tactical Helmet
Accessories: A tactical spotlight and targeting laser sight. These two battery operated helmet accessories are designed to be mounted on the ARC rail system of the helmet. Independently operated, the functional mounted spotlight will light up the night and the simulated laser sight features a super-bright non-projected red LED.
Squad Morale Patches and Vanguard Shemagh Scarf: Proudly display your squad affiliation with two morale patches, Macallan's Marauders and Ion, with male Velcro-style hook backing to secure onto loop patches of helmets, uniforms, tactical vests, and backpacks. The Vanguard Shemagh Scarf is designed to protect a Pilot's head and neck from the sun and blowing sand of harsh alien environments. The Vanguard Scarf measures 42" x 42" and features an original custom designed Titanfall pattern, making it an essential multi-use travel tool for every Pilot in your squad.
It'll retail for $249, and is, based on previous experience, liable to sell out.
In Australia, you can also preorder the EB exclusive Marauder Corps Special Edition, which costs AU$249.95 and includes:

Titanfall 2 Illuminated Pilot Bust: Highly detailed and game accurate classic style bust which brings to life the daring Pilot Jack Cooper featured in the new edition of the game. Measuring approximately 7" tall, this masterpiece edition is digitally sculpted from the modeling files used to create the Titanfall® 2 cinematics. Each bust is hand painted to exacting detail and features a battery operated light-up blue faceplate. Individually packaged in a custom display box.
Pilot SRS Field Journal: An essential accessory for every Pilot, the field journal is 3" x 4.5" and features an aluminum case, pen and Vanguard Squad logo.
Exclusive Fine Art Mini-Prints: High quality, custom printed 5" x 7" fine art prints reproducing three unique pieces of game development art available only in the collector's editions.
Paracord Survival Bracelet: The Pilot's survival bracelet provides several feet of "Para-Cord" that can be used in any off world emergency in countless survival scenarios. Heavy duty polyester cord with black slide release buckle and metal Titanfall 2 logo emblem plaque, the wound cord length is 8", 118" when fully disassembled, and rated to hold 300 pounds.
It's unclear whether this edition will be available in other regions.
Titanfall 2 introduces a singleplayer offline campaign to the series for the first time. A multiplayer beta is also incoming.
Titanfall 2 is coming to PS4, Xbox One and PC on October 28. We'll have more coverage of it and everything else shown at E3 in our E3 2016 Hub.