The 20 best FPS games to play right now [February 2023]
Sometimes, you just need to pop some heads.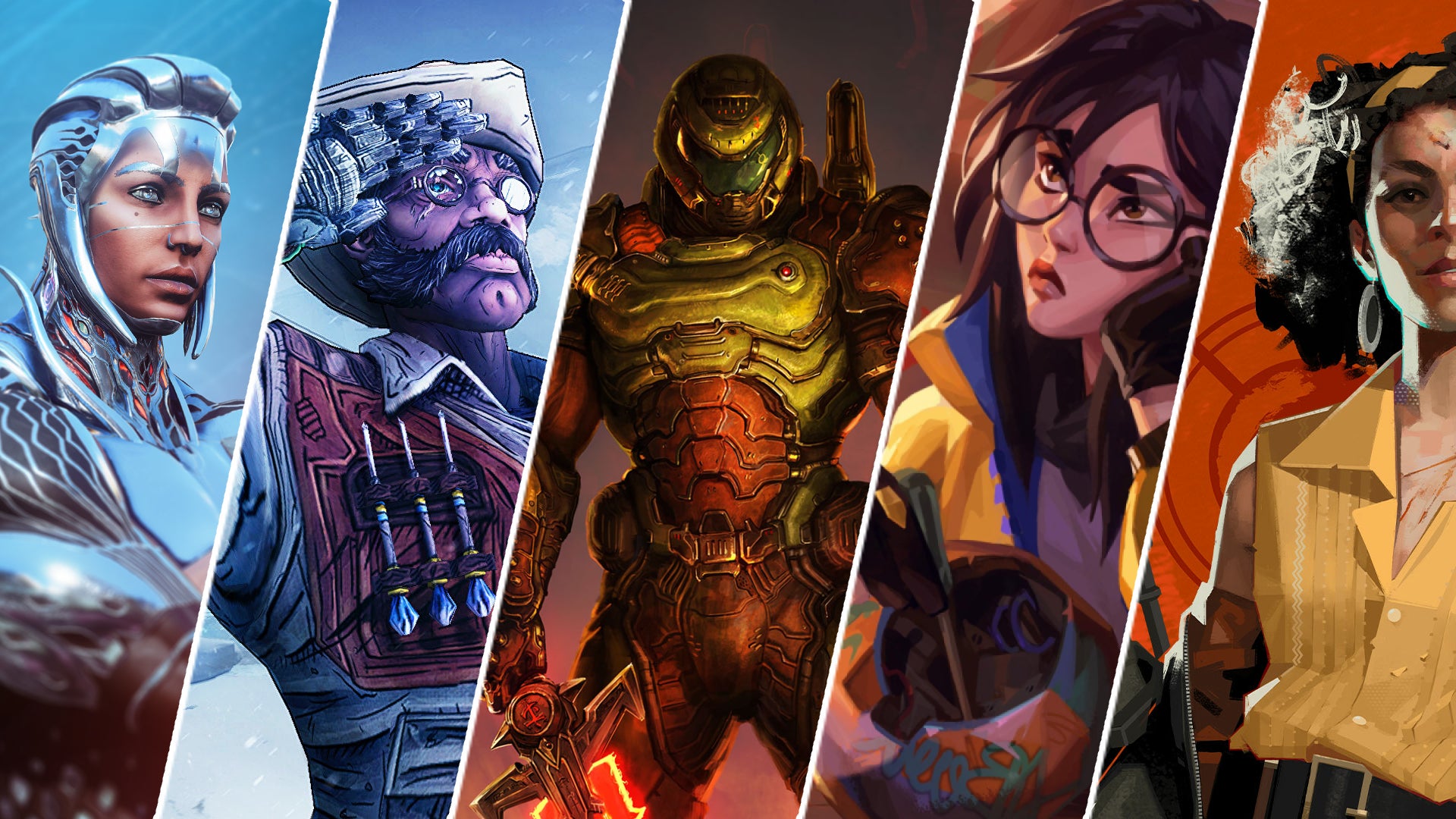 The best FPS games that you can play right now vary wildly. After all, there's no concrete formula when it comes to developing a first-person shooter: there are multiplayer battle royales, action-adventure shoot 'em ups, and innovative takes on the genre which blend unique mechanics into the mix.
Deathloop comes to us all.
Our main focus with this list is to talk about games that you can jump into and play right now. More specifically, FPS games with bustling communities, or simply riveting gameplay that stands up to this day. That way, you're not booting up an age-old shooter that no longer supports online play, or a campaign that is unplayable without mods, and so forth.
Knowing Criterion Games' PS2 classic Black was great when it came out back in 2006 is all well and good, but pressing R3 to ADS these days just feels wrong.
You also won't find any third-person shooters here — only first, where you see through the eyes of the character. Otherwise, I'd be here all month reeling off great narrative shooters like Gears of War and Control for you to peruse and play. Feel free to tell me all about how wrong I am, too; it only makes me (and this list!) stronger. Without further ado, here are some of the best FPS games to play right now, in no particular order.
---
Counter Strike: Global Offensive
Released: 2012
Developer: Valve, Hidden Path Entertainment
Platforms: PC, PlayStation 4, PlayStation 5, Xbox One, Xbox Series X/S
Counter Strike: Global Offensive has been around for over a decade now, meaning that if you haven't yet tried it, you're probably already well aware of what it is. It's a modern warfare shooter that typically pits two teams against one another, Terrorists and Counterterrorists, who must race to eliminate the enemy team or plant/defuse a bomb.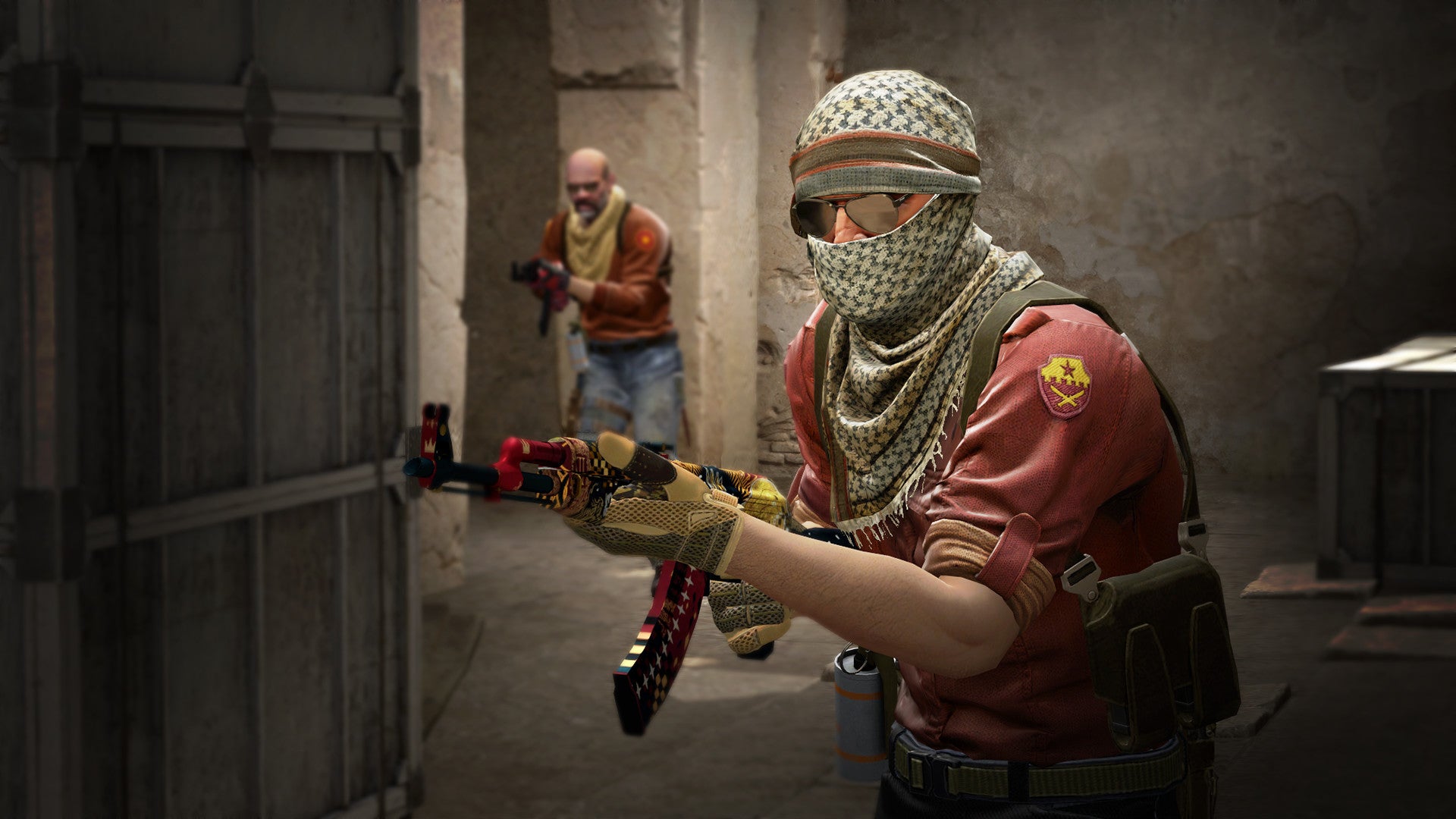 The game has also been free-to-play since 2018, so your only hurdle when it comes to playing is actually getting good at the game. Considering some folk have explored every avenue of CS:GO since 2012, you'll have your work cut out for you, but the game is still good fun with the right group of pals, and if you like your shooters to feel somewhat realistic.
Valorant
Released: 2020
Developer: Riot Games
Platforms: PC
Valorant is, essentially, what you could call CS:GO for the less technically advanced. The game follows the same format, with two teams of five fighting to eliminate each other or their bomb, except it's a hell of a lot more vibrant. And each agent has abilities; something you would never see in CS:GO.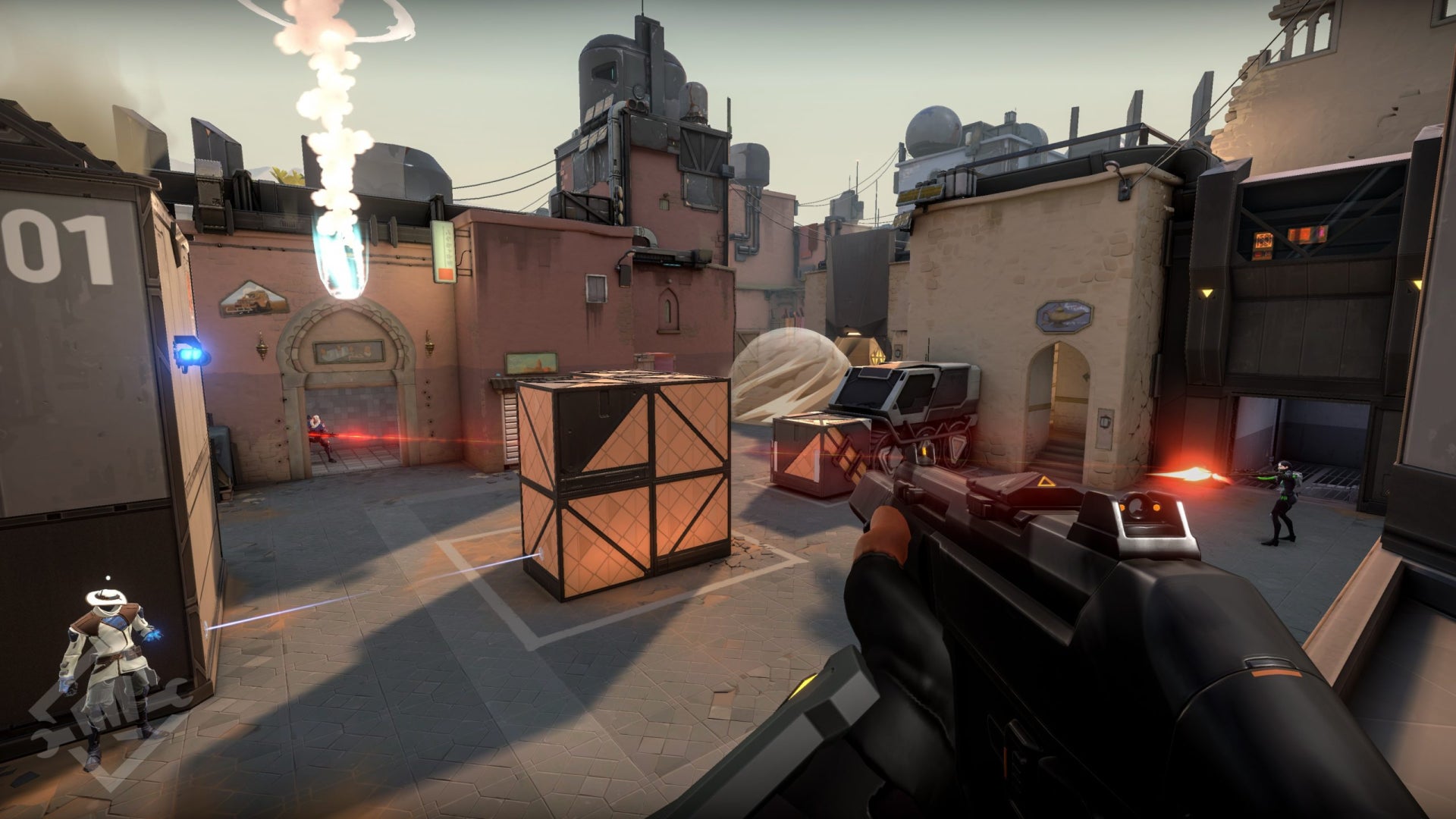 For those of us who like a tactical shooter, but prefer more colourful characters with a roster of supernatural tricks up their sleeves, Valorant is the game to go to. It's also free to install and play with both Riot Games' Launcher, and via Xbox Game Pass.
Rainbow Six: Siege
Released: 2015
Developer: Ubisoft Montreal
Platforms: PC, PlayStation 4, PlayStation 5, Xbox One, Xbox Series X/S
Rainbow Six: Siege also bears some similarities to Valorant and CS:GO, given that it's another tactical team-based shooter. In this one, you'll also often find yourself planting or defusing bombs, with death match and hostage modes in the mix.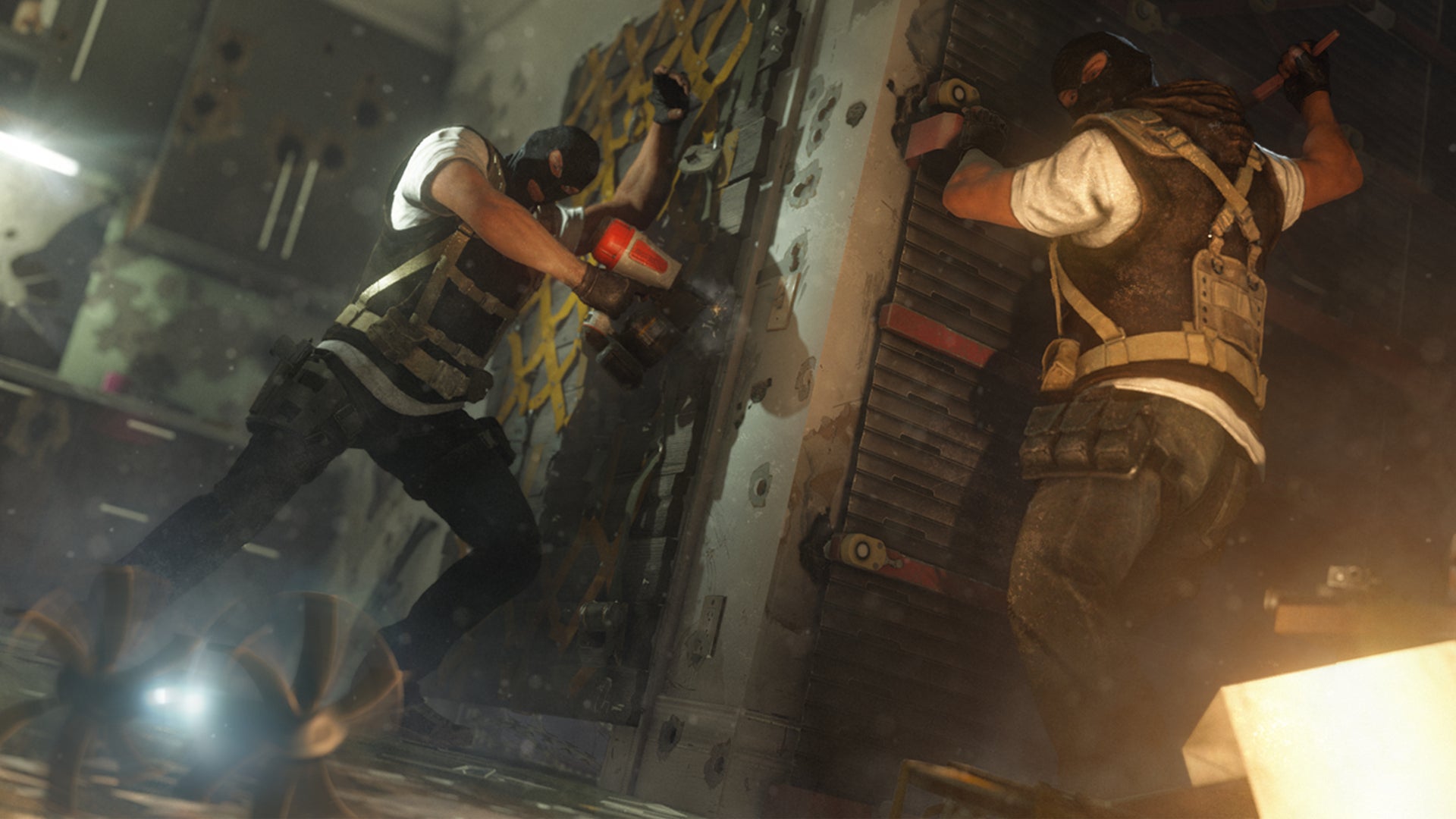 Much like Valorant and CS:GO, communication with your team and a little skill is important for succeeding Rainbow Six: Siege. There's also an abundance of operators to choose from with varying abilities, so you can pick someone to suit your play style, but these abilities are far from the ones you'd see in Valorant; these operators come armed with all sorts of traps, bombs, and reinforcements that, if used strategically, can help secure you a win.
Call of Duty
Released: 2022 (Modern Warfare 2, and Warzone 2.0)
Developer: Infinity Ward
Platforms: PC, PlayStation 4, PlayStation 5, Xbox One, Xbox Series X/S
You could argue that Call of Duty is in a league of its own when it comes to FPS games. One of the biggest FPS franchises that there is, Activision simply cannot stop churning these games out... except for in 2023, apparently. Sure, some of the games are much better than others, but everyone has played (or at least witnessed someone else play) a Call of Duty game at some point or another.
A chat about Modern Warfare 2's surprisingly innovative campaign.
To save me from the perils of Call of Duty fans, I'll let you be the judge of which exact Call of Duty instalment is best for you.
That said, if you prefer a more realistic modern warfare experience and want a campaign to engage with, Modern Warfare 2 launched just recently. Furthermore, if you'd rather pop heads in a battle royale, Warzone 2.0 also dropped not long after that, and they're worthy of wearing the megafranchise's crown.
Doom Eternal
Released: 2020
Developer: id Software
Platforms: PC, PlayStation 4, PlayStation 5, Xbox One, Xbox Series X/S, Nintendo Switch
Doom Eternal is a fresh reimagining of Doom 2: Hell on Earth. When it comes to this entry, both Doom Eternal and predecessor, Doom (2016) are great shooters to jump into depending on your experience with the iconic series.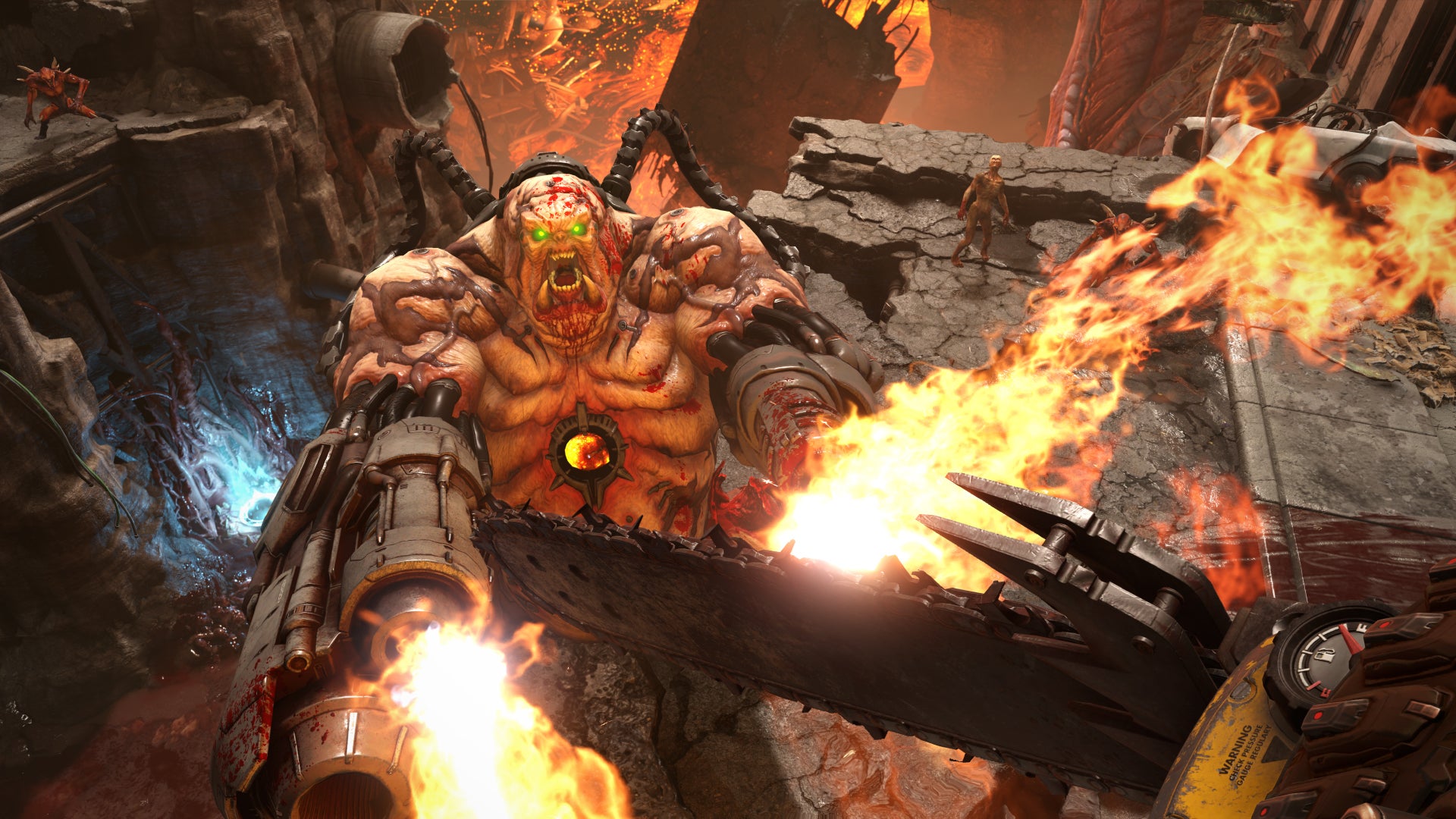 Step into the role of Doom Slayer as they battle with the various demons they find across hell. Doom is aggressive, rhythmic, and constantly encouraging you to keep on moving… and killing. Of all the entries in this list, it's perhaps one of the more satisfying, and is accompanied by a badass soundtrack to slay to from none other than Mick Gordon.
Quake
Released: 2021 (Remaster)
Developer: id Software
Platforms: PC, PlayStation 4, PlayStation 5, Xbox One, Xbox Series X/S, Nintendo Switch
Another shooter from id Software, Quake first rose to fame all the way back in the nineties. I wasn't alive during that era, but I've grown incredibly fond of retro shooters since, and there's no denying that Quake is among the best of the best.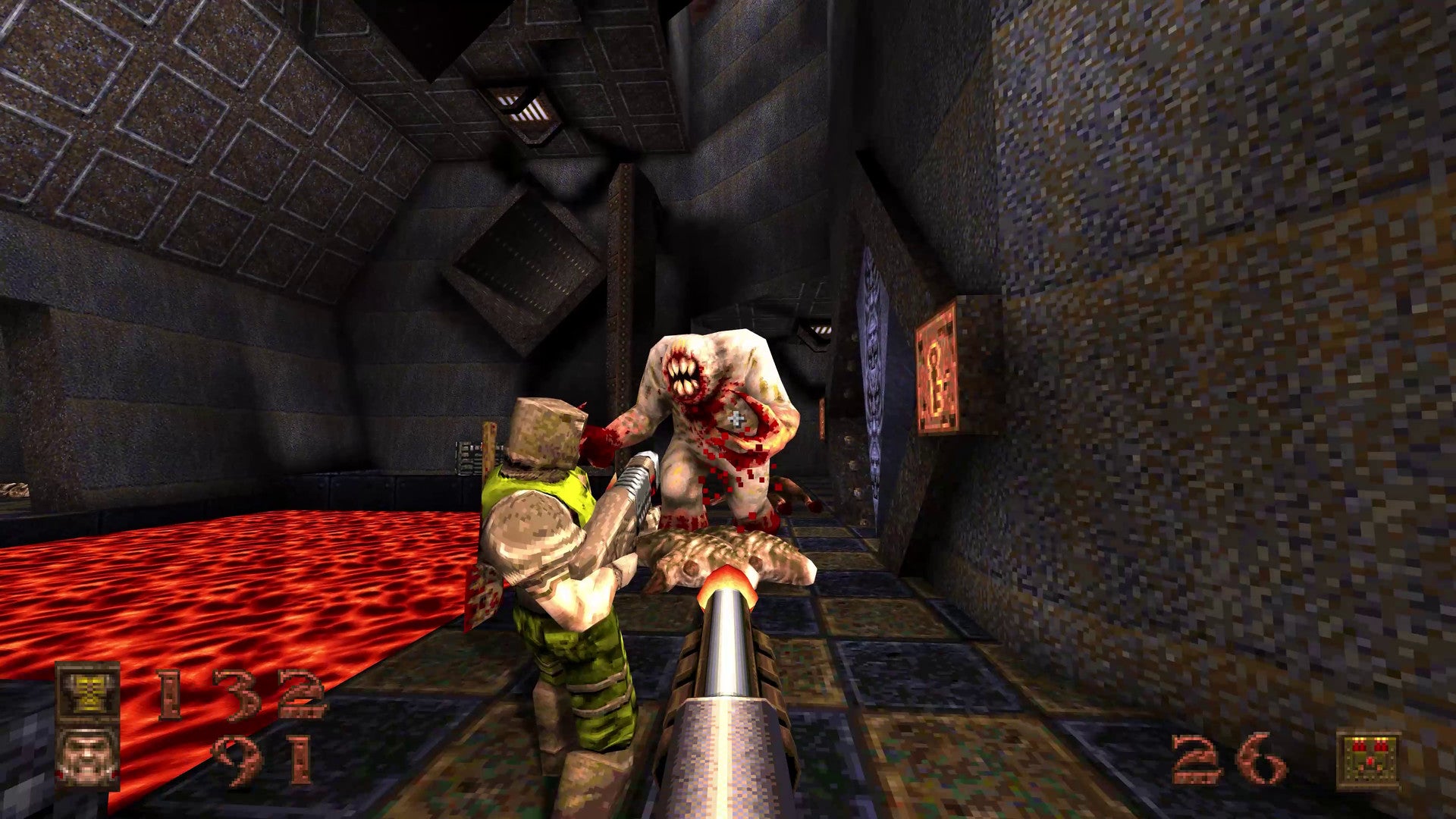 The original game has since been remastered for modern audiences. So, you can experience the same fast-paced shooter glory with the likes of antialiasing, 4K support, and all that other fancy stuff. Ultimately, none of it matters when you're the Ranger, fighting the likes of ogres and knights in labyrinthine levels with brutal weaponry.
If you love Doom, and have yet to experience Quake, you should definitely give it a go.
Dusk
Released: 2018
Developer: David Szymanski
Platforms: PC, Nintendo Switch
Continuing with the trend of talking about retro shooters that have continued to live on, it's time to talk about one that's ever so slightly different. Dusk is unapologetically boomer shooter, except it was released in 2018.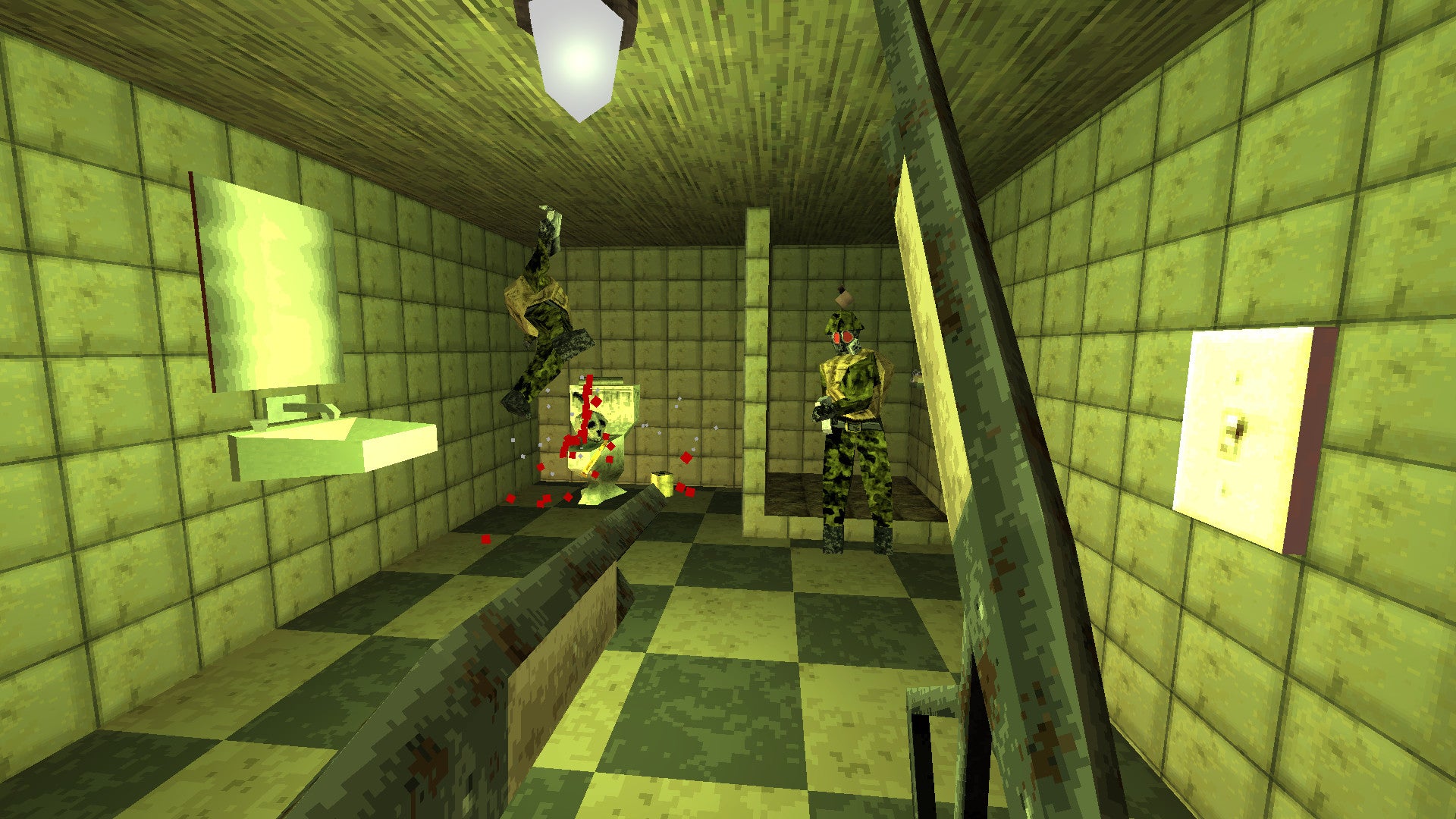 Packed with endless customisation options, unique levels, and secrets to uncover, Dusk takes great inspiration from nineties legends such as Doom and Quake to create something that acts as an ode to the era while remaining fresh and innovative.
This is far from Szymanski's only venture, too, with the developer having also just released an FPS called Chop Goblins; a bite-sized retro shooter meant to be finished in a single sitting, and replayed forever.
Overwatch 2
Released: 2022
Developer: Blizzard Entertainment
Platforms: PC, PlayStation 4, PlayStation 5, Xbox One, Xbox Series X/S, Nintendo Switch
It's basically Overwatch in shiny new packaging plastered with a '2' on it, but there's no denying that Overwatch 2 is one of the best competitive shooters out there. Overwatch 2 shares some similarities with Valorant in the sense that it's a hero shooter with a roster of unique heroes with their own abilities.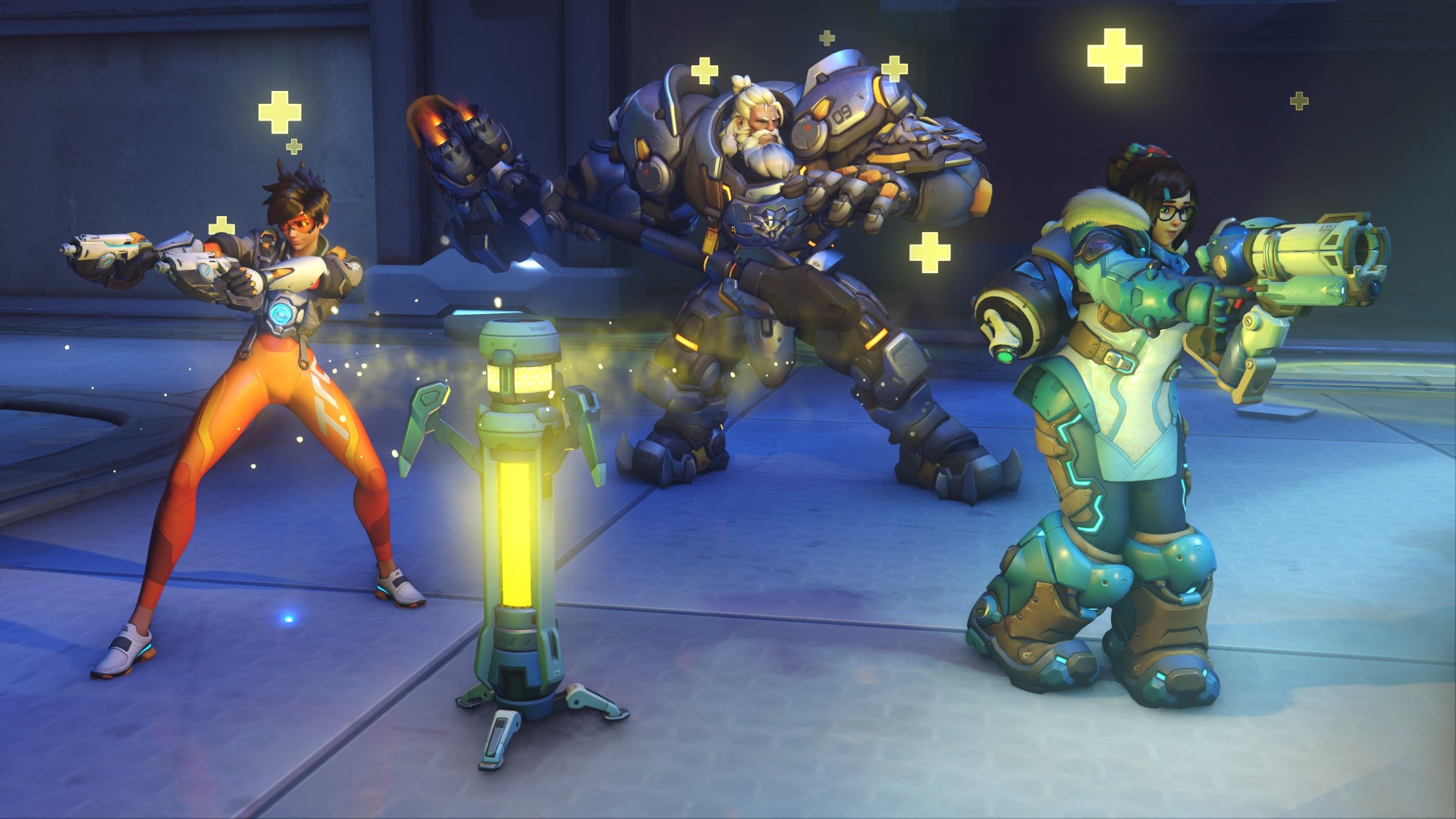 That said, gameplay pans out differently. Each game, you'll often have a different defensive or offensive target to work towards with your team, as you try to eliminate the opposing team and prevent them from winning. It's frustrating, as are most of these shooters, but it's vibrant and pretty fun if you're capable of ignoring the God-awful in-game monetisation employed by Blizzard.
PUBG: Battlegrounds
Released: 2017
Developer: PUBG Studios
Platforms: PC, PlayStation 4, PlayStation 5, Xbox One, Xbox Series X/S, Mobile
You could argue that Fortnite owes much of its success to PUBG: Battlegrounds, and I would've mentioned Fortnite here, but it's a third-person game. Now, PUBG allows playing in both third and first-person perspective, so it bags a spot here as one of the best FPS battle royales out there.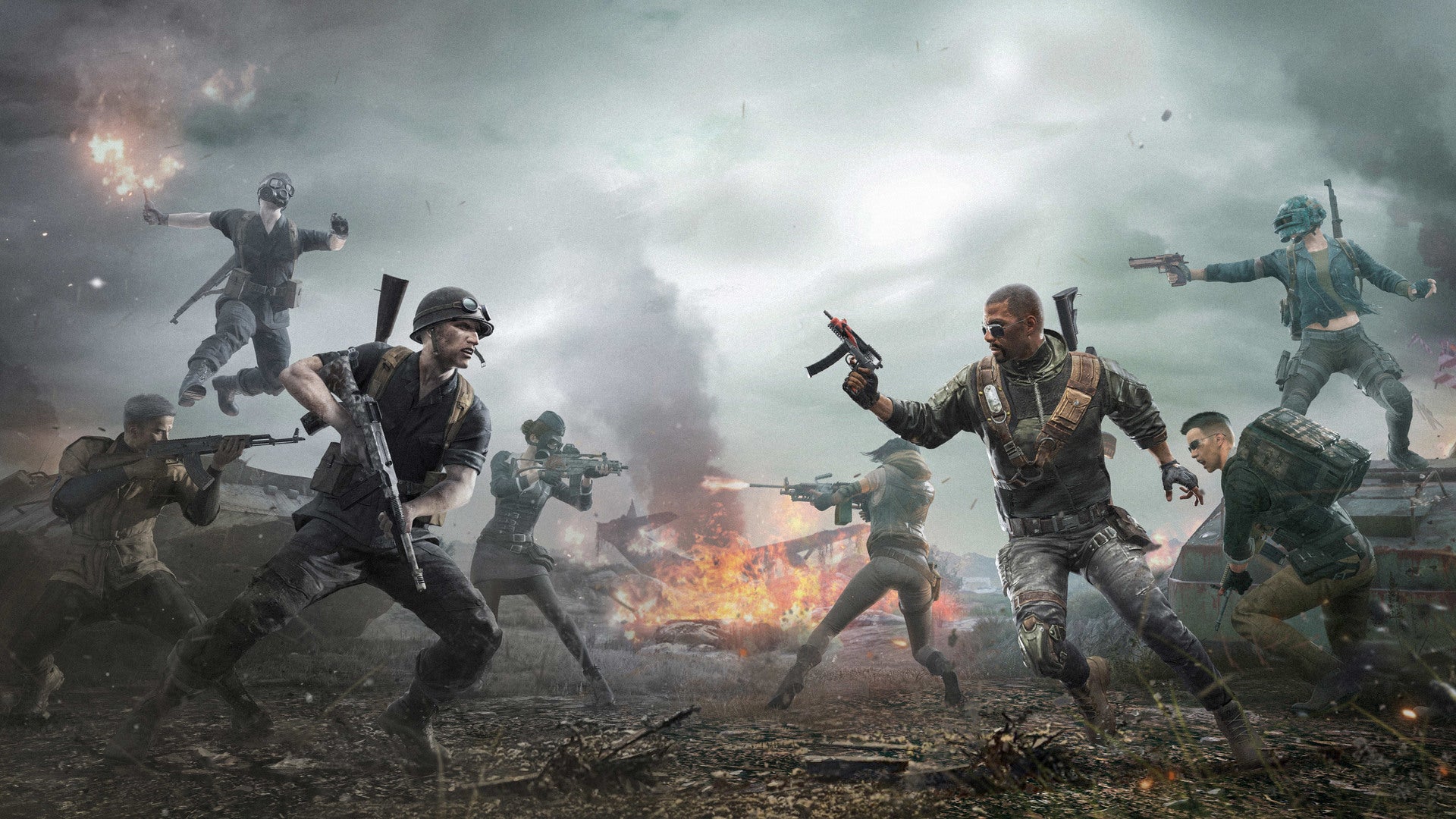 Much like Fortnite, you'll parachute onto various maps with other players, to then engage in some brutal PvP and hopefully be the last man standing. It's one big, unruly deathmatch and five years on, the game continues to be active as ever. In fact, it sits up high on Steam's current players every day, with the likes of CS:GO and Dota 2 being the ones to beat it.
Borderlands 2
Released: 2012
Developer: Gearbox Software
Platforms: PC, PlayStation 3, PlayStation 4, PlayStation 5, Xbox 360, Xbox One, Xbox Series X/S, Nintendo Switch
I've some very fond and vivid memories with Borderlands 2, all of which involve playing couch co-op friends at university. No additional requirements necessary, as Borderlands will provide all the atmosphere that you need.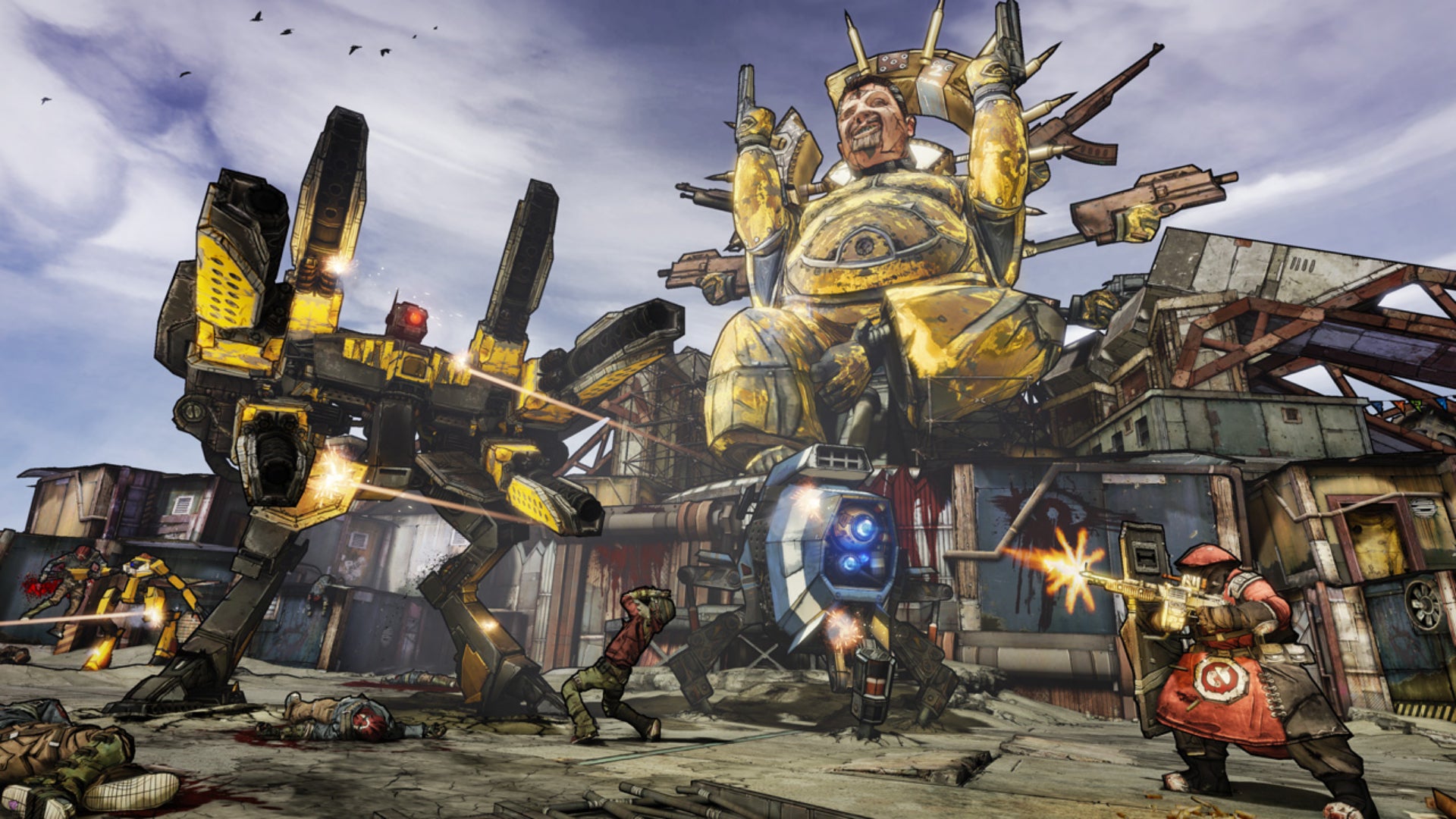 A banging soundtrack, the ability to build up your class however you please, and plenty of shoot-and-loot action with a wacky arsenal of weapons makes Borderlands 2 (and predecessor, Borderlands) one of the best shooters out there. They're great for those who are new to the genre, so you can easily convince a friend to sit down with you and give it a go.
Borderlands definitely shines in co-op; it's a great game solo with a fun story to unravel, but pair up with a friend or three for the mission at hand, and you'll have an absolute blast.
Titanfall 2
Released: 2016
Developer: Respawn Entertainment
Platforms: PC, PlayStation 4, Xbox One
Having not played Titanfall 2 (blasphemous, I know), I can't do the beloved game justice. So, I asked VG247 Staff Writer Connor Makar to tell you about it instead.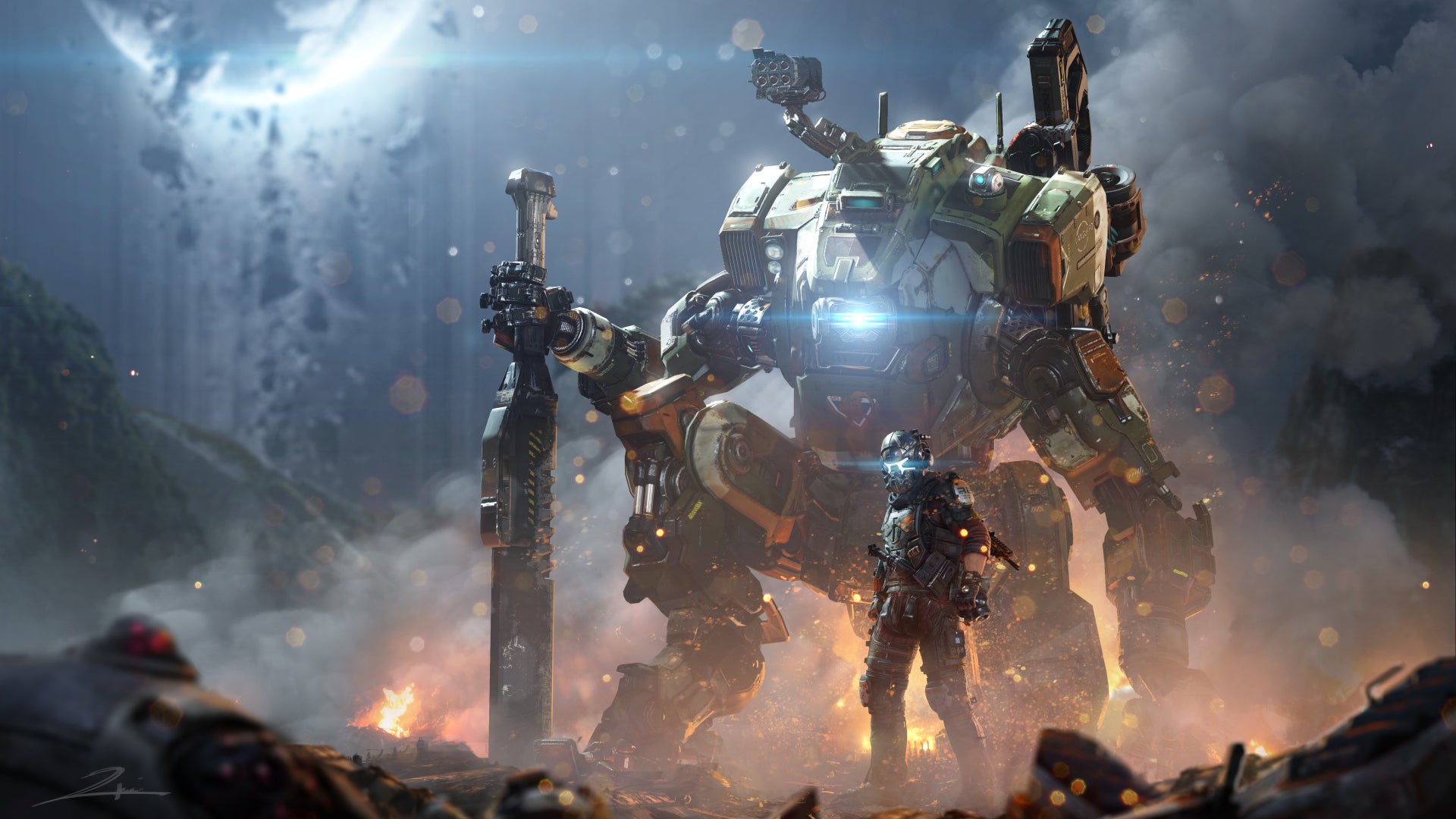 "Titanfall 2 deserved better. Momentum is everything in the game, with skilled players slinging themselves between towering mechs and well-crafted environments.
"It truly is an FPS like no other, with a single player campaign packed with jaw dropping moments that frankly put other games released around the same time to shame. It nails the futuristic FPS feel like no other game had before, and hasn't since."
Apex Legends
Released: 2019
Developer: Respawn Entertainment
Platforms: PC, PlayStation 4, PlayStation 5, Xbox One, Xbox Series X/S, Nintendo Switch, Mobile
Apex Legends is yet another battle royale, where you and friends can squad up and compete in one big death match. If you're particularly big on smooth movement when playing FPS titles, Apex Legends is the best pick for you.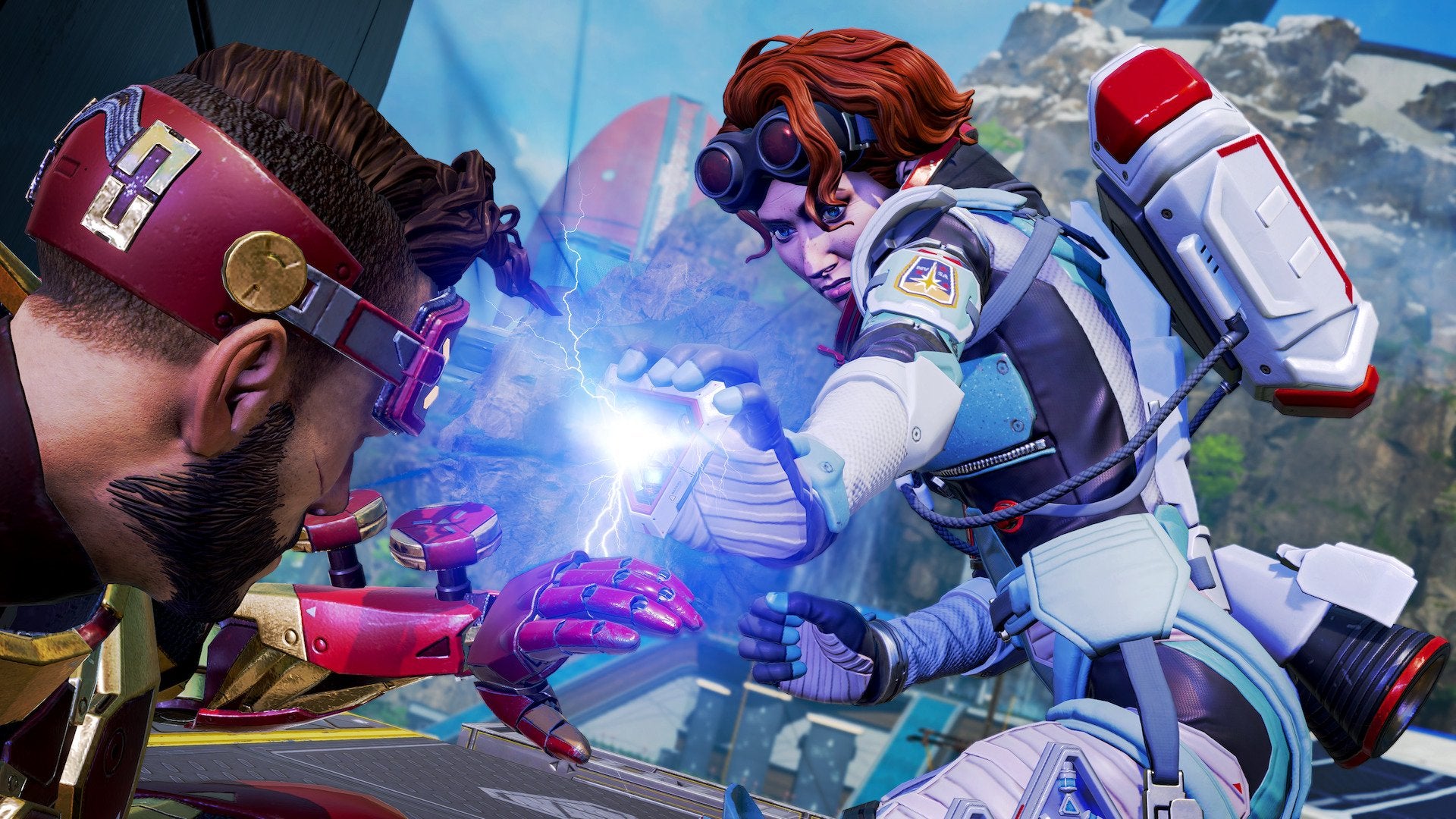 It's also, rather fittingly, set in the same fictional universe that Titanfall is. So, again, if you're as obsessed with Titanfall as many of its fans are, you'll be pleased to see plenty of familiar faces and Easter eggs throughout your time with Apex Legends. It's also free to play!
Team Fortress 2
Released: 2007
Developer: Valve
Platforms: PC, Xbox 360, PlayStation 3
Once again, games are overlapping. Team Fortress actually started life as a mod for Quake in 1996, before being remade as Team Fortress Classic. Eventually, we were in receipt of Team Fortress 2, and everyone loved it.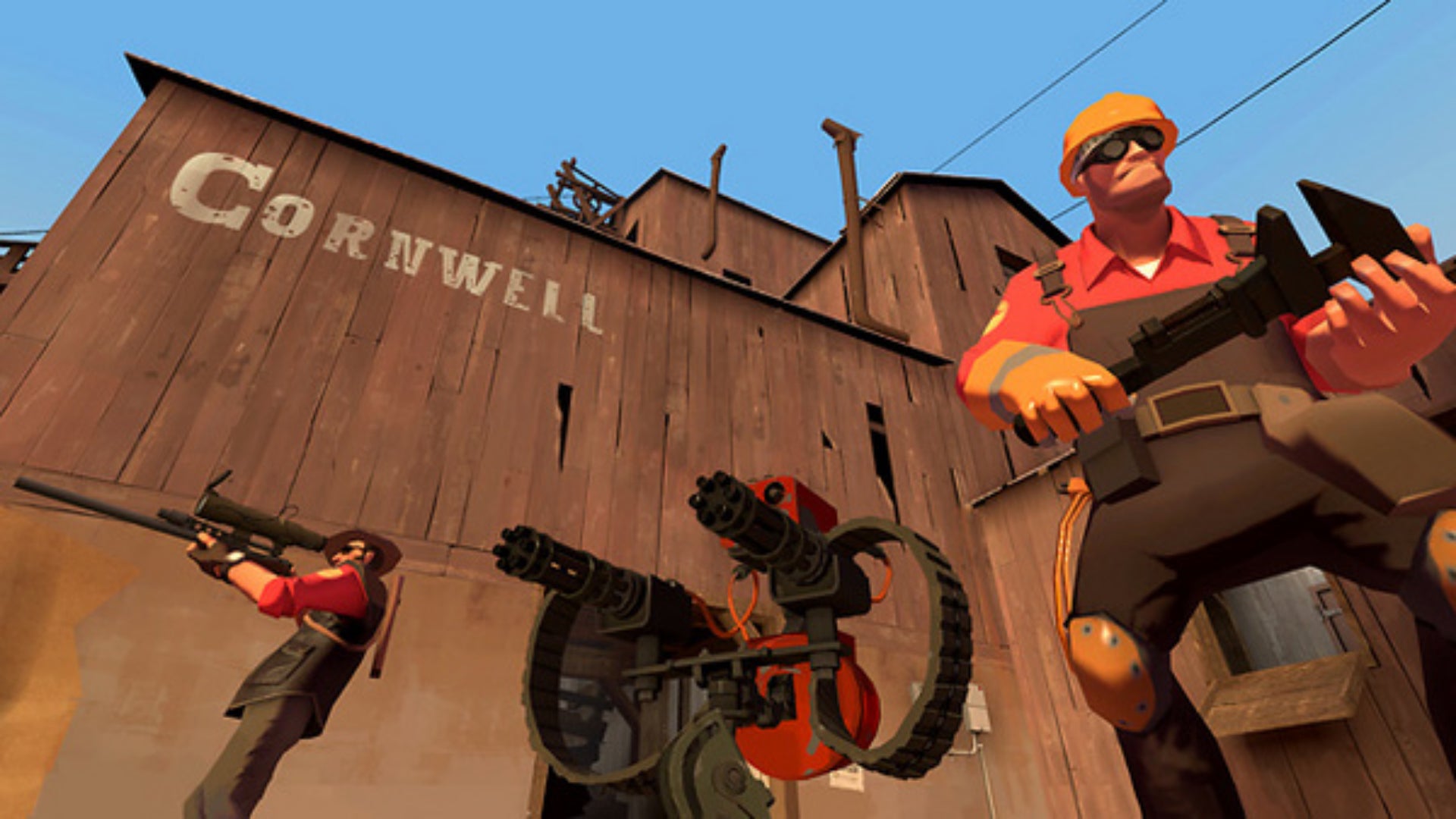 If you've never played it, you'll be made to join one of two teams, and then complete various objectives such as capture the flag, or king of the hill, and so forth. What makes Team Fortress 2 stand out is that it hosts a cast of memorable characters, and has received so much support from Valve and fans in the past, with plenty of content to delve into, even today.
Admittedly, Team Fortress 2 does have an ongoing bot problem that Valve is slowly addressing. But despite this, the game still largely holds up as a great hero shooter, and pioneer of the genre.
Destiny 2
Released: 2017
Developer: Bungie
Platforms: PC, PlayStation 4, PlayStation 5, Xbox One, Xbox Series X/S
I've never personally understood the huge fuss around Destiny 2, but what I do know is that it's free to play, online, and has a ridiculous amount of PvP and PvE content to sink your teeth into. So, I can see why plenty of you are big fans.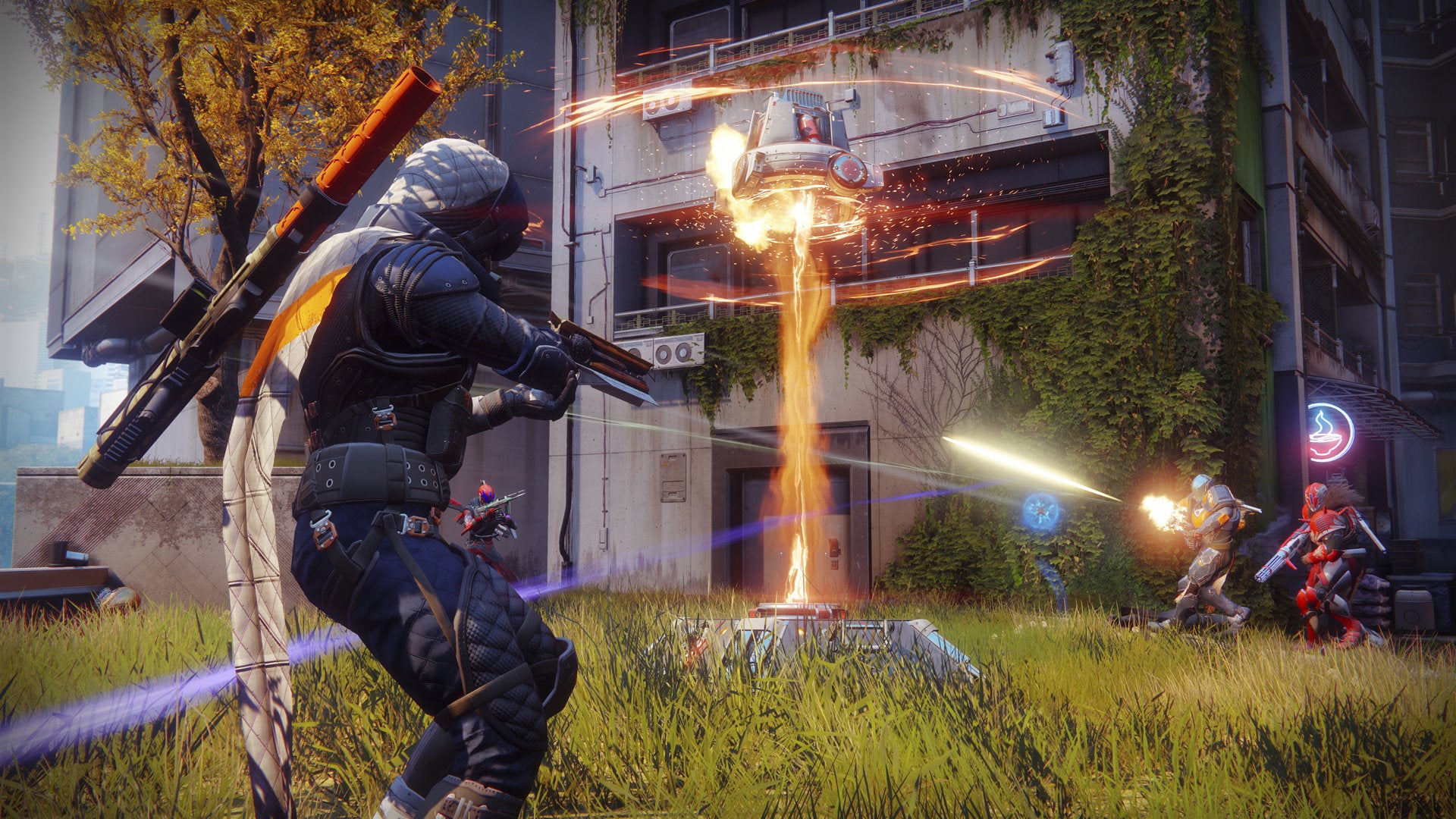 As an FPS with plenty of MMO elements, Destiny 2 is best played with friends, and fortunately, it has a huge community. So, whether you're starting out for the first time or planning on jumping back in, you'll easily be able to find someone to raid with you. The only issue is actually finding the time to get through all of Destiny 2's content…
Desipte it's now venerable lifespan, thanks to its rock-solid core loop and mountain of mouth-watering loot, Destiny 2 is still worth starting in 2023.
Escape from Tarkov
Released: 2017 (Beta)
Developer: Battlestate Games
Platforms: PC
The game that seems like it will quite literally never leave beta, Escape from Tarkov is a hardcore, realistic FPS game with minimal MMO elements. I have quite the love-hate relationship with Tarkov; on the one hand, it's a fantastic, high quality and high stakes shooter, and on the other hand, it is terrifying, frustrating, and soul-destroying.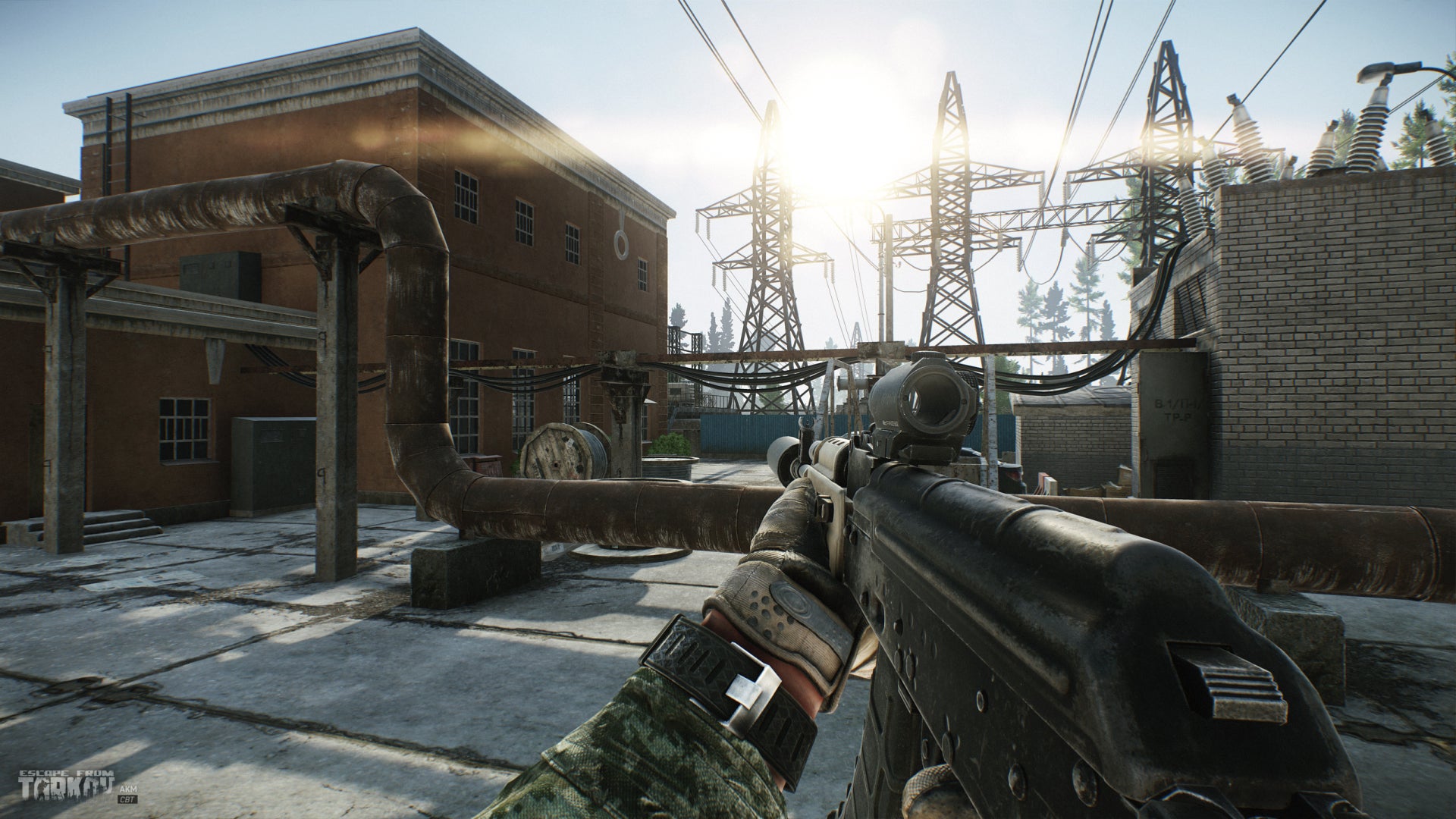 In Tarkov, players go on raids to acquire loot and complete missions. If you die, however, you lose everything on your person. Your time was wasted. So, you can see why this game tests the patience of its players, and why it's simultaneously so rewarding.
Halo: The Master Chief Collection
Released: 2014
Developer: 343 Industries
Platforms: PC, Xbox One, Xbox Series X/S
Halo: The Master Chief Collection currently consists of Halo: Reach, Halo: Combat Evolved Anniversary, Halo 2 Anniversary, Halo 3, Halo 3: ODST, and Halo 4. Considering it's free via Xbox Game Pass, or a few quid if you can catch it on sale or second-hand, you're certainly getting bang for your buck.
Sure, things weren't fantastic at launch, but Spartans never die, clearly. If you want to dive into any of these Halo titles, this is undoubtedly now the best way to experience them, alone or in co-op.
I'd like to think everyone has experienced the great story or fun co-op that Halo offers at some point or another, but if not, suit up and get it installed.
Left 4 Dead 2
Released: 2009
Developer: Valve
Platforms: PC, Xbox 360
Left 4 Dead 2 is a zombie-slaying FPS from Valve, and sequel to Turtle Rock Studios' Left 4 Dead from 2008. To put it simply, you and your crew are amidst an apocalypse, a virus is spreading, and you must fight for your life against hordes of the Infected.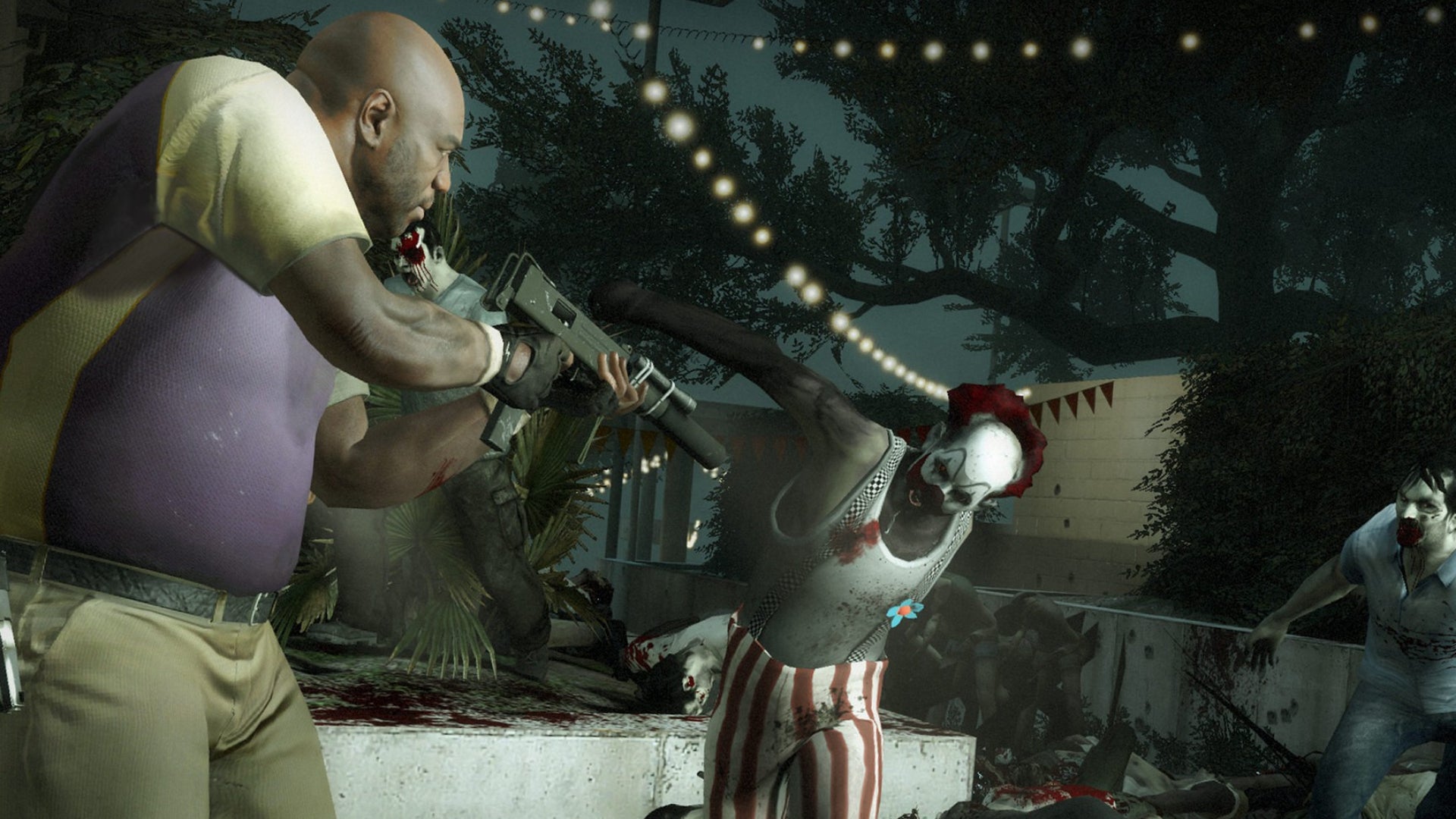 You'll engage in a lengthy, chaotic campaign, travelling from safe house to safe house as you manoeuvre and kill zombies while trying to not become a part of the undead yourself. It's good fun, still holds up over a decade later.
Alternatively, if you fancy a more modern alternative that's available on Xbox Game Pass, there's the spiritual successor Back 4 Blood. I can't say that I was personally all that impressed by it, though.
Even though it's been attempted a few times now, Left 4 Dead 2 is yet to be bettered, so it's still our go-to zombie-smasher.
Deathloop
Released: 2021
Developer: Arkane Lyon
Platforms: PC, PlayStation 5, Xbox Series X/S
Deathloop is a unique, refreshing FPS game that sends you through time loop after time loop as you attempt to assassinate eight Visionaries. If you hunt down all eight, you finally break free from the Groundhog Day scenario you've landed yourself in.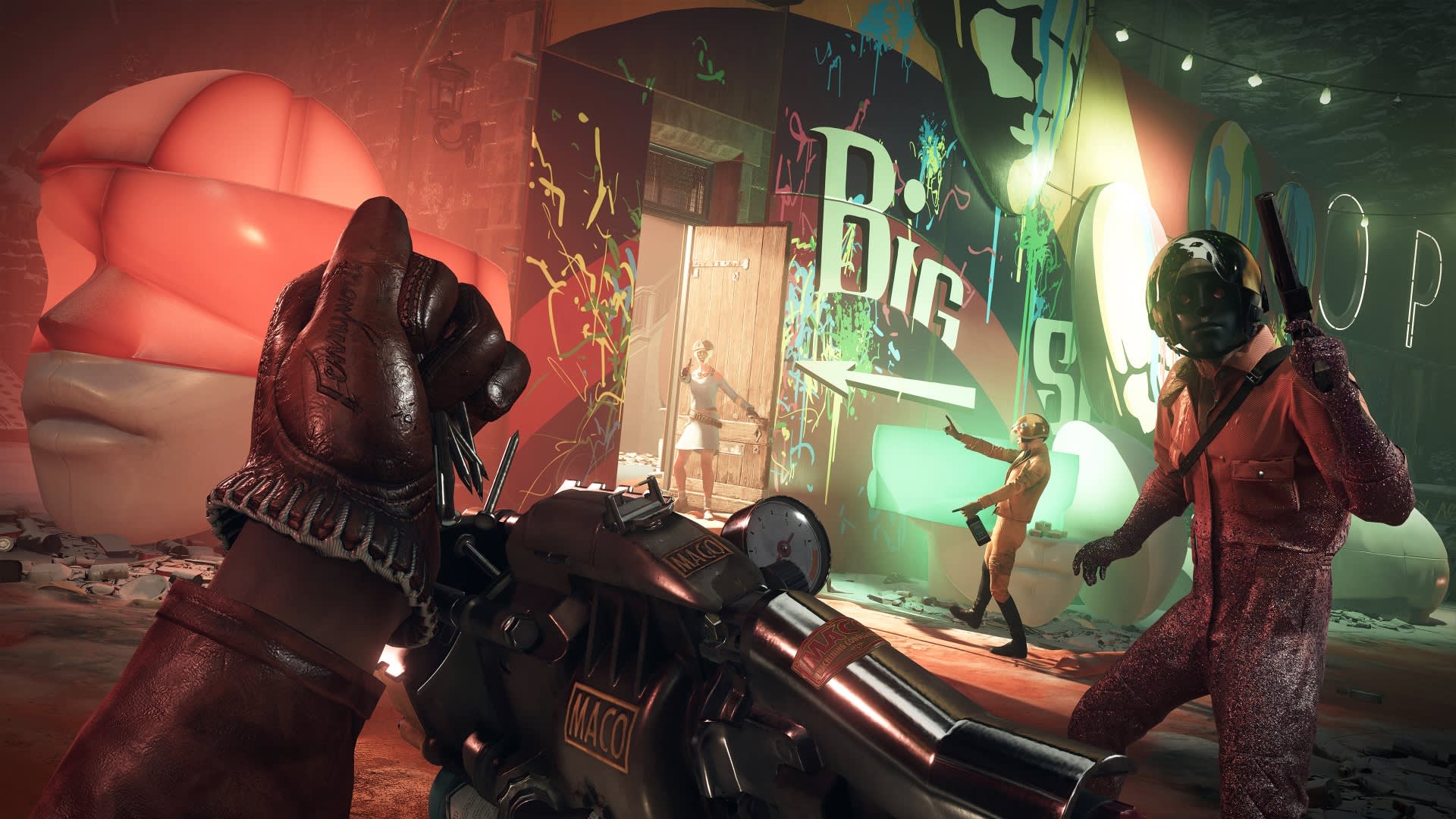 It's not easy, though. As you try to make your way past each Visionary and onto the next, using a combination of guns, gadgets, stealth, and sheer planning, you'll find that each death lands you back at the start. This might sound repetitive, but it's simply one part of the puzzling plot you'll be forced to unravel, and you'll surprisingly have a lot of fun solving it.
Superhot
Released: 2016
Developer: Superhot Team
Platforms: PC, PlayStation 4, Xbox One, Xbox Series X/S, Nintendo Switch
Another unique shooter is Superhot. In fact, it's one of a kind, and the premise is simple. In Superhot, time only continues to tick while you're moving or shooting. When you stand still, time and everything within it will also stop.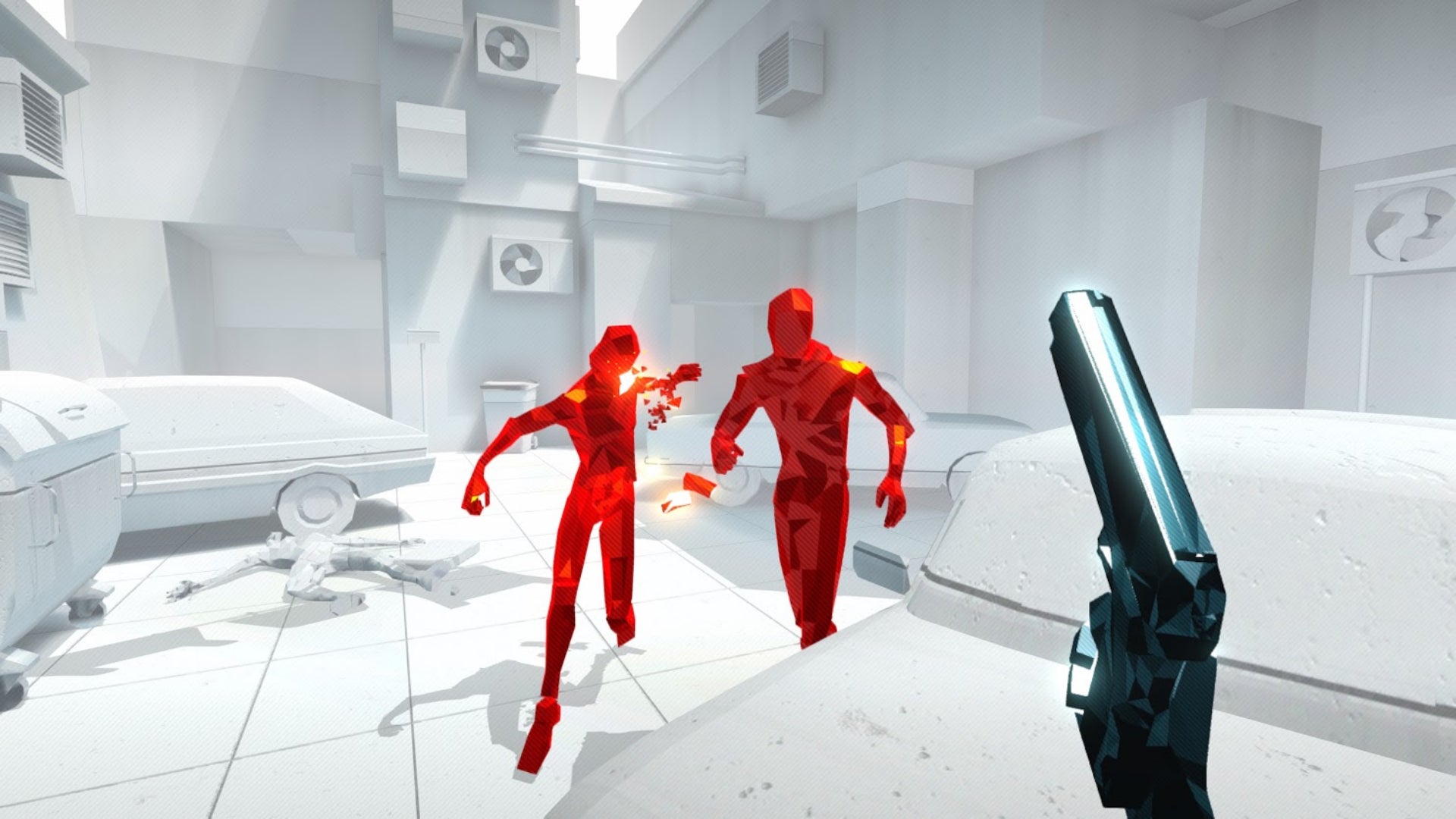 As you can imagine, this leads to some intense, tactical gameplay as you attempt to manouvre your way around each level. In the same vein as Deathloop, Superhot combines shooter and puzzle elements spectactularly to provide an experience that is both innovative and enjoyable.
If truth be told, Superhot is even more fun when played in VR when making the movements yourself, and is easily also among the best VR games out there.
Far Cry 6
Released: 2021
Developer: Ubisoft Toronto
Platforms: PC, PlayStation 4, PlayStation 5, Xbox One, Xbox Series X/S
I'll be the first to admit that Far Cry 6 is not the best in the series, but is it among one of the best shooters? I'd say so. If you can look beyond what feels like repetitive questing and sink yourself into the Far Cry 6's beautiful environment and its dangerous array of jury-rigged weaponry, you'll have a great time.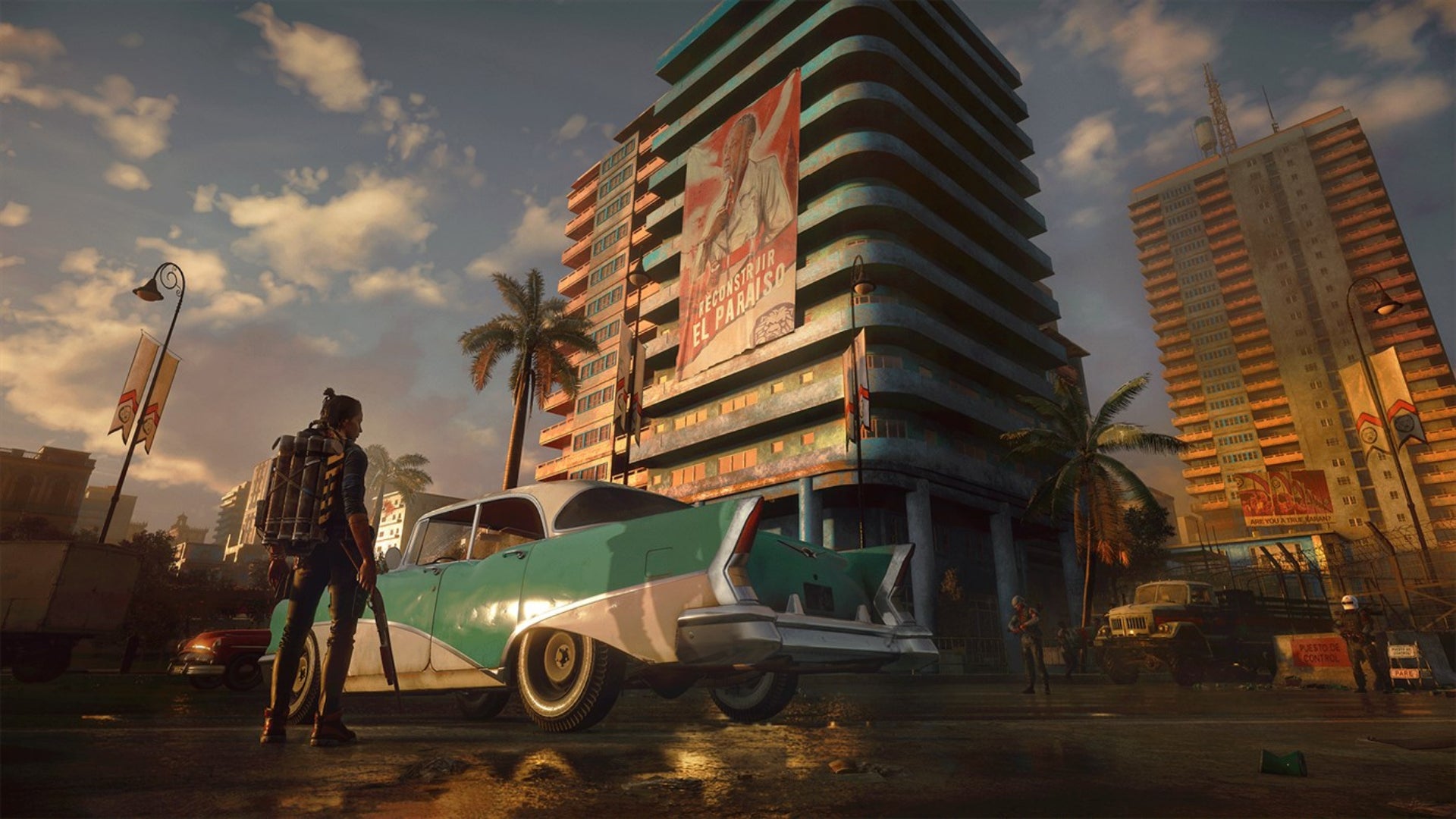 If you fancy a shooter that's better played solo, and hosts a riveting story of liberating a nation from the diabolical Anton Castillo - played by Breaking Bad and The Mandolorian's Giancarlo Esposito - Far Cry 6 is worth a try.
It doesn't take itself too seriously at times, and there's the opportunity to choose between stealthing your way through with a panther pal by your side, or going in all guns blazing with a reckless rooster. Let's not also forget that Dani Rojas has to be one of the series most lively and best protagonists yet.
Honourable Mentions
Hunt: Showdown, Splitgate, Battlefield, Prey, PUBG: Battlegrounds, Wolfenstein, Black Mesa, Neon White, Resident Evil Village, Deep Rock Galactic, Metro Exodus, Back 4 Blood, Dishonored, Half-Life 2, FPS Chess, Arma 2, Deus Ex Human Revolution, BioShock, Metro 2033 Redux, F.E.A.R., Alien Isolation, TimeSplitters 2, Payday 2, Insurgency, Dying Light, Bulletstorm, Crysis, Killing Floor 2, Turok 2: Seeds of Evil, Mirror's Edge, Unreal Tournament, Medal of Honor: Frontline, Duke Nukem 3D, GoldenEye 007
For more on the best games of all time, take a look at our guide to the best games on Xbox Game Pass, and the best PS5 games to play.