Gears 5 multiplayer will let you play as WWE legend Dave Bautista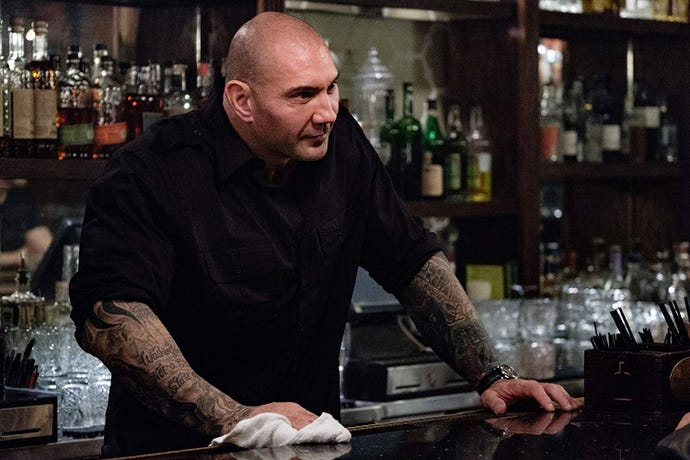 WWE legend Dave Bautista, better known to some as Drax the Destroyer in Guardians of the Galaxy, will be a playable character in Gears 5 starting September 15.
Game developer The Coalition confirmed the new addition today in a blog post, announcing Bautista's playable character for Gears 5 multiplayer modes.
"Dave has long been passionate about joining the Gears franchise, and we're thrilled to be working in partnership with him to bring his signature WWE style to the game," the developer writes. "The iconic attitude of WWE's Batista will be incorporated into 'Gears 5' as a multiplayer skin, allowing both Gears and wrestling fans alike to jump into the action as Batista across all multiplayer modes including Horde, Versus and Escape."
"It's been a long time coming, but I couldn't be happier that we're finally making Dave's dream to be in Gears of War a reality in 'Gears 5.,'" wrote studio head Rod Fergusson. "The iconic, larger-than-life persona of Batista fits perfectly in the Gears of War Universe, and the entire team at The Coalition can't wait to see him take on the Swarm and all other challengers in multiplayer. Dave and the WWE have been a pleasure to work with, and I'm hopeful this is just the beginning of our partnership."
Taking to Twitter, Bautista wrote of his role in the Gears franchise: "It's about damn time." Bautista has previously commented on his desire to play Gears of War protagonist Marcus Fenix in a film version of the franchise.
Gears 5 officially releases September 10, but early access kicks off for some on September 5. Gears 5 Early access is available to Ultimate Edition owners on Steam, Xbox One, and the Windows Store. Get all your Gears 5 pre-load details, launch times, day one content info right here.