Fallout 76: launch times, updates, Day One patch and more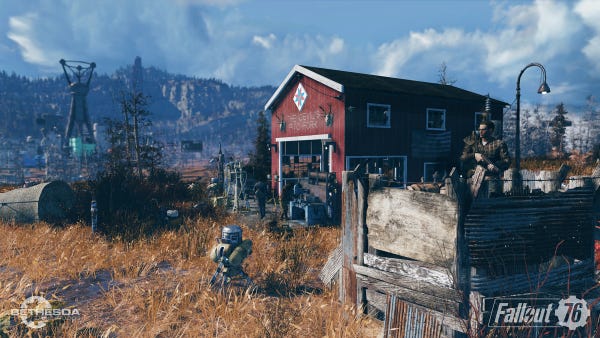 Fallout 76 releases this week, so here's everything you need to know.
Update: Fallout 76 servers are live in some regions and for some formats. It appears servers are live for PC players worldwide.
Here in the UK we can confirm the PS4 servers are also live, as are Xbox One servers. Whether they remain live until the official launch later this evening remains to be seen, but if you've pre-loaded Fallout 76 you may as well jump right in.
Original story: The beta period for Fallout 76 ended last week and there are only a few days to go until it launches worldwide on PS4, Xbox One and PC.
The beta threw up a tonne of problematic bugs, like the bug that caused the game to delete itself. The Fallout 76 beta garnered mixed opinions from players, but for those of you who are dedicated to reclaiming the wastelands, keep reading for more information about what to expect with Fallout 76.
Before you get started, check out our 16 tips and tricks to help get you started in Fallout 76, as well as Alex's thoughts on the Fallout 76 beta.
Fallout 76 launch time
Fallout 76 will release at 12:01 AM local time (your timezone) on November 14th for PS4, Xbox One and PC.
Fallout 76 Day one Patch
For all players, there is an eye-wateringly big 51GB Day One patch to install before playing. If you played the beta, your progress will be carried forward. If you are loading for the first time, you're going to need about 100GB of space to play.
Fallout 76 changes post-beta
A few changes are being made to Fallout 76, such as certain exploits being nerfed (thanks, spoilsports), ultra-wide support coming for PC players and improvements to the Social Menu.
Stash size changes should hopefully be coming post-launch but don't expect to see any FOV sliders or changes to framerates on the PC any time soon.
PC players will also be unable to uninstall the Fallout 76 beta files until the servers go back up at launch, it seems.
You can also see the initial ideas Bethesda has for post-launch content for Fallout 76, including faction-based PvP.
Fallout 76 map
The Fallout 76 map is going to be roughly four times the size of the Fallout 4 map, so there are plenty of strange new places to explore in West Virginia.
Fallout 76 C.A.M.P.
In order to succeed in Fallout 76, you're going to have to become adept at building a decent CAMP set up. You'll have to choose where you're going to build and what, and land comes on a first come, first serve basis.
Thankfully, your CAMP can be mapped to a blueprint so if someone takes your prime spot, your base will be packed away and can be laid out exactly as you left it, albeit in another location.
Fallout 76 PvP
Once you reach level five in Fallout 76, you are free to kill any and all players you interact with, as they as they too are level 5. If you kill another player who didn't return fire, you'll appear as a bounty for other players and will have a Murderer debuff for a few hours.
You can reactivate Pacifist Mode to ensure you don't accidentally attack another player, but this won't stop other players from attacking you. Players are keen for Bethesda to create a PvP server so others can have a more peaceful experience.
There's also the Hunter/ Hunted radio channel, which acts as Fallout 76's answer to Battle Royale.
The mode requires at least four players to play and each player will be assigned a specific target to hunt. The only downside is, you can bet someone is on the hunt for you. There's a one-hour time limit to find and kill your target, who may decide they don't want to be prey and will fight back.
The hunt area, also known as the circle, will decrease over time, forcing victim and assassin closer to one another. If you kill your target, you will take over their target to continue the hunt until it is 1v1. Even if you only manage one kill, you will still be rewarded with Caps and XP.
Fallout 76 factions
Aside from the Fallout 76 Vault Dwellers, there are five main factions: The Enclave, the Brotherhood of Steel, Raiders, the Free States, and the Responders. Fans of the Fallout titles will be familiar with the first three factions.
Doomsday preppers make up the Free States, while firefighters, police, and medical professionals make up the Responders.
Fallout 76 quests
If you played the beta, you might have noticed there's an absence of NPCs outside of the odd robot. You might wonder, then, "how on earth am I going to find any quests?"
Worry not, players, as the more you explore, the more quests you will find. There's the Overseer's quest to get you started, and listening to the radio, holotapes, reading letters and speaking with the odd robot will also start some new quests and challenges for you.
Fallout 76 Perks, mutations and challenges
There are 76 Perk cards in Fallout 76 that you can use to increase your skills and attributes. Some Perks can be stacked to make them more powerful, whereas others are linked to only three cars, such as Lockpicking. You can change your cards about and even share some with your allies if playing as part of a group.
As this is a post-nuclear world, occasionally your character will begin to mutate. Some of these mutations can be beneficial, other times it's a guaranteed death sentence.
Completing challenges is worth doing if you're interested in gathering Atom Points, which you'll be able to spend on cosmetics at launch. You can earn these in-game and will also be able to spend your real-life money on them soon to buy skins.
Fallout 76 photo mode
Let's be honest - even if an atomic bomb had just hit, you know you'd take a selfie.
Fallout 76 comes with a robust photo mode that will use your captures in loading screens to remind you of your best and worst moments.