EA: Visceral Star Wars game canned because players don't like linear games as much as they used to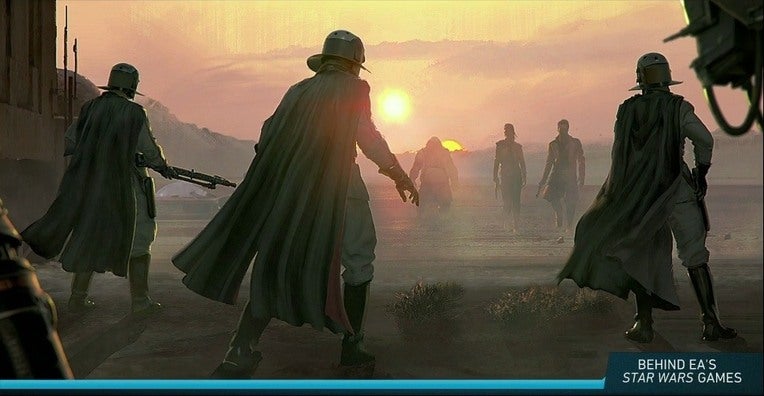 EA talk shutting down Visceral Games and their Star Wars project once again.
We're now a good few weeks removed from Electronic Arts shutting down Dead Space developer Visceral Games and effectively cancelling their Star Wars project, with that game now significantly shifting direction and passing along to another developer, but the company is still explaining its thinking.
The latest explanation comes from a talk during the Credit Suisse Technology, Media & Telecom conference (spotted by Dualshockers), where EA CFO Blake Jorgensen spoke on why the company made the difficult decision.
"As we kept reviewing the game, it continued to look like a much more linear game [which] people don't like as much today as they did five years ago or ten years ago," Jorgensen said.
Jorgensen went on to say Visceral's Star Wars game was aiming to do big, revolutionary things but ultimately the road map for the project didn't look financially viable for the future, which was why it had to end.
"It was an economic decision at the end of the day," Jorgensen concludes.
This statement goes along with aspects of what the company has previously said about the closure. EA EVP Patrick Soderlund originally wrote that the closure was due to "fundamental shifts in the marketplace," which tracks.
EA is currently trying to help those developers who lost jobs as part ofm the change to find new roles either inside or outside EA, but Jorgensen again reaffirmed today that there would be layoffs as part of the process.
Excellent reporting has all but confirmed that Visceral's Star Wars game was in trouble from the very start, but EA is now also trying to figure out what (if any) of Visceral's work could be rescued and put towards an all-new project.
The debate about the survival of single-player games still rages, then, though it does so as we close out what has generally been a good year for single-player games. EA has struggled with Mass Effect Andromeda, botched launches for Star Wars Battlefront and Need for Speed and the cancellation for Visceral's project, but over the last few years single-player has thrived in other ways even as multiplayer-driven experiences like PlayerUnknown's Battlegrounds have taken the world by storm.
It's obvious to point to examples like the open-world successes of The Witcher 3 and Skyrim, but this year even some linear single-player games have worked out just fine, like Game of the Year contender Resident Evil 7, the excellent Nioh and JRPG bosses Persona 5 and Nier - not to mention Nintendo's enormous recent successes. Perhaps for EA, the problem is closer to home. Here's hoping they get it all figured out.