Visceral's Star Wars game seemed doomed from the start, and not because it was single-player - report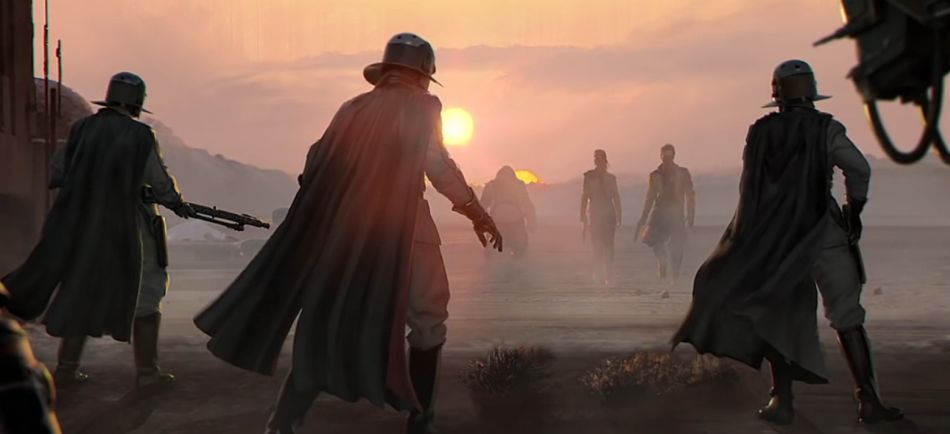 Information on Visceral's Star Wars title and its cancellation have come to light, with one former employee calling it a "mercy killing."
News of Visceral Game's closure and the cancellation of its Star Wars title were announced last week. Now, new information on the linear single-player game and the lead up to its demise have come to light.
It seems the game didn't start off as a Star Wars title, but a pirate-themed open-world affair. Around that time, Assassin's Creed 4: Black Flag was released, and EA had acquired the rights to develop Star Wars titles.
At this point, according to former Visceral employees speaking with Kotaku under anonymity, the game was changed from starring folks waving the Jolly Roger to whatever flag space pirates in the Star Wars universe would fly.
During this time, the development team was split so Visceral Games could work on Battlefield Hardline. Once the latter was released, the team working on the Star Wars title was still short handed as work on post release updates and content were developed for Hardline.
When Uncharted writer Amy Hennig joined the team, the game shifted from an open-world title to a linear action-adventure game with heavy story elements. Project Ragtag as it was known afterward, would revolve around a heist starring a Han Solo type fella named Dodger and his crew - which were also playable.
When not being played, AI would would take over the other characters. The story was set between the events of the original Star Wars and The Empire Strikes Back.
At some point between the lack of manpower; a massive scope; Hennig being spread thin; too much pressure from executives on marketability; development changes; a slow-paced approval process; Frostbite issues with a third-person perspective; the cost of maintaining a studio in San Francisco; and flat corporate structure at the studio, it all came crashing down.
Eventually, the title was cancelled and Visceral shutdown. One former employee said the fate of the Star Wars title was "a mercy killing," as the game just wasn't up to par. "It had nothing to do with whether it was gonna be single player," they said.
Another former employee said when all was said and done, the game would have likely cost somewhere around $100 million if brought to completion. "Ultimately, the idea of doing a game of this scope, this expense, this fidelity, at this studio never made sense," they said.
A statement given to Kotaku from EA EVP Patrick Soderlund reiterates the cancellation of the game having nothing to do with Codename Ragtag being a single-player title.
"This truly isn't about the death of single-player games—I love single-player, by the way—or story and character-driven games," said Soderlund. "Storytelling has always been part of who we are, and single-player games will of course continue.
"At the end of the day, this was a creative decision. Our job is to give people a deep enough experience and story, and it's also to push the boundaries forward. We just didn't think we were getting it quite right."
Development of the Star Wars title Visceral was working on will be handed over to development teams across EA Worldwide Studios, led by EA Vancouver which has also been working on the project. It won't be a linear action-adventure title though, as previously reported, but one featuring a "broader experience that allows for more variety and player agency."
If you hit up the link to Kotaku you can read the piece in full which predicates issues had materialized at Visceral in 2013, long before Project Ragtag.