Where to find the Secret of the Ring Ruins in Zelda: Tears of the Kingdom
Things are about to get very stormy.
At this point in The Legend of Zelda: Tears of the Kingdom, Link will have searched high and low across Hyrule, helping folk from various regions with their qualms. We'll have found out a little more about Princess Zelda's predicament during our journey, but we are not yet close enough to be reunited with her.
Watch on YouTube
What's the best Zelda clone?
With a rendezvous at Hyrule Castle completed, Purah will then send Link to 'Find the Fifth Sage' who is needed for the final portion of our journey. This task will send us all over Hyrule, and the first thing we need to do is find the Secret of the Ring Ruins.
Without further ado, here's where to find the Secret of the Ring Ruins in Zelda: Tears of the Kingdom.
---
Where to find the Secret of the Ring Ruins in Zelda: Tears of the Kingdom
After having dealt with various minibosses at Hyrule Castle, you should've returned to Purah at Lookout Landing. Purah will task you with finding the 'Fifth Sage'.
This quest is a lot more legwork than you're probably expecting, as we're going to have to complete a few smaller quests to round up this one. We'll have to roam across Hyrule, head up into the skies, and unfortunately, explore The Depths. As long as you've plenty of Heart Containers (at least ten, trust me!) and Brightbloom Seeds to hand, you should be fine. Don't forget to cook up some food in advance, too.
It's also worth noting that before we set off, you'll want to have unlocked the Camera ability by completing the Camerawork in The Depths quest. If you're yet to do this, complete it now and then come back here!
Once you've unlocked the Camera ability and caught up with Purah, it's time for Link to head to Kakariko Village.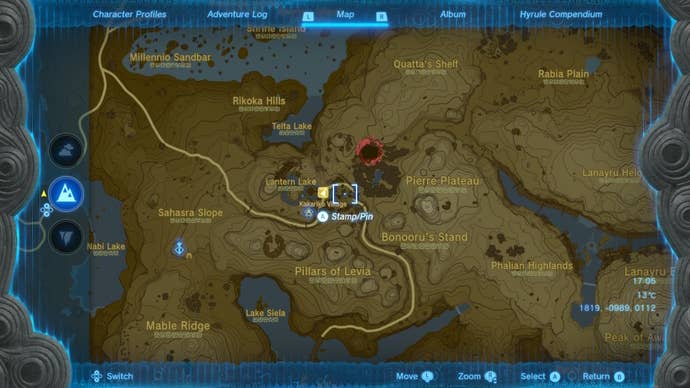 You'll find Kakariko Village slightly north west of Sahasra Slope Skyview Tower. You can simply glide over from the tower, and grab the nearby Makasura Shrine for an easy fast travel spot.
Once you arrive at Kakariko Village, make your way north where you'll find Tauro and Paya looking up at one of the Ring Ruins. They'll ask Link to go have a look at the ruins they're staring at, so off you pop.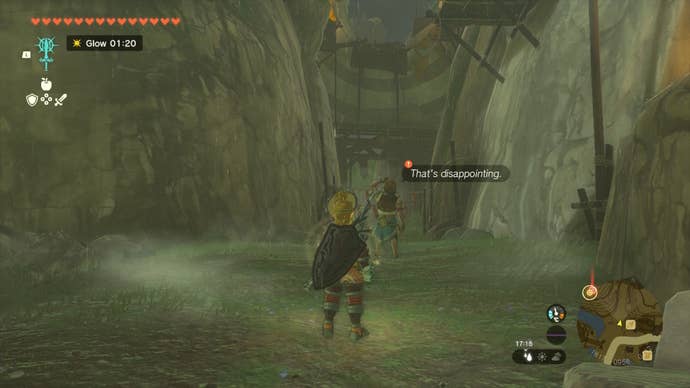 Go up the ladder ahead, and then Ascend up via the wooden plank up top.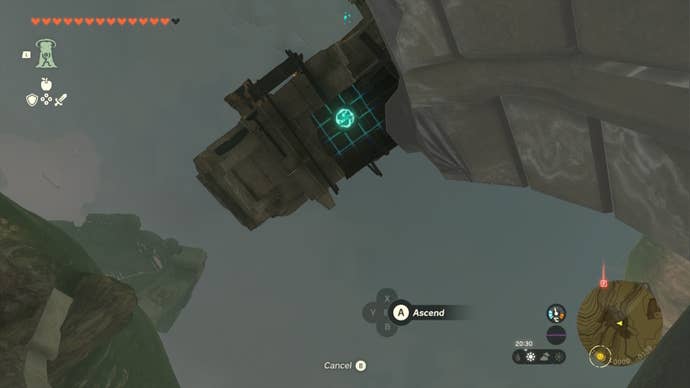 From here, Ascend up again to reach the inside of the Ring Ruins.
Now, whip out your Camera ability and take a picture of the writing on the wall in here.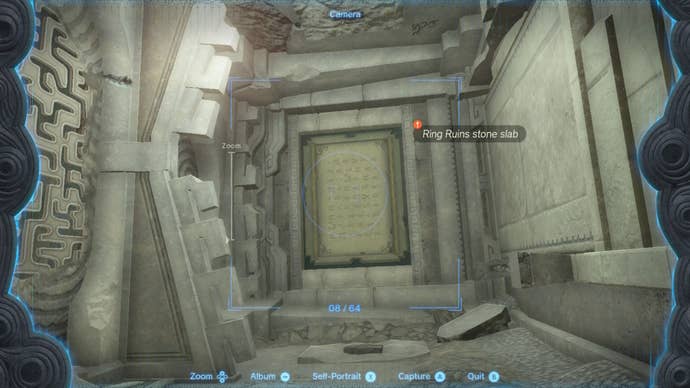 Next, exit the ruins and speak with Paya and Tauro again. Link will show them the photograph, and they'll send you off to the next set of ruins; the Zonai Ruins in Faron.
Continue our story walkthrough with where to find the Faron Zonai Ruins in Zelda: Tears of the Kingdom.
---
For more on Zelda: Tears of the Kingdom, make sure you're making use of Zonai Devices and Dispensers! On top of that, be sure to put both your Bubbul Gems and Korok Seeds to good use.