Project Scorpio, Xbox One S, Halo Wars 2 – all the news from the Xbox E3 showcase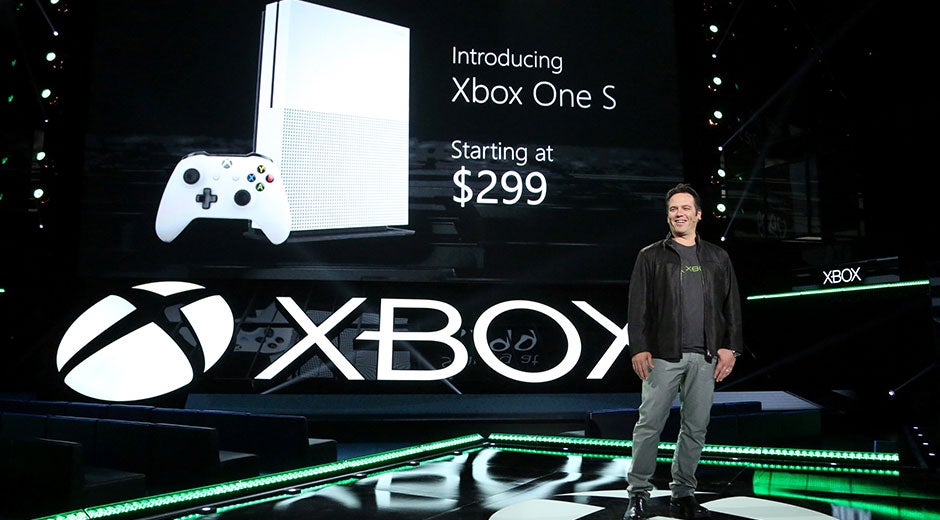 Project Scorpio, Xbox One S, Halo Wars 2 and more. You will find all the news from the Xbox E3 showcase inside.
Watch live video from Xbox on www.twitch.tv
Xbox E3 2016 press conference: live report
Microsoft's Phil Spencer kicked off its E3 2016 press conference with the announcement of Xbox One S. Along with the slimmer console being confirmed, the company discussed various games coming to Windows 10 and Xbox One, and at the end of the show, touched briefly upon the next Xbox One, Project Scorpio.
Xbox One S
Spencer said this sku would be the "the smallest Xbox console in history." The white console is 40% smaller, offers 4K Ultra HD and Blu-ray support, and High Dynamic Range (HDR).
The limited edition 2TB hard drive version will run you $399/349 pounds/399 euros and after its release in August, a 500GB version will be available for $299/249 pounds/299 euros, and a 1TB edition for $349/299 pounds/349 euros.
It features a redesigned wireless controller which uses Bluetooth (can be used with Windows 10, tablets), and sports a textured grip.
The new Xbox Wireless Controller will be also be sold separate worldwide starting in August for $59.99/49.99 pounds/59.99 euros.
Xbox One S is now available for pre-order and releases in August.
Recore
The Xbox One and Windows 10 exclusive from Keiji Inafune and Armature Studio LLC, was shown on stage today.
In the action-adventure game, players take on the role of Joule, who is one of the last remaining humans. They will "forge friendships" with robot companions and participate in adventures throughout the mysterious, dynamic world.
Recore will be made available worldwide as an Xbox Play Anywhere title starting September 13.
Gears of War 4
After the console announcement, The Coalition's Rod Fergusson came on stage to announce that when Gears of War 4 launches October 11, it will be released on both Xbox One and Windows 10 PC. It will also feature cross-play and cross-buy between platforms.
Forza Horizon 3
Leaked a few hours before the show, a really nice cinematic trailer for the racer was shown by Playground Games. It takes place in Australia and after the trailer, some debut gameplay footage was shown.
The game features a 4-player co-op campaign and like Gears of War 4 is part of the Xbox Play Anywhere initiative. So, buy it once, play it on Windows 10 PC, if you like.
The game is out September 27 and is now available for pre-order. Dropping the cash early means you will be able to start playing it on September 23 and will be handed a Car Pass, VIP Membership and more.
Final Fantasy 15
Square Enix came on stage to show the live gameplay demo for Final Fantasy 15. As previously reported, the demo showed the characters in the game fighting a massive boss.
The Division Underground
The demo was followed by the first look at The Division: Underground which is out June 28 first on Xbox One.
It is the first of three expansions for The Division, and takes players underneath New York City, where they will explore urban dungeons across a series of randomly-generated missions.
Battlefield 1
DICE showed the Battlefield 1 trailer EA showed yesterday during its conference. The studio reiterated that EA Access members will be able to play it first.
Xbox Live Clubs, Arenas, more
Clubs are coming to Xbox Live, allowing users to create communities. The much requested background music option is also on the way along with new language support, Cortana, LFG and Arena features too. Arena is a tournament platform in which players can sign up compete in games.
Here's more:
Clubs: A new way to connect with gamers and create private communities with people who have similar play styles, personal interests and values.
Looking for Group: Like a "want ad" for multiplayer, Looking for Group on Xbox Live is the easiest way to seek out players who are available — and qualified — to jump into your multiplayer match right now.
Arena:. A new online tournaments platform designed for everyone, from novice to aspiring pro, Arena on Xbox Live brings competitive gaming to Xbox One and Windows 10 devices. Sign up for tournaments directly through the Xbox UI or the Xbox app and play for prizes and bragging rights.
Cross-play: Gamers on Xbox One and Windows 10 can now play select multiplayer games together. "Gears of War 4," "Forza Horizon 3," "Sea of Thieves" and "Scalebound" all support cross-play between Xbox One and Windows 10 PC, and now "Minecraft" players on iOS, Android, Windows 10 phone and Windows 10 devices can all join together in cross-device multiplayer fun.
Cortana: The popular digital assistant Cortana is coming to Xbox One, featuring familiar voice commands available on Windows 10 devices and new gaming-specific scenarios for Xbox One. Cortana will initially launch on Xbox One in the U.S. and U.K. with additional markets coming soon after.
PC games (Win32) in Xbox Live: With the Xbox update coming this summer you'll see the top PC games on Xbox Live, with more added every month. Use the Xbox app to see what PC games your friends are playing, view game clips and upload your own, and message and voice chat with friends across games.
Language Region Independence: Based on overwhelming fan feedback, we're enabling Language Region Independence to give gamers even more control over their Xbox experience and how they engage with their Xbox One. Language Region Independence gives gamers the freedom to choose any supported language on Xbox One, regardless of their location.
Minecraft Realms
Minecraft players can now play together on PC, console and through mobile. This is a friendly update, according to the company. The cross-device multiplayer between iOS, Android, Samsung Gear VR and Windows 10 devices, was made possible through the Minecraft: Windows 10 Edition beta and Minecraft: Pocket Edition.
With Xbox Live and the the realms service, Windows 10 and mobile Minecraft players can host their own multiplayer worlds on private, cloud-based servers and play with friends even when the original world creator is offline.
Starting today, players with Xbox Live accounts can try Minecraft Realms on mobile and Windows 10 free for one month through the Minecraft App
The team also announced new game add-ons coming this fall such as texture packs, and the ability to create maps and minigames.
Minecraft was also demoed with Gear VR, with John Carmack showing it off.
Design Your Own Xbox One Controller
Xbox One users will also be able to create their very own Xbox One Wireless Controller with Xbox Design Lab. There will be over 8 million color variations.
Users can customize the controller body, D-pad, thumbsticks, ABXY buttons and more. Each controller is handmade to order and shipped directly to fans.
Xbox Design Lab is open for orders now in the US, Canada and Puerto Rico for $79.99 through the Xbox One Design Lab website. Laser engraving is also available for an additional $9.99.
Inside first on Xbox One
Playdead announced their follow-up to Limbo, Inside, is now available for pre-order.
It will be released first on Xbox One and the adventure puzzler will be released on June 29. To celebrate the launch, Xbox players will be handed Limbo for free from June 13‒20.
We Happy Few resurfaces
After going dark for a while, Compulsion Games finally brought We Happy Few back into the spotlight. The game is coming first to Windows 10 and Xbox One this summer.
The game takes place in a dystopian, mod 1964 England that lost World War 2, and the citizens of Wellington Wells are taking a happy drug called "Joy."
We Happy Few was also finally announced for an July release date on Xbox Preview. This is the Xbox One version of Early Access which will soon feature The Culling, DayZ and others.
Gwent: The Witcher Card Game
CD Projekt came on stage after the Early Access and We Happy Few news to announce Gwent as a standalone multiplayer title. It is also said to be coming to PC and PlayStation 4. It will go into beta this September.
The popular mini-game in The Witcher 3: Wild Hunt will support multiplayer with your friends, and will include updated mechanics, new visuals, and even a single-player campaign.
A closed beta on Xbox One will go live on September 26.
Tekken 7 and Tekken Tag Tournament 2
Tekken 7 is coming to Xbox One, and a very dramatic trailer for the fighter was shown. It features a story mode which transitions from cinematics to gameplay seemly. It is slated for release in 2017.
Tekken Tag Tournament 2 is being handed out for free to all Xbox Live users free with backward compatibility.
Dead Rising 4
Screenshots for the Capcom IP leaked earlier, so it wasn't a surprise announcement. There was a rather fun trailer shown for it though, along with the announcement that it's out this Christmas on Xbox One and Window 10.
Developed by Capcom Vancouver, Frank West returns in this entry, which features an "unmatched level of weapon and character customization," along with new features including new zombie classes and EXO Suits.
Scalebound
After the trailer from Capcom, Platinum Games' Hideki Kamiya came on stage to give everyone a look at Scalebound, which features the "biggest boss fight ever made."
The Xbox One and windows 10 exclusive allows players to customize the game hero Drew and their dragon, Thuban, to suit their playstyle. Battle legions of soldiers and massive monsters solo or cooperatively with up to three additional friends on Xbox Live.
Scalebound will also be an Xbox Play Anywhere title in and will release in 2017.
Sea of Thieves
The upcoming pirate game from Conker's Bad Fur Day developer Rare was shown. It is coming to Windows 10 alongside Xbox One and is an immersive, shared world adventure game.
It features pirates (did we mention pirates already? well, it has pirates) along with "unexpected dangers" and loot for the taking.
Players can "be the pirates they want to be," share adventures with friends, and set their own rules, roles and goals. The game will evolve over time and will grow based on feedback from the community.
State of Decay 2
An announcement trailer for the game was shown, along with the news that it's an Xbox One and Windows 10 exclusive.
The next installment in the franchise features an all-new multiplayer zombie survival experience, where players will work together to build communities.
Choices made will shape the interconnected world and form a unique experience every time. State of Decay will be made available worldwide as an Xbox Play Anywhere title in 2017.
Halo Wars 2
News on the upcoming beta may have slipped out early, but that didn't put a damper on the excitement shown by the audience at Microsoft's show today.
Announced for a February 21 on Xbox One and Windows 10, players can get their hands on the game now through the week-long beta which kicks off today.
Halo Wars 2 was the best-selling real-time strategy of all time for consoles, and is in development with 343 Industries and Creative Assembly.
Xbox One, Project Scorpio
The news we were all waiting for: Project Scorpio was officially announced through a a video featuring developes such as Bethesda's Todd Howard discussing the console.
Xbox One - Project Scorpio will feature 6 teraflops, the most powerful GPU in a console ever with right cores.
It along with Xbox One S and the original Xbox One will support all games and accessories. "No one gets left behind," Phil Spencer stressed.
Xbox One, Project Scorpio is out in 2017.
Head back to our E3 hub for everything to do with the most exciting week in video games.