Mass Effect: Andromeda, Star Wars, Battlefield 1 - all the news from EA's E3 showcase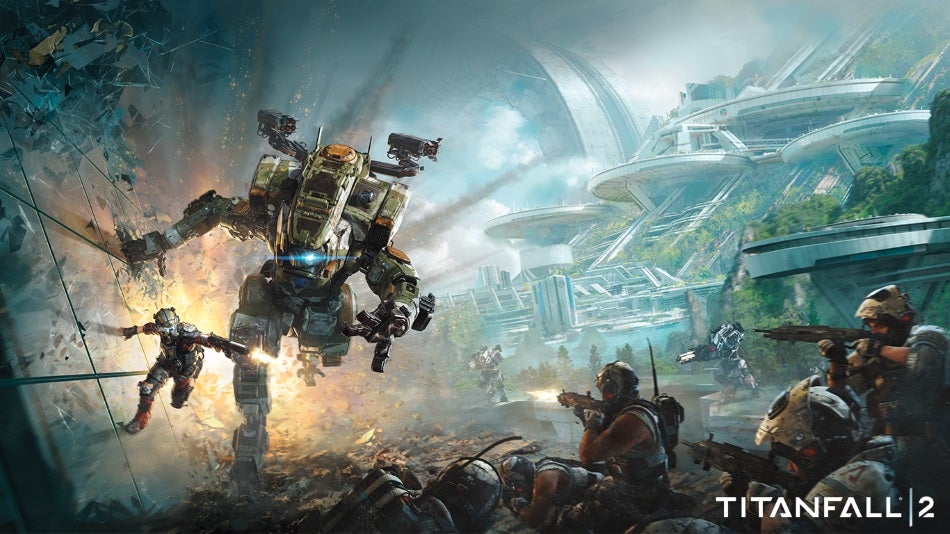 Battlefield, Star Wars, Titanfall, Mass Effect, FIFA, Madden and more - watch the biggest blockbusters here.
Watch live video from EA on www.twitch.tv
EA E3 2016 press conference: live report
E3 kicks off today, and Electronic Arts is the first publisher to reveal its big line-up of games with execs Andrew Wilson and Peter Moore presenting.
Titanfall 2
A few hours before the press conference kicked off, EA accidentally broadcast part its rehearsal. As well as a very brief look at Madden 17, we got to see the entire singleplayer campaign trailer for Titanfall 2.
Vince Zampella was the first developer on stage to reveal Titanfall multiplayer in a new trailer. He promised a "deep progression" system and we saw a lot of grappling hook use and wall-running in a game that prioritises speed. The new game will feature six different Titans this time around, which will be customisable. There's a beta happening before the October 28 release, and you'll be able to sign up for that at the official website.
Mass Effect: Andromeda
Aaryn Flynn from BioWare entered the stage to talk about Mass Effect: Andromeda and asked "how far will you go?" He said the dev team is pushing itself more than ever, and wants to offer more freedom in this game, which features an all-new cast built using the Frostbite engine. We got a glimpse of cinematics showing new planets, aliens and characters, the Mako, as well as mo-cap and other work in progress. Watch the trailer here and see for yourself.
Battlefield 1
Patrick Bach set out his ambitions for Battlefield 1, saying he wants no battle to play out the same way. Destruction, weather, weapons and vehicles will make Battlefield really stand out, having different impacts on your play. You'll be able to take controls of airships, armoured trains and battleships, just in case normal guns aren't enough for you - watch all of that in the new trailer.
EA also revealed Operations mode for Battlefield 1, stating: "Operations introduces a completely new way to play multiplayer. In Battlefield 1 you will play a series of interconnected battles across multiple fronts. Play a sequence of battles where your actions have consequences beyond a single match, as you try to conquer territory or push back your attackers."
Star Wars
Star Wars Battlefront will get new content based on the new movies next year.
In 2018 Visceral Games will release a new Star Wars game featuring new characters and new narratives. We got to see a tiny glimpse of concept art and in-game footage featuring a Star Destroyer. It wasn't much, but it was something. Check out that video again and you'll see an X-Wing PlayStation VR game featured briefly too.
And a Star Wars game from Respawn is in the works. It's a third-person action adventure game in a different time period, according to EA. We knew about that already, but it doesn't hurt to speak about it again.
Madden NFL 17
According to EA's Peter Moore, Madden NFL 17 will bring the "most balanced gameplay to date" to the series. He revealed three new ways to play online: Premier, Challenger and EA Major events. These range from personal competitions between players (Premier) to major corporate broadcasts (EA Major). On top of that, the Madden 17 Championship series next year will offer a $1 million prize fund.
A big new addition to Madden this year is the Play the Moments mode: "This year introduces Play the Moments, the fastest way to play Madden NFL. Play the Moments allows fans to experience the important milestones in each game while simulating the rest of the matchup. Players will be invited to jump in at critical moments such as red zone drives, vital third downs, game-winning drives and more, offering the chance to prove your mettle in clutch situations. The shortened games allow Franchise players to take their team all the way from opening day to the Super Bowl in just a weekend, maximizing the fun along the way. Of course, those who want to experience the game from kickoff to final whistle can turn off Play the Moments, or opt to jump in and out of moments as they wish throughout the game."
FIFA 17
FIFA 17 introduces a story mode called The Journey featuring a player, Alex Hunter, as he begins his career in professional football. For the first time the game is also adding Premier league managers - Jose Mourinho wandered on stage for a little panto back-and-forth with Peter Moore.
Four pillars of gameplay have been overhauled for FIFA 17 this year: Set Piece Rewrite (new penalties, free kicks, corners, and throw-ins), Physical Play Overhaul (Pushback Technology changes the way players physically interact in every situation), Active Intelligence System and New Attacking Techniques.
EA Originals - Fe
EA Originals was revealed as a new initiative that will help small indie teams fund, develop and release smaller games. All profit will go to the developers. The first game under this label is Fe from Zoink Games. The game is about our relationship with nature and has no words or dialogue. Instead, you play as a cub, and every animal, creature and plants in your forest communicates through song. Apparently the game won't hold your hand or tell you what to do, you have to go and explore the forest and learn the game yourself.
Head back to our E3 hub for everything to do with the most exciting week in video games.