Battlefield 1: DICE ramps up gameplay with introduction of Behemoth vehicles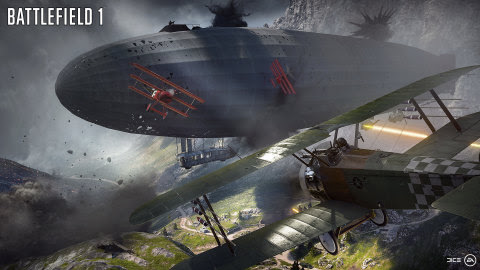 EA changes the Battlefield with the introduction of Behemoth vehicles.
Battlefield 1: EA ramps up gameplay with introduction of ultimate vehicles
The new Battlefield 1 trailer looks bloody marvellous.
We can expect "intuitive destruction and dynamic weather," which means more carnage as you tear your way through the terrain, and more chaos as the changing weather transforms maps, forcing you to tweak your tactics on the fly.
Another new addition to multiplayer is Operations that will let you "play a series of interconnected battles across multiple fronts. Play a sequence of battles where your actions have consequences beyond a single match, as you try to conquer territory or push back your attackers."
There will of course be a variety of weapons and vehicles, but the introduction of the Behemoth vehicles is going to make for some crazy gameplay, as you take control of airships, armoured trains, and battleships.
"With Battlefield 1 we're looking to deliver the most dynamic shooter ever. We want to make sure that no battle is ever the same for the players, and with the introduction of Operations, we're giving the fans variety for game play and creativity," said Aleksander Grøndal, Senior Producer, DICE. "Plus, with the new Behemoths, only in Battlefield 1 can you bring an Air Ship to a dogfight."
EA has confirmed that there wil be an open beta this summer. You can sign up here for early access.
Battlefield 1 releases globally on October 21 for PC, PS4, and Xbox One. You can grab the pre-order the Early Enlister Deluxe Edition to start playing on October 18.
EA Access and Origin Access members can play even earlier for a limited time before launch with Play First Trials, as well as getting a 10% discount when buying the game on Xbox Live or Origin Access.
Keep up with everything EA during E3 right here.