Treyarch aims for player "connection" with Black Ops protagonist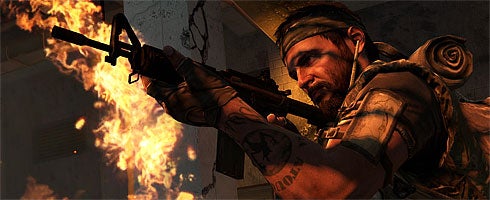 Treyarch has deliberately given Call of Duty: Black Ops' protagonist, Alex Mason, a face and a voice so as to better allow for player empathy.
Unlike previous CoD installments, the game's lead character will be something you should care about. The game's opening scene features Mason being tortured, with his face and voice playing a prominent role.
"It was a very deliberate choice," Dave Anthony, director at Treyarch, told the AP.
"We want the player to immediately be able to relate to him. The first scene is very tense for the character. We thought that if the player himself was feeling what the character was going through right at the start of the game, it would really create a connection with the character."
Treyarch's decision to build Mason's character is in stark contrast to the rest of the series, where your emotional attachment to the in-game avatar tends to be limited to the barrel of a gun.
"The emotional focus that we've given Mason is more than we've ever done before for a character in a Call of Duty game," Anthony added.
"As you go through the story, you will see how Mason's relationships with the other characters in the game change as you go back and forth from the interrogation room. You will actually realize how it all comes together."
There's plenty more through there.
Call of Duty: Black Ops launches on November 9 for PS3, 360, PC, Wii and DS. If you are really keen you can pick it up at midnight at GAME.